After finally coming to life during Argentina's 2-1 victory over Bosnia-Herzegovina, Lionel Messi was rather forthcoming after the match. He admitted feeling real pressure about the World Cup.
"It's normal to have doubts," Messi said in the post-match press conference. "It's the first match. We were nervous, anxious.
"The most important thing was winning - and we did that."
They sealed it thanks to the playmaker's 65th-minute wonder strike, which added to Sead Kolasinac's early own goal and ensured Argentina were still in front even after Vedad Ibisevic hit a late response. It was a typical Messi strike: delicate footwork to find the space; devastating finishing to hit the net.
It was, however, an untypical Messi setting. This was just his second ever World Cup goal, and his first for eight years.
Argentina 2 Bosnia-Herzegovina 1 player ratings
Argentina 2 Bosnia-Herzegovina 1 player ratings
1/22 Argentina: Romero 7/10

Saved well from several Bosnian efforts without ever being really tested. Got caught out of position for late Ibisevic goal but played well.

2/22 Zabaleta 6

Not at his flying best and got caught out for late Bosnia goal but did fine overall.

3/22 Rojo 6

Yellow carded for a bad foul early on and had to be careful from then on, not bad but needs to get better.

4/22 Garay 7

In charge of the defence and kept Dzeko quiet, solid at the back.

5/22 Fernandez 6

Not a poor performance by any means but lacked that sparkle from full-back.

6/22 Campagnaro 4

Very little on offer and rightly removed at half-time.

7/22 Rodriguez 4

Substitued at halftime after ineffective first 45.

8/22 Mascherano 8

Argentina's best player in the first half and good throughout second. Solid, strong and even had a couple of half decent efforts at goal

9/22 Aguero 6

Nowhere near his flowing best but good enough to cause problems at times.

10/22 Messi 8

Very quiet night for first hour but produced the only real moment of true quality with his quite sublime solo goal to win the match.

11/22 Di Maria 6

Some nice flicks and tricks but no real attacking thrust.

12/22 Bosnia: Begovic 7

Solid between the posts but helpless for either goal. Looked comfortable throughout and will be important in future games.

13/22 Mujdza 6

Did fine without really making any highlights or mistakes.

14/22 Kolasinac 6

Very unlucky to have own-goal to his name, helpless for it. Recovered well and played his part in defence after early mistake.

15/22 Besic 6

Like all the Bosnian back-four, did well to keep Argentina to relatively little chances, couldn't get close to Messi for his goal though.

16/22 Bicakcic 6

Had a chance right at the death to put a good ball in but looked too tired. Did well in defence for the most part.

17/22 Pjanic 7

Played well in attack and got back to help defence throughout, good performance.

18/22 Spahic 5

Picked up a yellow card for bad foul but coped OK in midfield.

19/22 Hajrovic 8

Had several efforts at goal and was Bosnia's best player. Needed that slight bit of extra quality to turn his chances into goals but did very well.

20/22 Dzeko 5

Tough task as the lone striker and never really had a sniff at goal. Bosnia need him to be better the their next two games.

Getty Images

21/22 Misimovic 5

Busy but ultimately not a major impact on the game.

22/22 Lulic 7

Did well up and down the wing and can be happy with his performance. Good pass for Ibisevic's goal.
Messi was also surprisingly frank about that: "a big relief", he said of the strike. You could sense that from the celebration, as he let out a primal roar. If it would be obvious to liken it to Diego Maradona's famous response to his goal against Greece in 1994, it is now a fair expectation that he begins to kick on, and potentially replicate his legendary predecessor's performances in 1986.
Messi certainly seemed released after the goal. He was suddenly finding much more space, and enjoying far more surges. Part of that, though, was also the positioning.
Manager Alejandro Sabella had abandoned his curious 5-3-2 experiment, and the playmaker was again enjoying much more of the ball in a 4-3-3.
Messi nodded his approval, perhaps scotching some of the speculation that he had been the one who wanted the previous formation.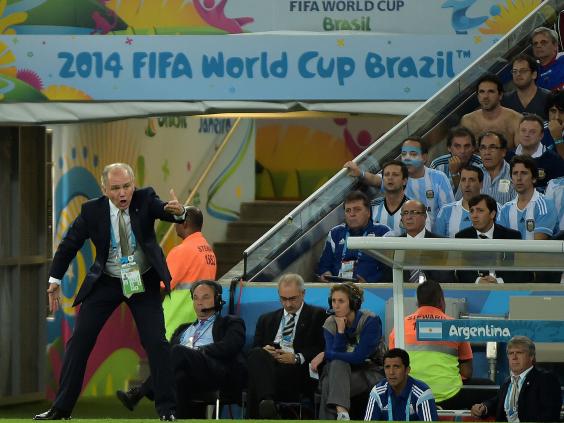 "In the first half we gave up possession to Bosnia and so I was too deep," Messi said. "I was alone and Kun [Aguero] was alone. It was very difficult. We like [4-3-3] better because, when you go forward, you have more possibilities of passing the ball and scoring. We strikers and forwards are favoured by this formation."
There is finally a sense that the World Cup is starting to favour Messi. That 5-3-2 formation is now likely to be banished.
The Argentine can now banish those last doubts about his career.
Reuse content