Argentina captain Lionel Messi will step out at the Maracana on Sunday knowing that he still needs to prove himself if he is to be truly considered as one of the greats of the game.
Despite a glittering career with Barcelona, Messi has yet to bring his club form to a World Cup and silence those who claim that he will never rank alongside the likes of Maradonna, Pele or Zidane until he does so.
In two previous World Cups, Messi has managed just one goal, and most Argentine football fans are sceptical about his contribution to the national team, claiming that he reserves his best displays for Barcelona. On Thursday night, Brazil's golden boy Neymar lived up to expectations, scoring two and  delivering a man-of-the-match performance in a 3-1 win over Croatia. Now it is over to Messi, as his team take on Bosnia-Herzegovina in their opening Group F game.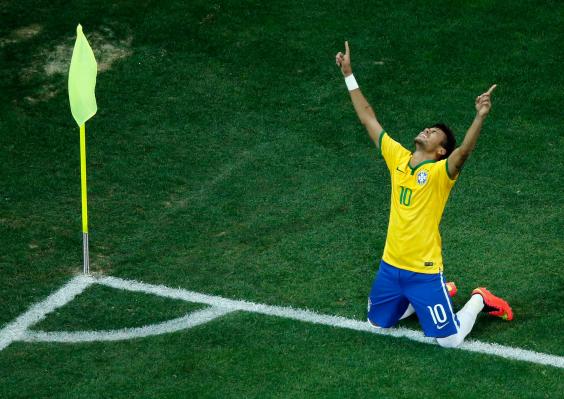 "He is very relaxed and will handle all the expectations," said team-mate Lucas Biglia before tonight's match. "This is a different Messi you will see, not like at other World Cups. This is a team that will play to his strengths and make him comfortable so that he can make the difference."
Argentina manager Alex Sabella is spoilt for choice when it comes to attack. A lethal front three of Messi, Sergio Aguero and Gonzalo Higuain are supported from midfield by Real Madrid's Angel Di Maria. They are known as Los Cuatro Fantasticos, – the Fantastic Four. On paper at least, there is not another side in this World Cup that can boast of such a forward line.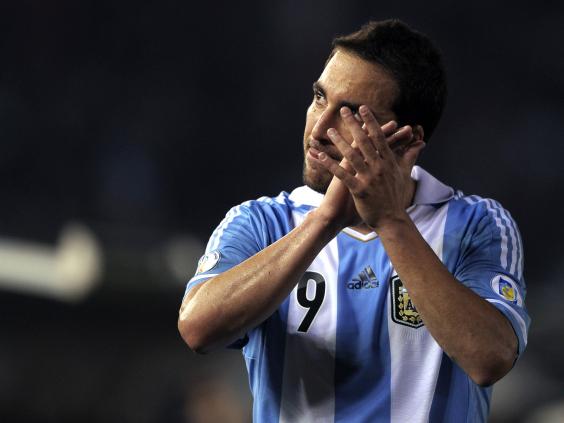 As Spain found out to their cost on Friday night, though, you need more than flair and firepower.
It is in defence and central midfield where Argentina's weaknesses lie. The two first-choice centre-halves, Frederico Fernandez and the highly rated Ezequiel Garray, who came close to signing for Manchester United last summer, are not considered to be the quickest, while first-choice goalkeeper Sergio Romero made just three League appearances for Monaco last season.
In central midfield, there is not a single ball winner of Javier Mascherano's quality in the Argentina squad, while Fernando Gago, who is likely to start alongside him, suffered a serious knee injury while playing for Boca Juniors, missing the last month of the Argentine football season and only just making the squad for Brazil.
In qualifying for this year's tournament, Argentina's 35 goals was the highest of all South American nations but they kept just four clean sheets in the 16 matches they played to get to Brazil.
Sabella has been honest enough to admit to his team's deficiencies, telling the Argentine press before the World Cup: "Our way of playing means that we end up having an imbalance. Picking four players with attacking characteristics means that at times we suffer  defensively. We are not a team who attack based on possession or order. We are an anarchic team, with very anarchic players."
At the team's Brazil training base in Belo Horizonte, Sabella has been focused on getting his team to master the two Bs – balance and basics, as he puts it.
In previous World Cups, he  believes there was too much  responsibility heaped on Messi's shoulders and that the time has now come for the whole team to muck in so that the Argentina captain is allowed to express himself and have a greater influence on games.
While the eyes of the world and Argentina's opponents will be on Messi, Champions' League winner Di Maria could prove to be the player most pivotal to their chances of lifting a first World Cup since Mexico in 1986.
Sabella is planning to take a leaf out of Madrid coach Carlo Ancelotti's book in the way that he uses  Di Maria's pace to support the forward line, and his stamina and discipline to carry out midfield defensive duties.
Said Di Maria: "I will carry out the same role for Argentina as I do for Madrid. Under Ancellotti it took me time to get used to it but it has worked very well for us. It requires a lot of concentration and energy but it gives us the option of being able to hit teams on the break but at the same time not be tooexposed in important parts of the pitch.
"With Argentina I will be playing with some of the best strikers in the world and the best player in the world in Lionel Messi. But we cannot just sit back and expect him to do everything. All the team has a responsibility to carry out its roles and I think in previous World Cups we have not always done this."
Heading into tonight's game, the omens are certainly good for Messi. Since being appointed captain by Sabella in 2011 he has, at times, been inspirational for Argentina, scoring 10 goals in the 12 World Cup qualifiers he started. Before receiving the armband he had gone 16 competitive matches without scoring. La Pulga – "the flea" – as Messi is known, also appears more comfortable operating in a deeper role for Argentina than for Barcelona.
By his standards, Messi had a mediocre season for his club. While his 41 goals made him Barça's all-time highest scorer, he was criticised for being ineffective in the matches that really mattered in La Liga and the Champions' League. Ironically, Barça fans claimed this was because he was saving  his best for Brazil. His Argentina team-mates and the team's fans will be hoping they are proved right, and that this will be the World Cup when La Pulga finally delivers.
ARGENTINA: Group F team profile
ARGENTINA: Group F team profile
1/5 How they qualified

Argentina won the CONMEBOL, ahead of Radamel Falcao's Colombia and Alexis Sanchez's Chile. La Albiceleste had trouble getting a result against Venezuela and beating Bolivia, albeit after a 4-1 thrashing of Chile at the opening game. However, the team managed to bounce back with a 2-1 win against Colombia which initiated a 14-match unbeaten streak that led them to the top of the table, even though they fell short against Uruguay in the end. This is the third time Argentina have won the preliminary competition, amassing nine wins and five draws in 16 matches. After setting the pace, the two-time World Cup winners had no problem finishing first whilst tallying 35 goals and only surrendering 15.

2/5 Manager

Alejandro Sabella faced quite a lot of scrutiny over bad results in the early stages of the CONMEBOL. However, he managed to restore trust at the end of the qualifiers and is now aiming for at least the semi-finals. The former Leeds United player is a manager that insists on team unity and with a Copa Libertadores under his belt he might be looking for an impressive World Cup run.

3/5 Star Player

Lionel Messi – Who else? Albeit a season that included injuries, the 26-year-old managed to score 28 La Liga goals and finish second on the goal scoring table. He is still La Albiceleste's deadliest weapon that knows how to convert almost all of his chances. With his manager's full support and Manchester City's Sergio Aguero on his side, the Barcelona striker could finally be on track for World Cup glory.

4/5 Emerging Talent

Although Ezequiel Lavezzi is 29-years-old, he will be playing in his first ever World Cup. The winger's impressive shooting skills and speed contributed greatly in Paris Saint-Germain's second consecutive League title and will be much needed for Argentina's quest for glory.

5/5 How they will line up: (4-3-3)

Romero; Rojo, Fernandez, Basanta, Zabaleta; Mascherano, Di Maria, Gago; Aguero, Higuain, Messi.
Argentina v Bosnia Herzogovina is live on BBC1 Sunday,  kick-off 11pm
Reuse content