The Brazilians resisted as best they could the tide of blue and white which was washing across their nation last night.
"Penta champion" – "five times champions" – they bellowed in unison across this stadium, flashing open hands in what has become their new refrain, in the face of Argentina.
But there was a look of resignation on their faces. The South American nation made their first declaration of World Cup intent here in a way which rendered one of the most talented young group of players very anonymous and took all drama out of a quarter-final which seemed destined for much of it. Argentina progressed because of their quality but also their know-how. A semi-final has been almost a quarter of a century coming for them – Naples, 1990 – but a psychological barrier did not seem to exist for them. They scored and shut a door which Belgium never looked capable of opening .
Belgium's manager, Marc Wilmots, did little to enhance his reputation with his subsequent attack on what he characterised as Argentinian negativity when – from the start of the match – he set a so-called Golden Generation of players to work piling high balls over the top. By the end, Romelu Lukaku, Marouanne Fellaini and Daniel van Buyten were all located in the penalty area, looking to punish what Wilmots clearly saw as a weak Argentina defence. Wilmots has chopped and changed all tournament – unable to decide between Lukaku, who was relegated to the bench, and 19-year-old striker Divock Origi. The decision to gamble on the teenager, who has only one full season at Lille behind him, did not work. Wilmots talked of being "destroyed by the Belgian press" if he had played the Argentinian way. Roy Hodgson would have been destroyed by the English press if he had played the Belgian way.
Argentina 1 Belgium 0 player ratings
Argentina 1 Belgium 0 player ratings
1/22 Sergio Romero

Only had one real save to make and that wasn't a difficult one. He will surely be tested more in the semi-final. 7

Getty Images

2/22 Pablo Zabaleta

A relatively quiet night by his standards but still played well. 6

Getty Images

3/22 Ezequiel Garay

Strong at the back and played well throughout, Lukaku did test him more when he came on though. 7

Getty Images

4/22 Martin Demichelis

Superb on his first World Cup start, blocked well, tackled everything and was in good positions throughout. Top game. 9

Getty Images

5/22 Jose Maria Basanta

Played well throughout and could keep his place in the semi-final on this showing. 7

Getty Images

6/22 Javier Mascherano

After a mixed start, settled into the game and played well. 7

Getty Images

7/22 Lucas Biglia

Did fine without any headlines. Yellow card for cynically tackle. 6

Getty Images

8/22 Angel Di Maria

Started well but had to go off through injury after half an hour. 6

Getty Images

9/22 Lionel Messi

Not his best night and missed a glorious chance at the death to settle it. He will need to return to his top form in the semi-final. 6

Getty Images

10/22 Gonzalo Higuain

Very good performance, man-of-the-match. Took goal brilliantly and hit the bar. Was a threat all afternoon. 9

Getty Images

11/22 Ezequiel Lavezzi

Did ok but not quite the attacking force that others such as Sergio Aguero could offer. 6

Getty Images

12/22 Thibaut Courtois

Saved well from Messi at the end of the game but had precious little to do apart from picking the ball out of his own net. 6

AFP

13/22 Toby Alderweireld

Picked up a yellow card for poor tackle but did fine overall. 6

AFP

14/22 Daniel van Buyten

Was good at the back once again and even went up-front for last ten minutes. 7

AFP

15/22 Vincent Kompany

Another good night's work and unlucky to be going home. Put in several top blocks and tackles. 7

AFP

16/22 Jan Vertonghen

Highlight for Belgium from full-back. Put in several good crosses but no one could convert his good work. 7

AFP

17/22 Marouane Fellaini

Probably his best game of the World Cup and played well throughout. 6

AFP

18/22 Axel Witsel

Didn't offer the protection that Belgium would have wanted, not his best night. 5

AFP

19/22 Kevin Mirallas

Did very little during his hour on the pitch. 4

AFP

20/22 Kevin de Bruyne

A highlight for Belgium once again and was a threat with his invention all game. 7

AFP

21/22 Eden Hazard

Failed to turn up at all and barely had a sniff. Poor. 4

AFP

22/22 Divock Origi

Wasn't nearly as effective has against the USA and didn't have chance at all. 4

Getty images
His characterisation of Argentina was flawed, in any case. The mismatch was not quite as pronounced as the iconic 1982 image of Diego Maradona on the ball, with six Belgians apparently wondering what to do. But almost. The unfortunate custodian of the task of deterring Lionel Messi in the game's early stages was Fellaini – hardly a match made in Belgian heaven, that one – and the European side were in retreat from the start. They struggled dreadfully for shape and order before an opening goal which had an inevitability, even though it came with the game a mere eight minutes old.
Messi was at its heart, applying five touches as he navigated a course around Kevin de Bruyne and Fellaini, after Vincent Kompany had surrendered easy possession to Javier Mascherano. And though there was an element of luck about what happened after he had laid the ball out to Angel di Maria – whose pass slapped off Jan Vertonghen' shin to sit up – Gonzalo Higuain's volley into the bottom right hand corner of Thibaut Courtois' net was the sweetest imaginable.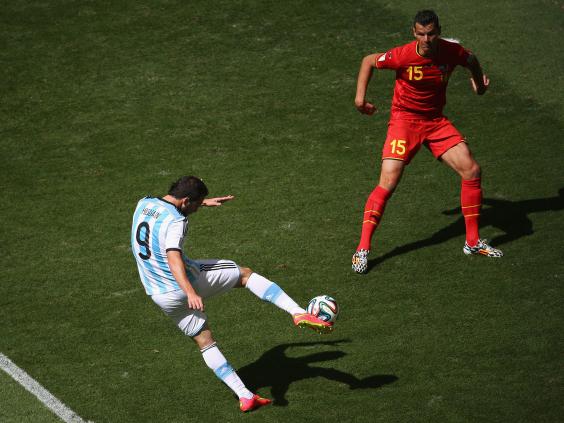 Belgium's attempt to gain any kind of foothold and some purchase on the match was scrambled by Eden Hazard's struggle to make any inroads. The first-half header that he stooped to make from a cross by Vertonghen flew wide and that was pretty much that. It was not the kind of impression he had hoped to make on the biggest stage. He could have been dismissed for hanging a boot into Lucas Biglia's shin early in the second half.
Argentina's first half offered a fluidity we have not seen across the course of the last four weeks. And it wasn't a one-man show, either. If anything it was Di Maria, who did most to recast the 1982 moment. He juggled a ball past the beleaguered Fellaini and later cut De Bruyne out the midfield equation by flicking the inside of his heel at a ball. His departure, after straining his right thigh when sent in on goal, leaves the hole of Argentina fearing the worst today. Sabella said that there would be tests on the player and did not sound hugely optimistic.
For a time, Kompany more than made amends for that fatal concession of the ball to keep his country in the quarter final at half-time – mathematically at least. Another error from him almost drew the curtain on their tournament, when Higuain slipped the ball between his legs, thundered past him in on Courtois' goal. He cracked a shot against the cross bar when he should have finished things off. Higuain's nomination as man of the match reflected how it was a collective that took Argentina home. There was no obvious candidate. Messi perhaps shaded it.
There is curiously defensive perspective to Sabella's outlook and his game of second half deterrence – sending on a midfielder, Fernando Gago, for Higuain with nearly ten minutes still to play – looked risky and unnecessary. Argentina had been in firm control but the decision was made to retreat and reduce Messi's imprint.
It was he who actually had the best chance in a chaotic finale, failing to finish a one-on-one chance on the counter attack. He and his teammates sank to their knees at the end. Now Brazil has to live with it. The Argentinians are coming.
Line-ups:
Argentina (4-4-1-1): Romero; Zabaleta, Demichelis, Garay, Basanta; Lavezzi (Palacio, 71), Biglia, Mascherano, Di Maria (Perez, 33); Messi; Higuain (Gago, 81).
Belgium (4-2-3-1): Courtois; Alderweireld, Van Buyten, Kompany, Vertonghen; Witsel, De Bruyne; Mirallas (Mertens, 59), Fellaini, Hazard (Chadli, 75); Origi (Lukaku, 59).
Referee: Nicola Rizzoli (Italy)
Reuse content