Sometimes the taking part is enough. Palestine lost their opening game in the Asian Cup 4-0 and the scoreline flattered them. The players, being competitors, were disappointed, but in reality the result of the match was nowhere near as significant as the fact it happened.
There are other politically notable aspects to the regional equivalent of the European Championship, the latest edition of which began in Australia this week. North and South Korea both qualified and could meet in the quarter-finals, while in Group C three Gulf States – Qatar, Bahrain and United Arab Emirates – are bracketed with Iran in a potentially combustible mix of Sunni and Shia Muslim faiths. Iraq are also present. But nothing is as symbolic as Palestine's appearance.
Until 17 years ago Palestine did not have a football team, not one that was recognised by Fifa and could attempt to qualify for the Asian Cup. Even now Palestine is not a fully fledged nation state, though since 2012 it has the de facto recognition at the United Nations of non-member observer status. It is also split into two territories, the West Bank and the Gaza Strip, with movement within them complicated by security checkpoints and between them conditional on Israeli assent.
And that has been a problem for the Palestinian football team. Players have frequently been prevented from leaving their homeland to join training sessions or play international matches, some have been arrested and imprisoned. Stadiums have been bombed and players and officials killed, including Ahed Zaqout, a coach who was killed in Gaza by Israeli shelling last August.
Many in Palestinian football believe the Israeli government, determined to stymie anything that promotes Palestinian nationhood, has sought to disrupt the team. One current player, Sameh Mar'aba, has been prevented from travelling to Australia. He was detained for eight months last year for allegedly aiding Hamas. The Israelis counter that players have used the cover of football to support violent acts against Israel.
That the team's existence presents another, less benighted face of Palestine to the world is undeniable. International Nadim Barghouti, quoted in James Montague's excellent football travelogue on the Middle East, When Friday Comes, said: "It is a perfect way to prove to the rest of the world we are human beings. We are not terrorists. In the past all the world thought Palestinians threw stones. I consider the players to be soldiers without weapons. We are playing for freedom in Palestine."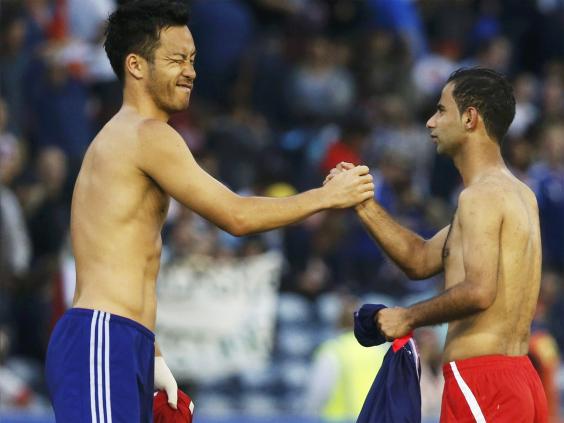 This quest has often been hindered by the internal divisions of Palestinian politics as well as Israeli interference. The West Bank and Gaza are run by mutually antagonistic political groups, Fatah and Hamas respectively. Restrictions on movement imposed by the Israeli government would probably make a national league impossible anyway, but this antipathy ensures a split. Gaza traditionally produces the better players but much of the Strip's infrastructure is in ruins. The stronger – and wealthier – clubs are in the West Bank, but it can be problematic for Gazans to play there.
There have been attempts to recruit from the Palestinian diaspora, but it is not quite as easy as asking English players with Irish grannies to cross the Irish Sea. Thus almost all the squad in Australia are native to Palestine and play in the West Bank Premier League. Of the XI that debuted in the Asian Cup only one plays in Europe, Bethlehem-born Mahmoud Eid in the Swedish third tier. The star striker, Ashraf Nu'man, plays in Saudi Arabia. Defender Abdelatif Bahdari plays in neighbouring Jordan, for a team who represent a 50,000-strong Palestinian refugee camp.
Their opponents in Newcastle, New South Wales, on Sunday night were a Japan side including Shinji Kagawa, Keisuke Honda and Maya Yoshida. The Palestine team, ranked 115th in the world, did not concede a goal in 10 qualifying matches but this was a different level of opponent. Four down after 49 minutes, then reduced to 10 men, they were relieved not to suffer a heavier defeat.
Coach Ahmed al-Hassan was  happy with the team's performance. "The pride I felt is something I cannot describe," he said. "We wanted to show everyone that, even with all the trouble we have, we can play football."
Palestine's next match is in Melbourne on Friday (7am GMT) against a Jordanian team coached by Ray Wilkins who have lost their last six games, scoring one goal. Making up the group are Iraq, a nation with a strong footballing tradition but which has also faced huge difficulties in recent years because of the war and subsequent insurgency. Iraq beat Jordan in the other opening Group D match, with a goal from Swindon Town's Yaser Kasim.
Progress to the quarter-finals is thus imaginable, but that would be a bonus. As Hassan said: "The most important thing was to raise the Palestinian flag and national anthem in Australia."
Indeed, the squad have been moved by the warm welcome received in Australia. Defender Tamer Salah, echoing Barghouti's comments to Montague in 2011, said: "Our people, they just want to send a message for all over the world; we are human beings. It is our right to play football and we are not terrorists."
Modern team a far cry from Palestine of old
The Palestine team at the Asian Cup are not to be confused with the one that twice attempted to qualify for the World Cup in the Thirties. Palestine was then under the British Mandate and the team appear to have consisted entirely of Jewish players. They lost home and away to Egypt (then also under British rule ) in 1934, and both legs to Greece in 1938. Some reports suggest one Arab, and some British soldiers, played in 1934 but team lists suggest this is unlikely.
Reuse content