Croatia manager Niko Kovac said that his players "should give up and go home" after Brazil were controversially handed a penalty in the World Cup opener last night.
Kovac was left furious at Japanese referee Yuichi Nishimura's decision to award the hosts a penalty with the game all-square at 1-1.
The turning point came when Southampton defender Dejan Lovren was judged to have brought down Brazil striker Fred, but contact was extremely minimal – Neymar stepped up to convert and Luiz Felipe Scolari's men eventually won 3-1.
"We talk about respect, that wasn't respect, Croatia didn't get any. If that's a penalty, we don't need to play football anymore. Let's play basketball instead. It's a shame," said Kovac.
"If you continue like this you will have 100 penalties. I think 2.5 billion people watching on TV saw this was not a penalty."
World Cup 2014: Brazil 3 Croatia 1 - player ratings
World Cup 2014: Brazil 3 Croatia 1 - player ratings
1/22 Julio Cesar 7

Produced some assured catches and stops, and could do little about the goal.

GETTY IMAGES

2/22 Marcelo 5

Not completely at fault for the goal, but far from a complete performance.

GETTY IMAGES

3/22 Thiago Silva 6

Did much to eventually shore Brazil's defence together, but not at his best.

GETTY IMAGES

4/22 David Luiz 6

If always a little unreconstructed, Luiz did do well to cut out a range of Croatian attacks.

GETTY IMAGES

5/22 Dani Alves 4

Must realise he is no longer the right-back-cum-right-winger he used to be.

GETTY IMAGES

6/22 Luiz Gustavo 6

One of the typical midfield cogs that Felipe Scolari so leans on.

GETTY IMAGES

7/22 Paulinho 6

Eventually got to grips with Croatia's technical midfield passing before being taken off.

GETTY IMAGES

8/22 Oscar 9

Neymar's superb supporting act. Having kick-started the response, he delivered the sign-off.

GETTY IMAGES

9/22 Hulk 5

Mostly ineffective, before being taken off when the game really got serious.

GETTY IMAGES

10/22 Neymar 9

A decisive and potentially defining performance. This was the real deal.

GETTY IMAGES

11/22 Fred 6

Almost as ineffective as Hulk, but produced a blatant dive for the penalty.

GETTY IMAGES

12/22 Stipe Pletikosa 7

One exceptional save from Oscar and a host of solid ones.

GETTY IMAGES

13/22 Sime Vrsaljko 6

Ably supported Olic up the left for some of Croatia's best moves.

GETTY IMAGES

14/22 Darijo Srna 6

Caused Brazil a fair few problems but eventually succumbed to the siege.

GETTY IMAGES

15/22 Vedran Corluka 5

Increasingly exposed by the runs and movement of Neymar and Oscar.

GETTY IMAGES

16/22 Dejan Lovren 5

Doubts about his starting place, but even more doubts about the unfortunate penalty decision.

GETTY IMAGES

17/22 Mateo Kovacic 6

Nowhere near as perceptive as for Inter, and eventually taken off.

GETTY IMAGES

18/22 Ivan Perisic 6

Another Croatian wideman who enjoyed such initial joy on the flanks, only to be gradually forced in.

GETTY IMAGES

19/22 Ivan Rakitic 6

Played his role but never as ably as Modric.

GETTY IMAGES

20/22 Luka Modric 7

One of the visiting sides better performers and often the source of some of those exhilarating early attacks.

GETTY IMAGES

21/22 Ivica Olic 7

Started superbly, ran out of steam: the story of the team.

GETTY IMAGES

22/22 Nikica Jelavic 6

Had an unintentional part in the goal, and caused Brazil enough problems.

GETTY IMAGES
He added: "This was ridiculous and if we continue in this way we will have a circus.
"Fred is an 85kg man and I don't believe he can be brought to the ground in such a manner.
"I cannot blame Fred at all - everyone tries it on. Like it or not, this is part and parcel of football. What I want is for referees to stick to the laws of the game and apply them equally to both teams."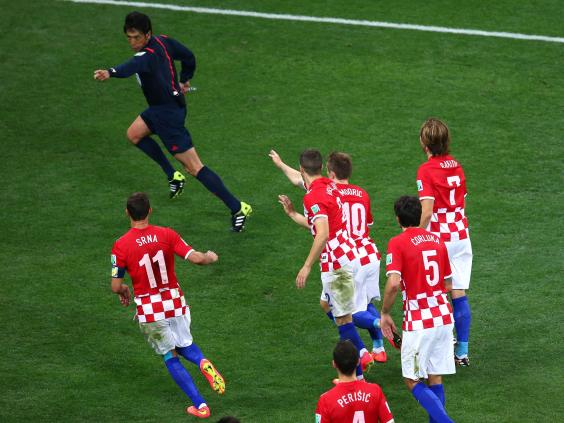 Lovren was raging at the end of the game and even suggested Nishimura should not be officiating at the tournament.
"It's a scandal - this referee should not be at this World Cup," he said.
"I don't know for what he deserved to be here. It's really disappointing for us because we were playing a good game against a big team.
"Two billion people I think saw that it was not a penalty. I didn't touch him."
"We're really disappointed but what can you do against 12 players? You can't do anything. I'm sad, that's it, because we played a good match and the referee - it wasn't a mistake, it was a scandal."
Lovren continued: "It is not just difficult for me to take, but for everyone who watched this game, I think it was 2 billion people. I think it is a shame. A big shame for this mistake. I cannot agree with this.
"Of course I am angry I want to cry now but what can you do.
"Did you see the game? If you saw the game you saw everything so I don't need to explain.
"I was asking the referee how can you do this to us? And then it was a shame. He didn't know what to say. The problem is that the referee doesn't speak English.
"It is like when a player gets a red card and he will be out for two or three games. I think it is the same. They need to see on the TV. It is a shame that he cannot explain to me or to anyone else in English. How can any referee be in the World Cup for that?"
Former Tottenham defender Vedran Corluka was equally as scathing in hi analysis of Nishikori's performance, and felt that his "embarrassing" display meant that the World Cup should be handed to Brazil with every other team going home.
"I think it is embarrassing," said Corluka. "I think for everyone who was watching they saw that nothing happened. I think if this continues then no one should play against Brazil. We should just give them the World Cup and everyone can go home.
"Everyone saw that, not just Croatian players. Every 50/50 decision went to Brazilian players and I think Neymar elbowed Luca (Modric). After that he gives the penalty. We scored a goal, he disallowed a goal. It was quite embarrassing. Because it was the opening of the World Cup and you expect something more. He was keen to give the penalty, it happens, it is over now. After that he wanted to give something to us, it was quite funny. I don't think he should be allowed to referee another game.
"[The] Players are disappointed. But the coach said we need to think about the second game. I congratulate Brazil but they didn't deserve to win today."
Corluka also lamented Nishikori's poor English, claiming that the referee was trying to talk to both sets of players in Japanese.
"I don't blame them but I have never seen a referee in a World Cup that doesn't speak English," Corluka added. "It is quite, I don't know how to say it, amazing. He was trying to speak to the players in Japanese. It is ridiculous.
"He was speaking Japanese but no one could understand him because we don't have Japanese players."
However, Scolari agreed with the award of the penalty having seen a replay of the incident "10 times".
"Millions didn't see the penalty? The referee did and he said it was a penalty and they are the ones that must decide," the Brazil boss said.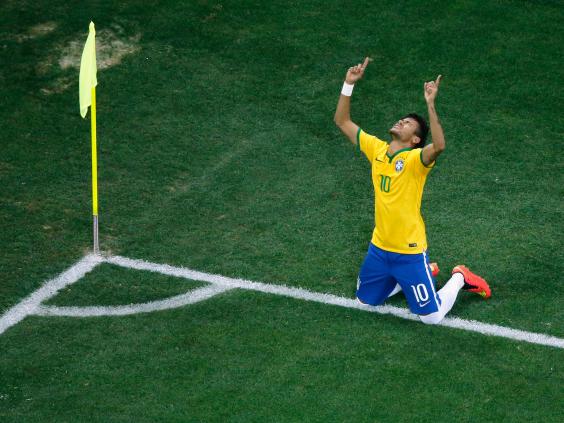 "We also think it was a penalty. I have seen it 10 times and I think it is a penalty."
Star man Neymar admitted he had had a dream start to the tournament.
He added: "I think I am happier than I ever dreamt, to start with a victory in the World Cup such as this.
"The whole team deserves praise for being able to keep calm and turn things around."
Reuse content