Who would have predicted last night's 7-1 scoreline? A person from New Zealand it would seem.
A betting firm has revealed that either one very lucky, incredibly talented fortune teller or someone with access to the Delorean placed a $2 bet on Germany beating Brazil by the incredible scoreline.
Placed at odds of 250:1, the bet landed the gambler $500.
Brazil 1 Germany 7 player ratings
Brazil 1 Germany 7 player ratings
1/22 Brazil: Julio Cesar

Having performed so well before, especially in the last 16 against Chile, must have been distraught at the disaster in front of him. Powerless. 4/10

2/22 Maicon

A 32-year-old with that much experience should be taking responsibility, but Maicon never did, simply making the runs he wanted to make. 3

3/22 David Luiz

Instead of showing discipline and leadership, rising to the role of captain, he was abysmal, playing only his own game and abdicating all responsibility. 2

GETTY IMAGES

4/22 Dante

Always unlikely to replace Thiago Silva adequately, and he provided none of the skill, awareness, leadership or discipline his captain does. 3

5/22 Marcelo

Conceded the corner for the first goal and never looked especially keen on stopping Germany from adding to their tally. 2

6/22 Luis Gustavo

Asked to provide balance in midfield, he was swamped by Khedira and Kroos, as the spine of this Brazil side melted away in the first half. 3

7/22

Utterly outclassed by the German midfield, he could barely get on the ball until scoring his sharp consolation goal. 4

8/22 Fred

Just as anonymous as he had been for the rest of the tournament and once the damage had been done he was booed and jeered by the fans. 2

9/22 Fernandinho

Meant to provide energy and presence in midfield but he was dismal, swamped by German numbers and gifting the ball for the fourth. Off at half-time. 2

10/22 Hulk

Did have an opening or two in Brazil's bright opening but, not for the first time, lacked the skill to take advantage. Did not make the second half. 2

11/22 Bernard

Trusted to fill Neymar's role, by the time he saw the ball Brazil had already lost. At least he wanted to try things in the second half. 4

12/22 Germany: Manuel Neuer

Did in fact have a few saves to make, early in the second half, and he was impeccable again until Oscar's late consolation goal. 7/10

13/22 Lahm

Made one excellent tackle on Marcelo when the game was still 0-0. After that it was all attack, crossing well from the right for the third and sixth goals. 8

14/22 Boateng

Called upon once or twice to defend, which he did very well, and spent the rest of the evening admiring the quality of his team's forward play. 7

15/22 Hummels

His only disappointment, having come off at half-time for Per Mertesacker, is that he could not add to his goal tally for the tournament. 7

16/22 Howedes

Not quite as incisive as Lahm on the opposite side, but was still impressive, never once beaten defensively and providing a useful option out wide. 7

17/22 Kroos

Operating in the oceans of space in front of Brazil's centre-backs, he played the through pass for the second goal and scored the third and fourth. 10

18/22 Schweinsteiger

Can barely have expected such a comfortable evening, winning the ball and moving it forward for his team-mates to do the damage. 8

19/22 Muller

Showed he is one of the best big-game players in the world, with that brilliant nose for goal to score the first. Wonderful movement from then on. 10

20/22 Khedira

The man whose expert shuttling and well-timed runs destroyed Brazil's collapsing system. Made the fourth, scored the fifth and could have had more. 10

21/22 Ozil

Had more than enough space in wide areas to enjoy himself, always moving intelligently and involved in creating two of the first-half goals. 8

22/22 Klose

On the night Germany humiliated Brazil, Klose broke Ronaldo's World Cup scoring record, beating Julio Cesar for the second goal. 8
The Australian betting site TAB, with which the bet was placed, told The National Business Review that 9,700 others gambled on the exact score without success.
Another story of a fan placing a bet on the 7-1 scoreline with Samir Khedira to score at any time has also been doing the rounds after the below image appeared on the internet.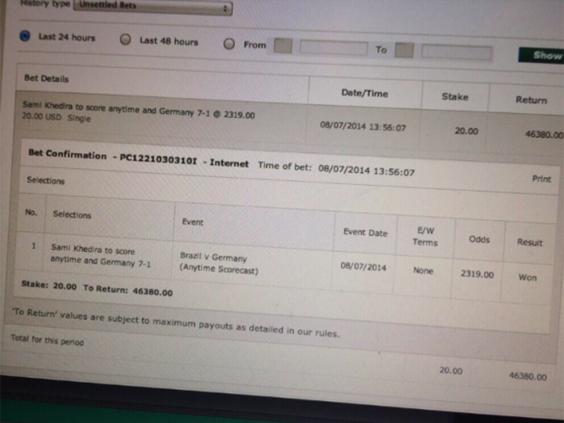 It's suggested that a $20 bet was placed at odds of 2319/1 meaning a return of $46,380. A stunningly confident bet, and without verification from bookmakers, in all likelihood a faked one.
Reuse content