It is three years since Joe Hart was installed as England's first-choice goalkeeper by Fabio Capello as the then manager began his overhaul of the squad that had performed so poorly at the 2010 World Cup finals, and it is a position which the Manchester City goalkeeper has never looked like losing.
Indeed, even after his error that allowed James Morrison's shot past him in Wednesday's 3-2 win over Scotland, it is difficult to imagine Roy Hodgson considering a change. But there can be no doubt that one of the golden boys of the new England generation, just 26 years old but with 33 caps already, will be under scrutiny come this weekend.
Hodgson conceded as much in the aftermath of the win over Scotland on Wednesday when he said that, for one thing, the City goalkeeper now had more serious competition for his place that at any other time in the last three years. A realistic type, Hart would no doubt admit as much himself, in a profession in which he has long since steadied himself for the inevitable highs and equally inevitable lows.
Hodgson's first response when asked about Hart was that the player was "gutted" about the error that allowed a perfectly saveable shot from Morrison to elude him. "The first thing he said to me at half-time was to apologise for letting in the goal," Hodgson said. "It is not a perfect world. Good players make mistakes. People you wouldn't dream of missing a goal chance miss tap-ins and keepers who are very good throw them in.
"The important thing for Joe is to get a good start to the season with Manchester City. We still believe in him. I would contest he doesn't have competition. Ben Foster is a good goalkeeper and now we have the experienced John Ruddy back as well. Jack Butland had nothing to do [for the Under-21s on Tuesday night] but he has talent as well. We might not have 20 but we have a good four or five.
"I wouldn't leave him [Hart] out of the next game because he made that mistake. Like everyone else, the competition for places is getting stronger. If I go back a year or even six or seven months, we are getting a little bit stronger. Joe's place is as much open to competition as anyone else's. I can't give guarantees.
"I hope I am not going to be the type of guy who chops and changes at every mistake. I will be watching him closely and hopefully he will produce a few wonder games for City."
English football can be notoriously short-term and Hodgson is in no mood to condemn a key player for one error in a friendly, certainly when you bear in mind Hart's two excellent displays in the friendlies against Brazil this year – saving a Ronaldinho penalty at Wembley and then performing brilliantly during the first half at the Maracana.
Hart will hardly need reminding that his season for City had its lows too, especially the mistake against Southampton in February for which he drew such criticism from Roberto Mancini. There were others too, such as the gift of a consolation goal for Andy Carroll in City's home win over West Ham. As Hodgson said himself, Hart would benefit from a strong start to the season for his club.
There is no doubting that the player possesses a strong mentality for the unique pressures of the job as England goalkeeper, much more so than other contenders who have tried out for the role over the last five years.
If one was to point to a recent costly error in an England shirt it would be Hart's failure to reach the corner from which Kamil Glik scored for Poland in Warsaw in October.
Hodgson did also point out that Wednesday was not the finest evening for England's defence, which looked vulnerable much of the time and is still yet to develop the durability it had with one or both of John Terry and Rio Ferdinand at its heart. It was notable that the manager is yet to try Phil Jones as a centre-half, preferring once again Phil Jagielka and Gary Cahill who would appear to be his first-choice pairing now.
If Hodgson has the same group of players come the two World Cup qualifiers against Moldova and Ukraine next month he will consider himself fortunate, and there is a good chance that Rickie Lambert, the match-winner on Wednesday, will be among them. "He has been so enthusiastic and pleased to be with us," Hodgson said. "It was a nice thing to be able to give him this chance.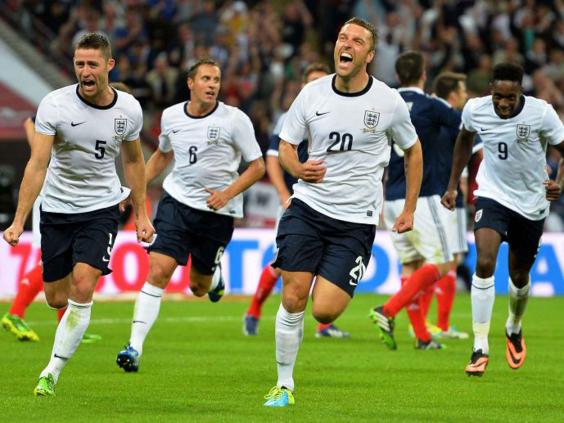 "The fact he has taken it, wonderful, but only time will tell whether he can add to this cap. He will have to accept the competition will get stronger when Andy Carroll gets fit and Daniel Sturridge is back. Then there will be more competition than there was when a not fully fit Wayne Rooney was the clear choice at centre-forward."
It is a basic hope of Hodgson's that he has viable options in each position, and in the next few weeks he will just have to hope his key men stay fit and find form.