It was not a performance to send England swaggering into a new era of permanent management under Gareth Southgate, though he will certainly live with that. Three goals in a game are something the national team have delivered on only one other occasion in the past two years and against a Scotland for whom the road ahead looks very long it was at least a demonstration of what clinical football looks like.
The finishes – three headers – were all superb in their own right, though more vivid than any of them were the expressions of two managers. Strachan's was a picture of agony, his side having spurned three excellent chances before perishing. Southgate leapt to the night sky when the second sailed in, punching the air, knowing that he has done enough to take the job which, on the evidence of his discussions this past week, he clearly yearns for.
The Scottish opportunities reveal the same absence of defensive rigour which England are punished for against better nations than this, the world's 57th ranked. But Strachan's was a side lacking anything like an individual world class talent. There was not final third quality and the post mortem north of the border much investigate how a fraction of the 1970s and 1980s talent must be located and nurtured again.
For Southgate, the decision to select Daniel Sturridge, the night's first goalscorer, over Tottenham's Harry Kane, repaid handsomely, though it was Raheem Sterling at the vanguard. He was too good for Scotland and those who personally vilified him after this summer's European Championships have something to answer for, as England ends the year two points clear of Slovenia in the qualification group.
"There are times when it's not great fun," Gordon Strachan said heading into the game, and that was essentially the summary of a first half which will not live long in the mind.
Southgate was the one with most grounds for concern in the first ten minutes of such a defining game in his career. The Scots pressed and harried high up the field, inducing elementary errors from Adam Lallana and John Stones which punctured his players' attempt to build from defence. Scott Brown, back out of international retirement, hunted down Englishmen in a way that made it seem he had been awaiting this chance all his life.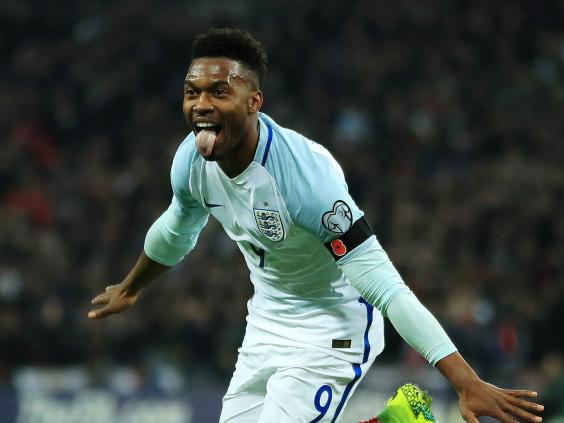 But the English build-up had more purpose in than in the two anaemic first illustrations, against Malta and Slovenia, of what a Southgate England will look like and in Raheem Sterling there was imagination, power and a willingness to drive forward with the ball which looked superior to anything Strachan's defence could counter with. The Scots knew there was weakness for them at full-back and Sterling against Lee Wallace, who had eight caps to his name, looked like the weak point from their viewpoint.
There had been a marginal penalty shout against Wallace, who barged Sterling as the two of them went up for a high ball, before the Manchester City player's run through the central area was the catalyst for the opening goal. His shot from 25 yards was blocked by Grant Hanley into the path of Kyle Walker, who showed excellent reactions and presence of mind to measure a hard near-post cross which Daniel Sturridge ducked into, angling a technically excellent 23rd minute header past Craig Gordon.
The English errors which followed suggested that this would not be enough.  Hanley had been left totally unattended ten yards out when he closed his eyes and sent a header well over its target. Darren Fletcher cut the ball back past Wayne Rooney to create shooting space and placed  it several feet wide. Leigh Griffiths criminally and weakly shot from 20 yards when Robert Snodgrass was well placed to receive, to his left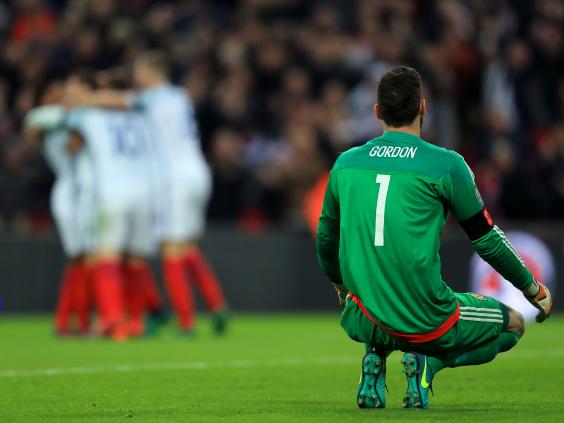 Southgate's hopes also seemed to rest on Sterling, Lallana and Eric Dier, with Rooney displaying none of the "free spirit" the interim manager" had said he'd witnessed in him. Sturridge did not look an enduring threat at the top of the team, though two goals in three qualifiers shows that when he plays he will often score.
The Scots' chances kept coming before England clinically killed them off. James Forrest missed his after Griffiths stepped-over Wallace's cross from the left to present the chance and within minutes it was over. Lallana matched the technical excellence of Sturridge's goal, angling his own header low and beyond the reach of Gordon after Sterling had found Danny Rose on the overlap for a cross. Cahill compounded the visible agony Strachan was suffering with his own contribution to the master-class of headers, leaping to meet Wayne Rooney's corner on the hour and diverting the ball powerfully off his forehead.
The Scots tired and England were queuing up for chances by the 70th minute, when a ball across the face of the penalty area from Jordan Henderson reached Sterling, who managed to send it over the bar from point blank range. But England's course into new territory and new management was set by then.
Reuse content