The bald truth of it for England Under-21s is that they are obliged to beat a football nation in Italy to whom England routinely lose, be it at senior level or Under-21s. Gareth Southgate spoke of freeing his players from the burden of history, but the trouble about history, when it comes to England and Italy, is that it has a nasty habit of repeating itself.
You have to go back to October 1997 for the last time that England Under-21s beat their Italian counterparts and there have been seven meetings since then, three of which Italy have won. For an indication of how long ago that was, Gianluigi Buffon and Francesco Totti were in the Italy team that night, and Rio Ferdinand and Jamie Carragher in the English side.
It has been even worse for the senior team, who last beat Italy in a competitive match in 1977, a World Cup qualifier. It is telling that one of the highlights of Southgate's England career was a 0-0 draw with Italy in a World Cup qualifier in Rome the night after the aforementioned Under-21s game in 1997. Not a victory, but a result that meant England made it to the 1998 World Cup under Glenn Hoddle.
The Under-21s coach pointed out that in recent years England junior teams, such as the Under-17s, have beaten Italy at championships. "I think we have got to free those lads of the past and they have got to believe in themselves as a group," he said. "This group is unique because it is the first time they have been together. It's their first shot at it. We are focusing on how do we improve, how do we get better?
"Italy will be a difficult challenge and they warrant being on more than one point, given how they have played so far. We are under no illusions but it is one we believe we can come through."
A positive frame of mind is certainly required, because if England's young players were to think too hard about the international legacy bequeathed them they might find it difficult to get out of bed in the morning. By way of explaining his squad's disconnect with the past, Southgate pointed out how little some of his young group can recall about recent football history.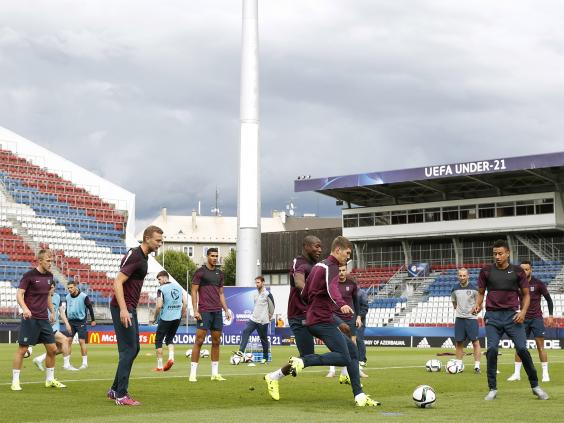 "Gibbo [Ben Gibson] was appalled that Calum Chambers did not know about Kevin Keegan's 'I'd love it' speech in 1996," Southgate said. "You can't blame Calum, he was born in 1995 so why is he going to remember? I don't know how Gibbo knows about it. That's the players' age and we've got to try to keep that innocence as long as possible. But I sense winning the other day [against Sweden] was a huge relief for them. They have now got that win and the worst that could have happened has gone. So come on, let's see how far we can get."
Win and England will progress to the semi-finals of the European Championship. As long as Portugal do not lose to Sweden, a draw would be good enough for England to progress as runners-up in the group. Lose and they could still finish last. There is all to play for with the semis on Saturday and the final at the Eden Arena in Prague on Wednesday evening.
Here in Olomouc, in south-east Czech Republic, the players have been able to relax with their families and friends without hassle. The truth is that the classical music recital in the middle of this sleepy university town on Tuesday night was of much greater interest to the locals than the young English tyros in their midst. In that sense, the preparations have been ideal: low-key and – injuries aside – drama-free. But the proof will be whether they can make the last four here.
Euro Under-21s: Four to watch
Euro Under-21s: Four to watch
1/4 Bernardo Silva (Portugal)

England have to find a way of stopping this midfield playmaker in their opening game. Signed by Monaco for €16m from Benfica two years ago, he was part of the team that eliminated Arsenal from the Champions League. Already capped at senior level, he makes the team tick.

Getty Images

2/4 Kevin Volland (Germany)

The captain of a talented Germany team, Volland is a goalscoring winger who is a stalwart of Germany's junior teams and has already been capped three times by Joachim Löw for the seniors. Has signed a new contract at Hoffenheim but is wanted by Borussia Dortmund

Getty Images

3/4 Andrea Belotti (Italy)

Goalscorer who will face England in the third group game a week today. The 21-year-old Palermo player has scored six goals in nine qualifying matches. Good partnership at Under-21s level with the Juventus striker Domenico Berardi

Getty Images

4/4 Filip Djuricic (Serbia)

Impressive in spells while on loan at Southampton. At 23, one of the most experienced players here. He has 22 caps for the senior team and four goals, including two against Scotland in 2014 World Cup qualifying. Benfica's attacking midfielder is a key figure.

Profiles by Sam Wallace

Getty Images
Southgate was asked to look back on that night in Rome's Olympic Stadium in 1997 when Paul Ince was the bloodied hero and England held firm. The night before the game Hoddle told Southgate to fake an injury to keep the Italians guessing on whether England would play their three-man defensive formation. Having lost to Italy at Wembley to Gianfranco Zola's goal, England prevailed.
Again the question is whether England can deal with the pressure. "As much as you say to players 'Go and play with freedom', I've been a player and it doesn't always work like that," Southgate said. "There is always that thing in the back of your mind. Even Italy – who people are saying are on a shot to nothing – they will still be thinking, 'If we go home with no wins we'll know what reaction we're going to get'. There is always some element of fear until maybe it has gone past that point of almost no-return."
Southgate has some big choices to make. Both Danny Ings and Ruben Loftus-Cheek made strong cases to be in the team with their substitute performances against Sweden. John Stones is clear to play again after his concussion and will return. "They have dealt with the tension and the pressure," Southgate said, "they need to know what it feels like to go to the wire in a big game and come out on top of it. Now it is a key moment to push forward."
He said he could just about remember 1977, when England last beat Italy in a senior competitive game. "Virginia Wade won Wimbledon!" he said. As for this game, his young team have to make their own way. "History is history," he said, "we have got to know what we are capable of."
Reuse content