They are young, they are English and they are confident that they have come to a major international tournament to win it.
It is far too long since that could be said of any England side but the squad that landed in the Czech Republic for this month's European Under-21 Championship might, for once, actually fulfil all those expectations.
The 1-0 victory over Belarus at Barnsley last Thursday was their 14th win in 15 internationals, in which they have scored 43 goals and conceded only nine. France, the only nation to have beaten Gareth Southgate's side in that time, have not qualified. Nor have Spain or the Netherlands, who between them have won three of the last four tournaments.
Yet there are some who feel Southgate should have shortened the odds still further by insisting that the likes of Raheem Sterling, Ross Barkley or Luke Shaw made themselves available.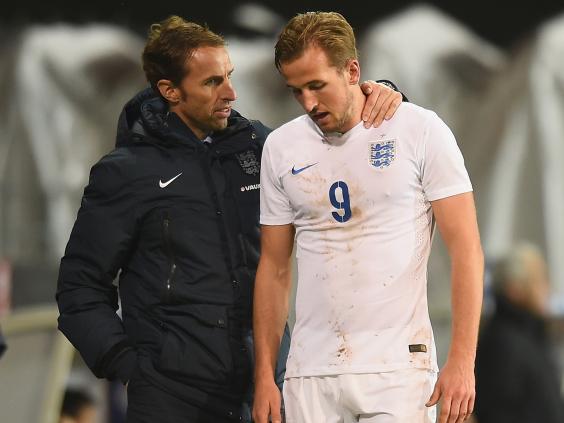 In the eyes of the Arsenal full-back Carl Jenkinson, who has just spent a season on loan at West Ham, to have parachuted these stars into the tournament at the last minute would have been divisive.
"They could have brought in other players but would that be fair on the lads who have got us here to have brought in five or six who could, technically, play?" Jenkinson said.
"The lads who have got us here deserve to have a go at the tournament. It has been a long qualification period, a two-year thing, and for others to come and take players' places, would that be fair?"
This is an England side that is very together. Southgate did not take his players away to a foreign training base. When the England manager offered the squad a chance to go home, many opted to stay at St George's Park.
They arrived at their base in Olomouc, a picturesque town in the east of the country, on Sunday and Jenkinson is confident they will still be in the Czech Republic when the final is played in Prague on 30 June. Harry Kane could be as much a star of this tournament as Andrea Pirlo was when it was played in neighbouring Slovakia 15 years ago.
"We don't fear anyone if we play to our full potential," Jenkinson said. "Without blowing our own trumpet, we have a very good team.
"We are a good attacking side. Harry Kane will really feature out there; we have Saido Berahino and Danny Ings, who can all score goals.
"We have a back four who have played regularly in the Premier League. We have a midfield who can play a through ball and our keepers are very good. There is no  reason not to be confident.
"But it is the proper stuff now, it's tournament time. Now it is about mentality – we have to go and do it on the big stage."
Since Stuart Pearce's side were demolished 4-0 by Germany in the 2009 final in Malmo, England have failed to progress beyond the group stages in two tournaments.
Half of that German side was in the squad that won the World Cup last year. James Milner was the only member of the losing team to make it to Brazil, where England collected one point.
Two years ago in Israel, they lost all three games. In the words of the Norwich winger Nathan Redmond: "A lot of people said we couldn't play. Even worse was that some people said we didn't care." This is another reason why Southgate is taking only footballers whose commitment he is certain of.
"We are aware of the pressure on us," said Jenkinson. "The reputation of football players in England is high and rightly so because we have the best league in the world. There will be a lot of eyes on us.
"A lot of us play in the Premier League week in and week out, where there is a lot of pressure so I don't think pressure will be an issue. It is something we have to use to our advantage."
He knows the phrase that the Premier League is the "best in the world" is long on overuse and short on proof. "But as a team of young footballers, what can we do about that?" he said. "This is our time to go out and make a name for ourselves."
--
Who will England face?
Win Group B and England will play the Group A runners-up in Olomouc on 27 June. Finish as runners-up and they will face a more difficult date with the Group A winners – probably Germany – on the same day in Prague. The final is in Prague on 30 June.
Thursday (7.45pm, Brno) England v Portugal
Sunday (5pm, Olomouc) Sweden v England
24 June (7.45pm, Olomouc) England v Italy
Reuse content