The Manaus stadium that will host England's World Cup opener against Italy on Saturday was in a race against time on Thursday to be ready for kick-off, with the pitch still brown, dry and sandy in places and much of the interior areas, even those around the changing rooms, still frantically being cleaned with 48 hours to go.
England will train here on Friday at 5.15pm local time, having elected to work in the gym at their hotel on Thursday rather than use their Fifa designated training ground. At mid-afternoon one of the ground staff at the Arena Amazonia could clearly be seen with a yellow canister on his back spraying the brown areas of the pitch under the direction of an official. He concentrated on the penalty areas, which are particularly brown and dusty-looking.
The Fifa delegate present on that occasion could not say whether it was paint, fertiliser or something else that was being sprayed on to the pitch.
In some areas of the stadium, there were workers with dust-masks on their faces clearing up the site in preparation for what will be the first major sporting event it has hosted. There were building workers all over the site and reporters were told they could not go to pitch-side because cabling was still being laid for match-day photographers. There is still rubbish strewn in some external areas.
The changing rooms – England are in the "A" dressing room – looked impressive and complete, albeit in need of a thorough clean. The medical centre is complete and fully staffed. Fifa officials agreed to a tour of the stadium but drew the line at allowing photographers and reporters down to pitch-side.
England World Cup 23-man squad numbers
England World Cup 23-man squad numbers
1/22 1. Joe Hart - Goalkeeper

Age – 27 Caps – 41 Goals – 0 The Manchester City No 1 suffered a dip in form mid-season that saw Manuel Pellegrini drop him for understudy Costel Pantilimon. But Hart has recovered superbly to dismiss any talk that he won't be Roy Hodgson's first choice in Brazil.

GETTY IMAGES

2/22 13. Ben Foster – Goalkeeper

Age – 31 Caps – 7 Goals – 0 Having retired from international football, Foster was persuaded to make himself available for his country once again. Played the full 90 minutes against Ecuador last week.

GETTY IMAGES

3/22 22. Fraser Forster - Goalkeeper

Age – 26 Caps – 2 Goals – 0 Forster made his debut in the Wembley defeat to Chile in November last year, but his form with a strong Celtic side north of the border has seen him force his way into consideration for some time. Saw of the challenge of Norwich's John Ruddy to make the squad.

Reuters

4/22 2. Glen Johnson – Right-back

Age – 29 Caps – 52 Goals – 1 Johnson has cemented the right-back berth as his own this season, with his main rival Kyle Walker suffering an inconsistent season that has been disrupted by injury. Has a tendency to forget his defensive duties when he marauds up the pitch, which will be a worrying sight in Brazil against the world's best.

EPA

5/22 12. Chris Smalling – Centre-back/Right-back

Age – 24 Caps – 12 Goals – 0 Smalling's versatility in defence stands him with a good chance of playing in Brazil, although he has not pushed on as much as was hoped when Manchester United signed him in 2010. Unlikely to start if Hodgson's preferred back-four are fully fit.

GETTY IMAGES

6/22 16. Phil Jones – Centre-back

Age – 22 Caps – 10 Goals – 0 Jones' inclusion had been put into question after he suffered a shoulder injury that required him to go to hospital during the victory over Hull last week. But after getting the OK for Brazil, Hodgson has decided to include the young defender, who offers a similar versatility as his club colleague Smalling as well as fulfilling a role as a holding midfielder.

GETTY IMAGES

7/22 5. Gary Cahill – Centre-back

Age – 28 Caps – 24 Goals – 3 Cahill was a part of the standout defence this season as Chelsea's back-four conceded the least amount of goals by a considerable margin. He has solidified his selecting in the starting XI in recent years and has pace to get the side out of trouble if needed.

GETTY IMAGES

8/22 6. Phil Jagielka – Centre-back

Age – 31 Caps – 26 Goals - 2 Worryingly for England, Jagielka missed a considerable number of games in the run-in to the end of the season, but the Everton captain made a timely return after two months out for the narrow defeat to Manchester City at the beginning of May. Likely to partner Cahill at the back as he offers experience and calmness to a young-looking defence.

GETTY IMAGES

9/22 3. Leighton Baines – Left-back

Age – 29 Caps – 24 Goals – 1 The set-piece master has battled past the long-serving Ashley Cole to assume the left-back role under Hodgson, and he is expected to continue in Brazil after a solid season with the Toffees which saw them challenge for the top four.

Getty Images

10/22 23. Luke Shaw – Left-back

Age – 18 Caps – 2 Goals – 0 The Southampton teenager has enjoyed a tremendous year that has led to calls nationwide for his inclusion in the World Cup squad, despite his inexperience. Made his debut in the March victory over Denmark, and looks to be the ideal replacement to Ashley Cole, with the 107-cap veteran missing out on a fourth consecutive World Cup and announcing his international retirement as a result.

Reuters

11/22 4. Steven Gerrard - Central midfielder (Captain)

Age: 33 Caps: 110 Goals: 21 The captain of the side has enjoyed a brilliant but ultimately disappointing season with Liverpool. The Reds managed to remain in contention for the Premier League title until the last day of the season but ultimately missed out. Gerrard's costly slip in the 2-0 defeat to Chelsea is quickly becoming the defining moment of their season. Deployed in a deeper role this season.

Getty

12/22 8. Frank Lampard - midfielder

Age - 35 Caps - 105 Goals - 29 The Chelsea midfielder will be one of the older heads in the England squad. While unlikely to be a starter in Brazil, should he get opportunity he will want to atone for the injustice of his 'ghost goal' at the last tournament in 2010 when he scored against Germany but it wasn't given.

GETTY IMAGES

13/22 7. Jack Wilshere - Central midfielder

Age: 22 Caps: 18 Goals: 0 Arsenal midfielder suffered a foot injury playing for England on 5 March, but returned for the Gunners on their final game of the season. Arsenal manager Arsene Wenger claimed he would be ready to go for the start of the World Cup.

Getty Images

14/22 20. Adam Lallana - Central midfielder

Age – 26 Caps – 5 Goals – 0 He may be relatively inexperienced at international level, but the Southampton captain has had an extraordinary year that saw him named in the PFA Team of the Year as well as breaking into Hodgson's side. His ability to utilise both feet could prove a real threat in Brazil.

GETTY IMAGES

15/22 21. Ross Barkley - Central midfielder

Age: 20 Caps: 6 Goals: 0 The Everton midfielder has burst out of the traps at Goodison Park this season, resembling Wayne Rooney in his pomp. Barkley has made 34 league appearances for Roberto Martinez this season, scoring six goals.

GETTY IMAGES

16/22 17. James Milner - Midfielder

Age: 28 Caps: 47 Goals: 1 Mr Dependable for both club and country. Could win his 50th cap in Brazil if England get past the group stage.

GETTY IMAGES

17/22 15. Alex Oxlade-Chamberlain - Midfielder

Age: 20 Caps: 15 Goals: 3 Suffered a knee injury in the friendly against Ecuador but manager Roy Hodgson hopes the Arsenal midfielder will return against Uruguay on 19 June.

18/22 19. Raheem Sterling - Midfielder

Age: 19 Caps: 4 Goals: 0 Despite Liverpool's faltering end to the season, Sterling has excelled this term for Brendan Rodgers, impressing down the wing and also through the middle. With Theo Walcott missed the finals because of injury, Sterling will offer some badly-needed pace.

GETTY IMAGES

19/22 11. Danny Welbeck – Striker

Age – 23 Caps – 24 Goals – 8 While Welbeck's form for Manchester United this season hasn't been the best, he remains a favourite of Hodgson's and tends to shine on the international stage, having scored in the 3-2 victory over Sweden in the 2012 European Championships with a deft back-heel flick. Has a tendency to be deployed on the left, and could be overlooked in the starting line-up for the in-form Sterling.

EPA

20/22 9. Daniel Sturridge – Striker

Age – 24 Caps – 11 Goals – 4 Sturridge has flourished this season in his partnership with Premier League top scorer Luis Suarez, netting an impressive 21 league goals in helping Liverpool to finish second. Hodgson has shown a preference to start Sturridge in the striker role with Wayne Rooney playing off the Reds frontman, and is likely to be one of the first names on the team-sheet come 14 June.

GETTY IMAGES

21/22 10. Wayne Rooney – Striker

Age – 28 Caps – 91 Goals – 39 Rooney will head to Brazil as one of England's most experienced squad members, and the United striker will once again have the weight of a nation's expectations on his broad shoulders. The forward has been given licence to roam in the Three Lions shirt, although he is yet to produce his brilliant best at a World Cup, having been to the 2006 and 2010 tournaments.

GETTY IMAGES

22/22 18. Rickie Lambert – Striker

Age – 32 Caps – 6 Goals – 3 Aiming for a successful tournament in Brazil on the back of his "dream" move to Liverpool.

Mike Hewitt/Getty Images
In a statement, Fifa said: "The pitch in Manaus has been undergoing treatment in preparation for the World Cup. Over the last three months, mitigation procedures have been put in place and there continues to be significant improvement.
"Pitch experts from Fifa and the local organising committee are satisfied that the pitch will be ready for training and the matches, and have been based in Manaus to ensure that all proper procedures are in place."
Arriving at the stadium on Thursday afternoon, I encountered a group of workmen busying themselves with the stadium car park. The tarmac was still spongy but they were pressing ahead with painting the lines in yellow paint nonetheless, and cheerily pointed to the corner where I could get out and back to the road.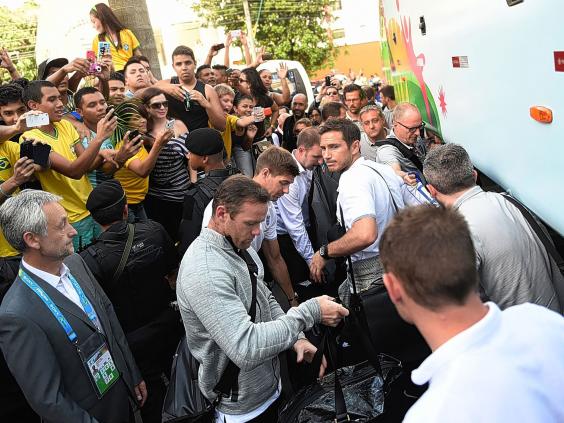 The stadium is not yet finished. It may never be finished, according to the official, European-approved standard. But the people here believe they are ready. England's first game in a city in the Amazon rainforest on Saturday is an event that Manaus has been waiting for in eager anticipation ever since it was given host city status and it is not about to allow what it regards as minor considerations over the quality of the pitch or the climate to get in the way of its big day.
To put into perspective the location of Manaus, and what it represents for this part of Brazil, it is worth revisiting a few simple facts about the Amazon, culled from Brazil on the Rise, an excellent book on the country's development by the American journalist Larry Rohter, who was the New York Times correspondent here for eight years.
The Amazon encompasses 60 per cent of Brazil's territory, but has just 10 per cent of its population. The rainforest itself covers an area bigger than Europe. It was opened to large-scale development less than 50 years ago and since then, Rohter writes, 20 per cent of it has been "burned, cut, chopped or razed". Yet there are still no roads to Manaus, the biggest city in the Amazon. You have to fly in, as the England team did from their base in Rio de Janeiro.
It felt remarkable that, with England finally in the city they have been preparing to play in since the draw, they did not venture outside their hotel for a training session. The official Football Association position was that this was in keeping with previous preparations on "MD-2" (clunky Fifa-speak for two days before a game). But they will train at the stadium later today.
The remarks by Roy Hodgson about Manaus, made before the draw in Salvador in December, still cut deep here. The England manager infamously said that it was "the one to avoid", a comment he is still trying to live down. Leaving aside the grandstanding by local politicians on the issue, there was a genuine concern that Manaus's chance to show itself off to the world – as a travellers' hub for exploring the greatest biodiversity anywhere on earth – would be lost.
The city hosts four group games, but none bigger than England against Italy. As a consequence it launched its own PR campaign, including a television advert presented by two Manaus residents, one from England and the other from Italy, discussing why they loved the city. Manaus has a 19th-century opera house, the Teatro Amazonas, brought over by boat during the days of the rubber barons. The venue then had a rubberised drive so late arrivals would not disturb performances.
The attention to detail has not been quite so fastidious for the stadium itself. Organisers have run out of time to make the finishing touches. In the wider area around the stadium there was still work going on and to one side great mounds of earth that have been deposited, behind a nearby gymnasium. From the inside, however, and for the purposes of television, the stadium will look the part.
Reuse content