It was only a matter of time this week before someone got round to mentioning Croatia, and that wet night at Wembley in November 2007 which is still treated by those who took part with a mixture of embarrassment and disbelief. Yes, that really did happen: an England team set the task of getting a result at home against a team with nothing to play for failed to reach a major international tournament.
England v Poland: Follow the latest news and score with our LIVE BLOG
Asked what part of his experience he would draw upon for tonight's must-win World Cup qualifier against Poland, Steven Gerrard replied bluntly that it was "a big massive picture of the Croatia game in 2007". That night England only needed a draw to reach Euro 2008, against a team that had already qualified for the tournament but in the rain they conspired to blow it.
"It's a memory I'll struggle to reject," Gerrard said, "a memory that I'll have to take to the grave with me. One of the lowest moments of my  international journey. I hope that we don't get back to that."
In many respects, Tuesday night's qualifier should be a simpler prospect. Unlike that excellent Croatia side that won 3-2 in 2007, Poland are fourth in a very poor Group H and have nothing at stake other than the pride of the 20,000 Poles expected at Wembley. Granted, England must win the game if they are to earn first place in the group and automatic qualification but they are up against the 65th-ranked team in the world.
When Steve McClaren took refuge under a Football Association umbrella in 2007, he did so having selected a team to face Croatia from a squad that had been severely diminished by injury. The likes of Wayne Rooney, Michael Owen, John Terry, Rio Ferdinand, Ashley Cole and Paul Robinson were all missing that night, forcing him to improvise with Scott Carson, Joleon Lescott, Sol Campbell (then 33) and, his only fit front-line striker, Peter Crouch.
History tends not to remember those details. What history does remember is McClaren's brolly and the sense of humiliation that cost him his job and left England with one of those lost summers. The only two survivors from that night in 2007 who will most likely start against Poland are Gerrard and Frank Lampard, both now past the 100-cap mark and eager for one last show in Brazil next summer.
It is hard not to consider Croatia in 2007 when contemplating tonight's challenge for England. For Roy Hodgson, the past is irrelevant – "the words Croatia and 2007 have never been mentioned, it's of no interest", he said – but enough of it lingers on to inform much of what happens tonight. The first challenge tonight is for England to conquer the memory of their past.
Hodgson's firm belief is that this is a new era of players, such as Daniel Sturridge, Danny Welbeck, Andros Townsend, Jack Wilshere, Leighton Baines, Gary Cahill and Phil Jagielka who do not have to worry about the ghosts of the Euro 2008 qualifying campaign. "We can't change the Croatia result or make [Jan] Tomaszewski play badly in '73. We've got something really big for us if we win the game, and the Poles have nothing other than a bit of pride."
Hodgson made the point that while the lessons of the past had their place in ensuring politicians did not repeat the mistakes of history, it was a different case in sport. "I don't think it has any relevance whatsoever... every Poland and England team has been different since 1973." Of course, he has a point but then this is the England team where the same inhibitions and shortcomings seem to be passed down from generation to generation.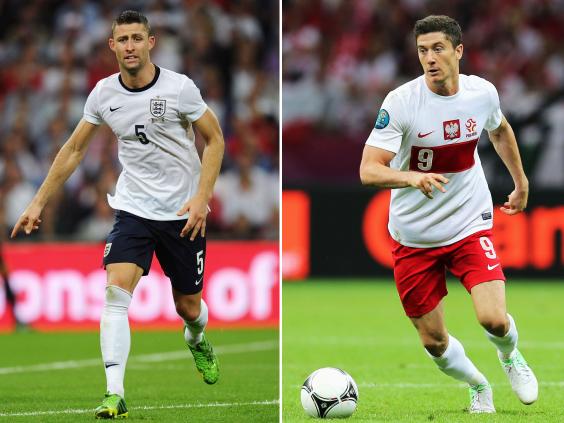 Should Hodgson's England team beat Poland? Of course they should, but then this is a team that is yet to win two consecutive games in this qualifying campaign. There is always a difficult balance for the likes of Gerrard to strike: they cannot afford to crush the optimism of the younger players but must also leave them in no doubt of what they are playing for.
"I'd never ever try to scare a young lad but I think it's important they are aware how big this is," Gerrard said. "To know what's at stake, and we need to seize this moment. We want to look back at this with fond memories. We need to look back at this with a smile rather than the way I do about 2007. Everyone's ready to play, everyone knows the size of the game. Training this morning was superb. The young lads in the squad have taken inspiration from Andros's performance."
The Andros Townsend question is one of a number that face Hodgson as he makes his selection decision this morning. There is no guarantee that he will stick with the same XI beyond the one enforced change of replacing the suspended Kyle Walker at right-back, most likely with Chris Smalling. The team that Hodgson picks tonight will go a long way to shaping perceptions of him and the kind of manager he is, especially if it ends with England facing a two-legged play-off next month to reach the World Cup.
The inclusion of Townsend against a much-weakened Montenegro team on Friday has come to be regarded as Hodgson's light-bulb moment, one where he abandoned his conservatism in favour of something more adventurous. He is not having a bit of that, turning around talk of a more attacking attitude on Friday into praise of his defence for their handling of Stevan Jovetic and the task they face against Robert Lewandowski tonight.
"We can do no more," the manager said as he contemplated the build-up to tonight. "We've prepared, we're ready. Bring the game on. It's not good that we've got until the evening to wait until we bring it on. We'd be happy to go and play it at 3pm this afternoon."
Gerrard, as is his nature, was a bit more circumspect. He said he would be "the proudest man in the country" tonight if England win and are safely on their way to Brazil, but he added that he did not think the fear that comes with representing England would "ever disappear totally... but the word fear isn't helpful". There is no shame in admitting that. Every generation has to learn to play with it, and this one might just be the team that decides to throw it off.
Reuse content