Among the 23 players of San Marino's squad that arrived in London, only two can say that they earn their living playing football, in this case for San Marino Calcio in the third tier of the Italian game. The rest of them have, to put it bluntly, taken time off work to be at Wembley Stadium.
The goalkeeper Aldo Simoncini, a busy man to say the least, studies computer science in Italy. The defender Alessandro Della Valle, who scored an own goal in the  8-0 defeat to England in Serra Valle in March last year, works for a ceramics company in San Marino. Fabio Vitaioli owns a clothes shop. Alex Gasperoni works for an interior design company. Matteo Vitaioli works for a company that prints packaging. The midfielder Michele Cervellini has recently qualified as a lawyer.
Their most celebrated player, the striker Andy Selva, has now retired from club football and coaches children in San Marino, but it is telling that at 38 he is still playing international football and is part of the current squad. Only Mirko Palazzi and Mattia Stefanelli are professionals, as Selva once was. There are 100 supporters coming from the Most Serene Republic which, along with a combined total of 37 in the official party – the San Marino Football Association delegation, the staff and squad – means they could all have travelled on one plane.
As ever, the enduring question when it comes to San Marino is: why do they bother? Their greatest-ever result was a 1-0 win over Liechtenstein in 2004 and if they thought that was a changing point in their history they were right, but not in the way they were hoping.
The problem with Sammarinese football is not simply that they are bad. It is that all the statistics point to them getting worse. Not long before their first home game against England, that famous World Cup qualifier in November 1993, they reached 118th in the Fifa rankings, their highest placing. Since then it has been a steady downward trend to their current position of 208th, officially joint-worst in the world alongside Bhutan with no points.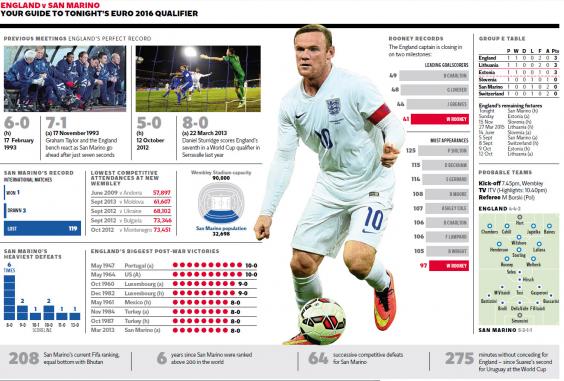 Click HERE to view full-size version of graphic
Their manager, Pierangelo Manzaroli, oversaw arguably San Marino's finest hour in international football when his Under-21 team beat Wales Under-21s at home last year. Being in charge of the senior team is not a job for a manager who finds losing difficult. Since they were beaten 8-0 by England last year, San Marino have shipped 49 goals in eight games and scored one. Della Valle got an equaliser against Poland in a World Cup qualifier at home in September last year and their parity lasted for all of a minute. Poland won the game 5-1.
Their sovereign state entitles them to a football team but, taking into account their relative decline, it becomes ever more ludicrous that they get a free pass to play an international game that is supposed to represent, by its very nature, the elite of the sport. A requirement to pre-qualify for this group round has been raised. As it stands, Euro 2016 qualifying is a dismally uncompetitive 14 months which will sap the credibility of the embattled international game even more.
Asked about it, Roy Hodgson said he had no issue with San Marino's participation. "Pre-qualifying has been mooted many times before," the England manager said. "It's a question for Uefa. The obvious answer is there are a certain number of teams in Europe with  Uefa footballing status, and Uefa has not wanted to say: 'You've got a higher status than these others.'
"But if they play the game properly, do try and do their best and play proper football, it's not such a bad thing that there is this discrepancy. With the calendar we have these days, I don't quite know where those pre-qualifying tournaments would be fitted in. I don't have an answer to it."
It does international football few favours that in its increasingly difficult battle against the club game that after 24 years of heavy defeats, teams like San Marino are still given a day out at the expense of proper competitive games. Qualifiers such as these are more ammunition for those who would seek to marginalise the international game. It is not even as if San Marino represent a hotbed of football. Their stadium in Serra Valle was not sold out for England's visit 19 months ago.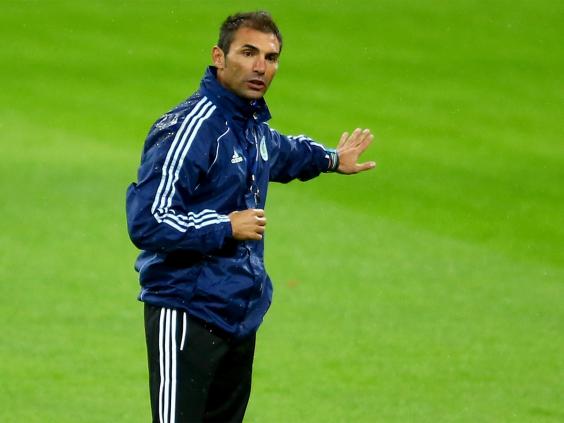 Nevertheless, Manzaroli was adamant in his press conference at Wembley that his team had the right to be playing there. "We want to carry on playing in the biggest and best stadiums in Europe and we think it is our right to do that," he said. "Every time we do, we show we are committed and we give our all so we want to carry on with that.
"If the international schedule is too dense and they want to take some matches away that is up to Uefa. But we are a member of Uefa and we think we have as much right as anyone else to play against the big teams."
There has always been the nagging fear that matches like these are more for the enjoyment of the amateur players and officials involved rather than for the greater good of the game. But San Marino have their vote at Uefa congress and it would be an unwise politician who took on the small nations when they wield that power.
Against San Marino at Wembley two years ago, Theo Walcott collided with Simoncini when the San Marino goalkeeper came out to close down the Arsenal man and he was taken off. Generally speaking, it is the Andorrans who tend to be the more combative when it has come to facing England in qualifying campaigns. Nonetheless, it will be interesting to see how they approach it.
"For me, personally, you can't go into a game thinking you've got to avoid tackles," Wayne Rooney said. "That's how you get injured. We  have to play the way we normally would and, hopefully, we avoid any bad challenge and injuries."
The Football Association believes it will get a crowd of close to 55,000 for the game, a pretty remarkable figure, although fewer than for San Marino's last visit. It has more to do with the appetite for live football in this country than an opposition who are here for a day out and no more. 
Reuse content