Even when he eclipses the  45-year-old England goalscoring record of Sir Bobby Charlton, there will be a small part of Wayne Rooney's legacy that will include the time Phil Bardsley chinned him in his own kitchen wearing a pair of pink boxing gloves.
There was a touch of the beaten fighter's bravado about Rooney as he discussed in depth for the first time the bout with Bardsley that was caught on camera phone footage and found its way to the front page of The Sun. Rooney takes his England captain's media duties with an unusual seriousness that belies his private self, but on this issue he could see the funny side of it all.
At Wembley on Friday night there would, he said, be no more of the mock punch-and-collapse celebration that followed his goal against Tottenham, not least, he said, because his wife Coleen had spotted their eldest son Kai doing exactly the same at school. "It's funny, actually. My wife went to pick up my lad from school and saw him doing that in the classroom. I'm sure you won't be seeing that [from me] again."
He is still adamant that the final frame of the video, as he lay prone with his head between the legs of a bar stool, was not the end of the story and that Bardsley's left cross had not knocked him out.
"To be honest, it wasn't a big issue with me," he said. "I saw a few of you guys speaking on the matter. For me, it wasn't a big issue. I was in my house with some friends. Obviously, I was caught on the wrong end of a punch, but I wasn't knocked out like it was reported. Unfortunately, the video stopped there...
"There has been [stick] around the place, at United and England training, but you'd expect that. They're a group of lads. I've always loved boxing. Unfortunately, sometimes, it doesn't go too well for you."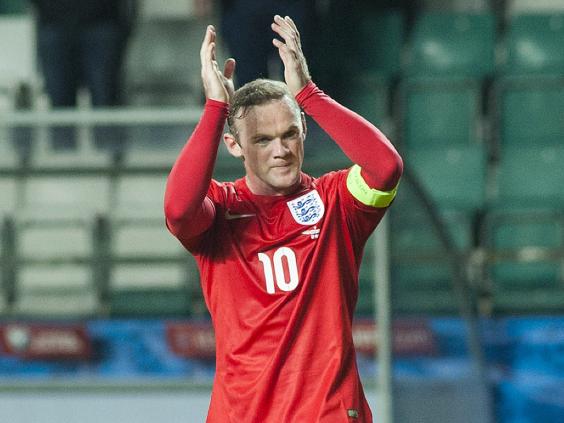 Critically, Rooney said that if he "felt it was wrong" he would have "apologised to the right people". Even now, 12 years on from his England debut, and within three of Charlton's 49-goal record, the wild child in Rooney has not completely been vanquished. Over the years he has had more awkward questions to answer than those over the Bardsley episode, but he is clearer these days about what requires an apology and what does not.
"I knew it was going into the newspaper and I spoke to the manager [Louis van Gaal]. He didn't see it as a big issue. I didn't see it as a big issue myself. Other people obviously do."
But what if he had cracked his head on the way down? "I never, so ... I like boxing. I come from a boxing background. It happened. If I'd felt it was that wrong, I'd have apologised to the right people. But for me, that's been and gone and I'm now concentrating on my football."
The record is getting ever closer, and he might well take another step towards it in the Euro 2016 qualifier against Lithuania who play England for the first time and, ranked 94th in the world by Fifa, have injury problems of their own. Hodgson said that he was "delighted" that Rooney was back playing in attack for United, a change that took place against Sunderland on 28 February following the injury to Robin van Persie.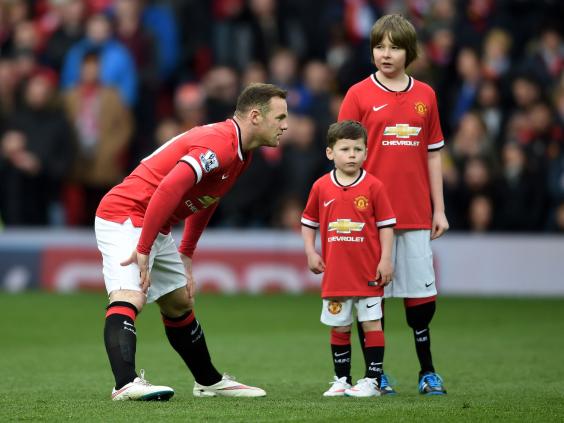 He has scored four goals in six United games since he was returned to his natural habitat and, while Rooney has been careful not to sound  displeased with his midfield role, it sounded like he was glad to be back.
"When you play as a centre-forward you want to score goals, so I'm pleased I'm doing that," he said. "I spoke with the manager [Van Gaal] and he thought it was better for the team for me to play in midfield. So that's what I did. I'm sure in other games he might put me back in midfield, but I'm delighted to be playing up front and scoring goals. It's helping us win matches.
 "It's a role I know I can play, and I've said that many times. But as a centre-forward  your job is to try and score goals, which, thankfully, I've gone back up front and I'm doing that."
Harry Kane was nine years old when Rooney made his England debut against Australia in February 2003 and the latter reflected on his own teenage thoughts as he approached his debut 12 years ago. Not a man often given to offering advice, Rooney said that if there was one thing he could tell Kane about this time of his career it was that he should enjoy it.
"What people don't realise is that, when I came through, same with Harry, you're a young lad still learning the game and still learning things about life. Sometimes you make mistakes which you're going to do as a young lad. You'll learn from that, hopefully. That's when, as you get a bit older, you realise what's good for you and what isn't good for you."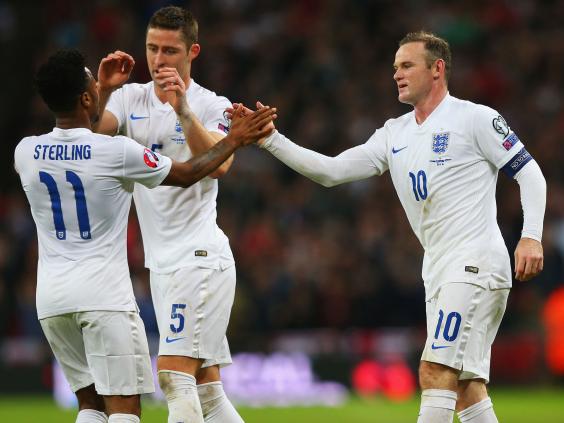 Nowadays, Rooney is the senior figure who, he said, chats with Sir Bobby Charlton after games at Old Trafford about the challenges of switching to midfield. They don't talk about the England record itself, Rooney added, because he does not want to mention the fact that he is about to break it.
"No, he's a great for Manchester United and England," Rooney said. "I don't want to bring it up." It can be hard to imagine Rooney as the elder statesman, making polite small talk or offering advice. As for him breaking the biggest record in the England team's history, that has always felt like a distinct possibility.
Reuse content