England's best goal was their second, killing the Scottish resistance at the start of the second half, with a move started and ended by their twin brains, their two best players on the night. 
Raheem Sterling had the ball out on the left, waited, and rolled it out to Danny Rose on the overlap. Rose drove in the cross where it was met by Adam Lallana, bounding forward, angling his body to score the header with gymnastic skill.
It was a goal that summed up England's evening, nifty and precise, and the contributions of Sterling and Lallana themselves, the two best players out in white.
This game was a clear demonstration of which players are part of England's future, but a warning of who may not be. There was most of a good performance here, and the sketched outline of Gareth Southgate's England contained real promise. But not every part was played by the right man.
This was the same narrow 4-2-3-1 that Southgate played in his first two games, a modern approach, with pushed-up full-backs and a rotating front four, that most international teams play these days. The men on either side of three are not wingers but attacking midfielders. They do not stay wide and cross, but come inside, link and push.
But of those three, Sterling, Lallana and Rooney, there was no question which two are likely to be in Russia in two years' time, and who may be struggling. Or which two are vital to their title-chasing teams, and which man has been relegated to the bench for a side already playing catch-up.
Sterling and Lallana showed why they are the men to build around now. This was intelligent dangerous performance from Sterling, one that showed both his ability on the ball but also his instincts without it. He knows to find space, and when England's tempo dropped in the middle of the first half Sterling picked it up again. He forced consecutive free-kicks, the first from the right, the second from the centre. The next time Sterling picked it up inside, his shot hit Grant Hanley, flying to Kyle Walker, who made the first goal.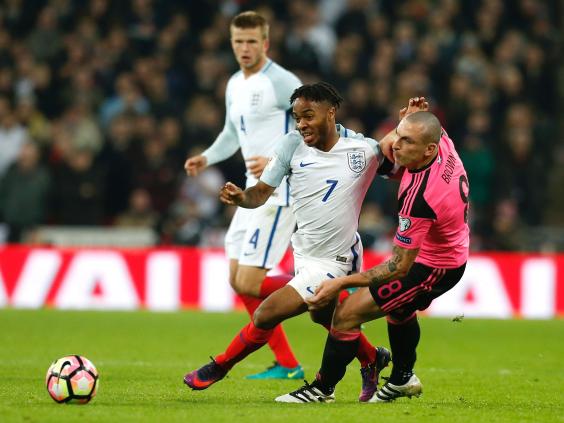 Of course, Sterling is not perfect yet, and only he will know how he did not make it 4-0 in the second half from two yards out. But it did not let it effect him, and he never stopped driving forward, winning fouls off tired defenders.
Lallana does not have the same burst as Sterling from a standing start. But what he brought was running, not for its own sake either, but clever selfless running. He started from deep, coming back to help out Eric Dier and Jordan Henderson whenever they needed it, which was more than expected. He stormed forward whenever England won it, giving their counter-attacks the impetus they needed. And he was never afraid of skill on the ball, shuttling away from Ikechi Anya as if he was not there.
This was Southgate's team, but Jurgen Klopp's Adam Lallana. He is, ahead of Sterling, the best-performing Englishman in the Premier League this season. Here, at Wembley, he carried that form with him. There was once a fear, with Lallana, that he was Liverpool's new Stewart Downing, over-promoted from a mid-table team. But he is now playing with a mixture of energy, skill and speed not many players possess together. No-one talks about his £25million transfer fee any more.
Sterling left Liverpool the summer after Lallana arrived, going to Manchester City for a fee that has also been used tiresomely against him. But he, too, is flourishing under his new coach, just as Pep Guardiola promised that he would.
These are two players, at 21 and 28, now playing the best football of their careers. They are at the right clubs, playing for the right coaches, combining better for England than they ever did for Liverpool. Southgate must know that too, as would anyone at Wembley on Friday night. The rest of this emergent team, though, is not quite as simple.
Reuse content