Exciting midfield is sign team are moving forward
This was not as complete a performance as the 2-0 win in Switzerland, surely England's best under Roy Hodgson, but there were more signs of the football they want to play.
It was defensively imperfect, but they had energy, especially in the form of Jack Wilshere, Fabian Delph and Adam Lallana, which they have always wanted in the middle.
Raheem Sterling and Wayne Rooney were dangerous and there was a clear sign – as there has been since the World Cup – of the type of football England are hoping to play. It may not take them to Euro 2016 glory but they are now moving forwards, and that has not always been true.
England player ratings vs Slovenia
England player ratings vs Slovenia
1/12 Joe Hart - 6/10

Next to nothing to do for first half hour but left exposed for opener as defence went missing. Might have done better getting across for Pecnik header.

Getty Images

2/12 Phil Jones - 4

Surprisingly preferred to Clyne at right-back and struggled. Gave away a corner and error at throw-in led to Novakovic goal before being taken off.

Getty Images

3/12 Gary Cahill - 6

Had looked back to best in final weeks of season for his club but ponderous in attempts to play offside trap, allowing Handanovic through.

Getty Images

4/12 Chris Smalling - 6

As with his fellow defenders, had precious little to do before being caught out for hosts' opener. Partnership with Cahill struggles to convince.

Reuters

5/12 Kieran Gibbs - 5

Brought in for Bertrand, got forward to deliver crosses and pace troubled the hosts. Caught upfield for Novakovic opener and beaten in air by Pecnik.

Getty Images

6/12 Fabian Delph - 7

Replaced Milner and continues to quietly impress for national side. Rarely gave away possession and eager to maintain forward momentum.

Getty Images

7/12 Jack Wilshere - 8

As with club, has taken time to show best for country. Dragged England back into the game with first before sublime effort into same corner for second.

Getty Images

8/12 Jordan Henderson - 6

Kept position well ahead of defensive colleagues. Moved to right-back after break and began move for second before being returned to midfield.

Getty Images

9/12 Raheem Sterling - 7

Spurned chance in opening minutes and cut inside before shooting wide. Teasing cross unrewarded but had nothing like same impact after interval.

Getty Images

10/12 Wayne Rooney - 7

Fine ball to Sterling came to nothing. Had effort pushed round post but spurned golden chances before calm finish for winner. Taken out by Cesar.

Getty Images

11/12 Andros Townsend - 5

Tottenham man won early free-kick after being preferred to Lallana but twice wasted efforts from distance. Replaced by Walcott after second goal.

EPA

12/12 Adam Lallana - 7

Brought on for Phil Jones at the interval. Footwork caused problems and both of Wilshere's goals were generated by his forward movement.

Getty Images
Novakovic's run showed up England's shaky defence
Milivoje Novakovic is not Luis Suarez. He is a good, honest, reliable player. He is 36 years old and has been playing, for the last few years, in Japan's J-League. He did not make his Slovenia national team debut until the age of 26 and has never been a world-beater. And yet, yesterday afternoon, he was able to run unchallenged through England's defence and give Slovenia the lead.
Gary Cahill and Chris Smalling tried to play him offside but they failed. Had either of them run with Novakovic they would surely have caught him. But England miscalculated and it cost them.
It was clear at the World Cup that England cannot handle world-class strikers like Suarez. That is why they did not make it out of the group stage. But there is a world of difference between him and Novakovic. Yet England could not handle the lumbering veteran yesterday. There will be better strikers than Novakovic at Euro 2016. England will need to watch out.
Sterling's performance is sign hype might be justified
For as long as Raheem Sterling's future is the great overhanging transfer saga of the summer of 2015, every performance is a trial of sorts. Is he just a gifted, inconsistent youngster who is seeking too much from the team who trusted him? Or is he the best of his generation, a player of Champions League class, who has earned a move to a side like Manchester City? This performance, while not perfect, gave more weight to the latter, sympathetic cause.
Sterling started out on the left-hand side of England's  4-3-3, running beyond Wayne Rooney, and stretching the Slovenia defence. That is when he had his best chance, a side-foot shot which he over-hit over the bar. Had he scored, England would have been 1-0 up and it would have been a very different game.
But Sterling's all-round play was impressive. He delivered one delightful cross from the left which ought to have been converted. He ran with the ball, beat opponents, and was more dangerous than Andros Townsend on the opposite side. Of course, he is not the complete player quite yet. But he is 20 years old. He is worth the fuss.
Hodgson's faith in Wilshere has been fully vindicated
This was, without question, the high-point in Jack Wilshere's England career so far. It was one of his best games in the last few years, which have been disrupted by frustrating ankle injuries and off-pitch distractions. Wilshere scored two brilliant left-footed goals, both reminiscent of his  goal-of-the-season strike against West Bromwich Albion last month.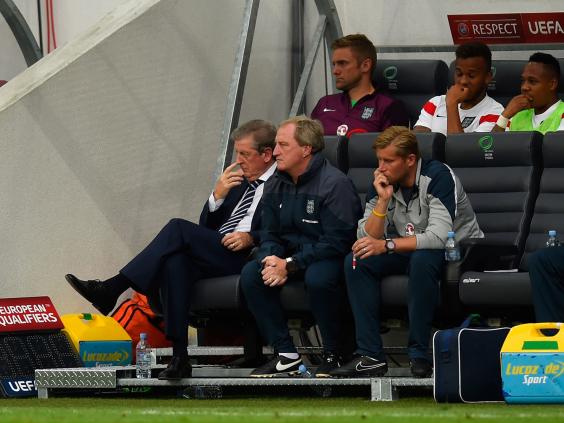 This was a vindication, then, of the trust that the England management have put in Wilshere over the last few months. Hodgson and Gary Neville are especially keen to build around Wilshere – there is a view in the camp that only Daniel Sturridge is more naturally gifted – and that has meant trusting him with a new deep-lying role.
Wilshere performed that well yesterday, breaking up play and starting attacks. It was his contributions in the final third, though, that won England this game. If Wilshere can continue to combine both roles, England are in luck. But against elite opposition this summer, Michael Carrick could still be the man to unleash all of Wilshere's attacking potential.
With Clyne on form, Jones should never be right-back
If Phil Jones was a better  right-back than Nathaniel Clyne then Manchester United would not be trying to sign Clyne from Southampton. And yet Jones, who is not a right-back, was preferred to Clyne, who is, and who has been of the most consistent in England for the last 12 months. Jones never looked especially comfortable yesterday afternoon, in defence or attack, and it was his misplaced throw-in far up the pitch which led to England losing possession and Novakovic putting Slovenia into the lead.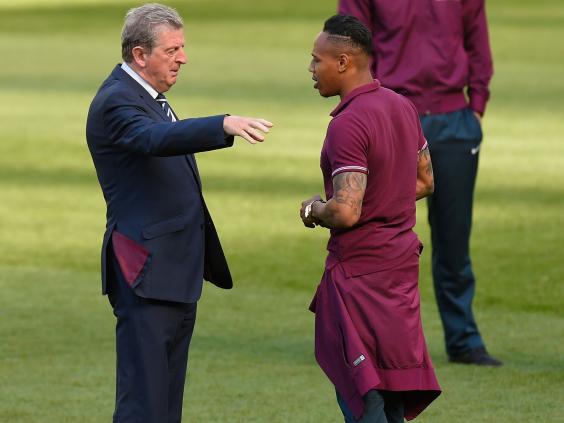 Jones came off at half-time, with an injury, and yet he was replaced by Jordan Henderson, who is even less of a right-back than Jones is.
England lacked balance and penetration out on the right-hand side – which is  and everyone was left wondering why two square pegs played for 84 minutes and the round peg was gifted just six minutes at the end.
Reuse content