For a nation of two million people, Slovenia is far better at football than it ever expected to be, reaching a European Championship and two World Cups since independence in 1992.
This is not just overachievement, though, but something else: overachievement by accident.
Slovenia was always the least football mad of the republics that made up Yugoslavia. The Slovenes preferred winter sports – alpine skiing and ice hockey – and basketball. They were known, slightly sneeringly, as a "nation of skiers". Slovenia provided just seven players to represent the combined Yugoslavia side before independence.
But then Srecko Katanec became coach of the national side in 1998 and things changed for ever. Katanec is back in charge for tonight's game but nothing he does in his second spell can ever match the magic of his first, when Slovenia reached Euro 2000 and the 2002 World Cup.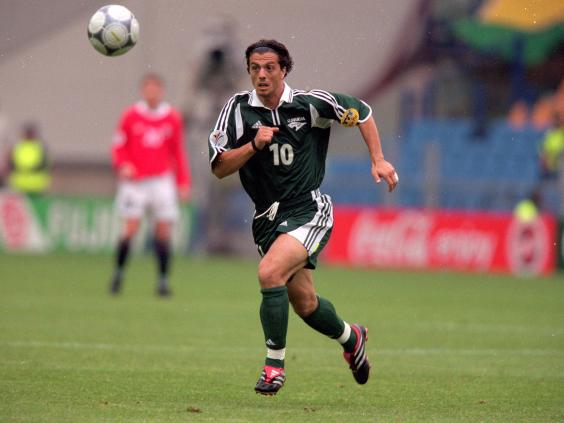 Before Zlatko Zahovic's inspirational displays, Slovenia's heroes were from other sports. There was Bojan Krizaj, who won silver at the alpine skiing world championship in 1982.  Jure Kosir won slalom bronze at the 1994 Winter Olympics and then recorded a single, "Sometimes I ski fast, sometimes I ski slowly." And there was Marko Milic, a  basketball player, who enjoyed a brief spell in the NBA with the Phoenix Suns in the late 1990s.
Which is not to say that Slovenes did not play football. Branko Oblak was at Bayern Munich in the late 1970s. Olimpia Ljubljana, on a good day, could attract crowds of 20,000 against the other giants of the Yugoslavian league.
But it was never the national obsession, not in the way it was in the rest of Yugoslavia. Some Slovenes, who felt that they had more in common with Austria to their north rather than the rest of Yugoslavia to their south, looked down on football, which was seen as a "game for Bosnians".
In a sense it was true: football was more popular with soldiers and immigrants from the other Yugoslav republics. Many of the current Slovenia team have parents from the rest of Yugoslavia: Samir Handanovic is of Bosnian descent, Milivoje Novakovic has Serbian family, the parents of Katanec are from Croatia.
There were even signs of anti-football snobbery in some quarters. "In Maribor they only played football and for a long time the rest of Slovenia saw it as evidence of their backwardness," Slovene writer Goran Vojnovic told The Independent. "They did not get fancy sports, they were just simple workers, not very urban or educated and basketball was too complicated for them. Rarely one would say that aloud but that sort of thinking was very present in our society until not so long ago. Football was a sport for stupid masses. And we knew better."
When Katanec – who had played for Yugoslavia and independent Slovenia, and for Stuttgart and Sampdoria – took over in 1998, Slovenia had just taken one point from eight games in their qualifiers for France '98. "Before Euro 2000, Slovenia's football's success was merited by how much we embarrassed ourselves on the international stage," Vojnovic said. "Thus most of the people watched football in Slovenia without any passion, preparing in advance for inevitable disappointment."
But Katanec inspired an improvement in results, Slovenia beat Ukraine 3-2 in the play-offs for Euro 2000, with Milenko Acimovic scoring from the halfway line in the first leg in Ljubljana. The players were mobbed at the airport when they returned from the second leg in Kiev, and the country's relationship with the national team has never been the same since.
"From the Euro 2000 qualifications on, this thing happened in Slovenia and it grew after each and every match," Katanec said. "You could feel it in Slovenia when you went onto the street. You felt something in the air. Football is magical for the people."
At Euro 2000 Slovenia raced into a 3-0 lead over FR Yugoslavia in Charleroi before drawing 3-3. It was a momentous day in the nation's sporting history, so much so that Andrej Skubic wrote an excellent novel Fuzine Blues about it. Their first World Cup, 2002, was even more dramatic, not least for Katanec's falling-out with Zahovic, in which the star player told the coach that he was a "a prick of a player and a prick of a coach".
Since then they have continued to over-perform – they were in England's group at the 2010 World Cup – and the country has continued to develop its relationship with the game. Domestic league matches average crowds of 1,000 but the basketball side Olimpia Ljubljana draw bigger crowds than the football team with the same name.
The giants of the Champions League are more popular than the domestic sides, but when the national team plays, it is very different.  "All we wished some 15 years ago was one good alpine skier and we got a football team instead," Vojnovic said. "And now we have to live with it."
--
Three to watch - Slovenia's danger men
SAMIR HANDANOVIC
The Slovenia goalkeeper has saved the last five penalties taken against him. Joined Internazionale from Udinese in 2012. His brother Jasmin is also a keeper for Maribor and saved Eden Hazard's penalty against Chelsea last month.
MILIVOJE NOVAKOVIC
Nicknamed "Novagol", the powerful centre-forward did not make his international  debut until 27. Now 35, he has given Slovenia a real presence up front.
KEVIN KAMPL
Talented 24-year-old Red Bull Salzburg midfielder. Has the tenacity and skill to take the game to England.