England's footballers may be cruising towards Euro 2016 qualification but manager Roy Hodgson has told them they should be aiming to go up "another level" and make themselves serious contenders for the European Championship next summer, as they prepare for their upcoming qualifiers against San Marino and Switzerland.
When the squad gathered for a team meeting at St George's Park on Monday night, Hodgson told them they had the potential to step up and win the European Championship, according to newly recalled midfielder Jonjo Shelvey.
"He just said we can either go one way, keep winning and stay the way we are, or we can go up another level in our performances," said Shelvey, "because there's no reason why the England team with the players we've got in this country can't go to the European Championship and win it. It was quite an upbeat meeting."
England have won their six qualifying games so far and need only three more points from this latest double-header – in San Marino on Saturday and at home to the Swiss next Tuesday – to guarantee their place in next summer's finals and Shelvey is eager to play his part. The Swansea City midfielder, recalled to the senior squad after an 11-month absence, was keen to deny he had been reluctant about playing for Gareth Southgate's England Under-21s in the past, as Hodgson had previously suggested last year.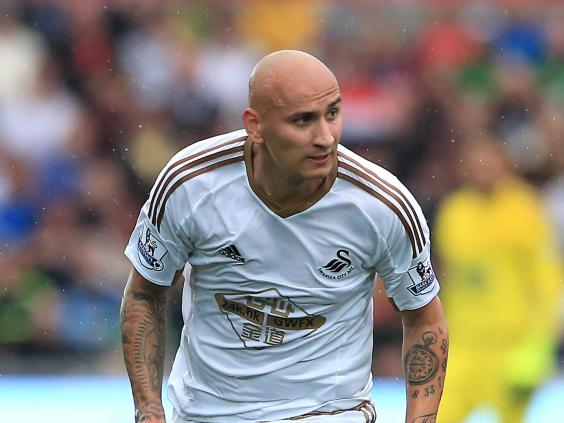 "I can assure you that I have never refused to play for England in my whole life and if I did my dad would kill me," said Shelvey, who explained: "I remember the mix-up. When Gareth Southgate took over, we [Liverpool] were playing a lot of Europa League games at the time and he left me a voicemail and said to me that by the time the Euros came around he didn't me to be with the Under-21s, but with the seniors. That is where it got mixed up.
"But I got off the phone and sent a text to Gareth saying if I wasn't in the seniors, I was available to play. I can assure you on my daughter's life that I have never refused to play for my country."
England, as Shelvey himself noted, have a "big gap" in their midfield for a player who can hit defence-splitting passes following Steven Gerrard's retirement, and the 23-year-old – "not a backwards and sideways player" – is arguably doing that as well as any Englishman right now.
Shelvey puts his improved form down to two things. First, the Swansea manager Garry Monk's comments last season about him being "lazy" inspired him to "really kick on" and improve his fitness.
Additionally, Shelvey is coping better with the "red mist" that used to hamper him, thanks to regular meetings with Ian Mitchell, Swansea's performance psychologist. "I've been having meetings with the psychologist at Swansea," Shelvey said, "and I've spoken a lot to the manager and my family. We've got a great psychologist – his phone is always on if you want something or want to meet up."
Shelvey may have matured but he also revealed that after his most famous red-mist moment – when he launched a verbal volley at Sir Alex Ferguson after his sending-off for Liverpool against Manchester United in 2012 – Sir Alex actually commended him on his attitude. Shelvey recalled: "I apologised and he was spot on with me – he said, 'No I like it, it shows you've got a bit of balls about you'."
Reuse content