Roy Hodgson suffered the fifth withdrawal from his England squad for Friday's Euro 2016 qualifier against Lithuania when Danny Rose, a late call-up himself, withdrew from the squad tonight with an injury.
The Tottenham left-back had been called on this week to replace the injured Luke Shaw but having pulled out himself there are currently no plans to replace Rose. Since naming his squad on Thursday, Hodgson has lost Fraser Forster, Shaw, Adam Lallana, Daniel Sturridge and now Rose to injury. He has just one specialist left-back in the squad in Kieran Gibbs ahead of the Lithuania game and Tuesday's friendly with Italy.
The England manager also faces a severe shortage of back-up goalkeepers to Joe Hart for the rest of the year with conformation expected soon that the Southampton goalkeeper Forster could be out of action until 2016, and possibly longer.
Forster, 27, has been in excellent form this season but injured his knee in a challenge with Burnley's Sam Vokes on Saturday. He had a scan on Monday and surgery today on his left patellar tendon, which was successful. Hodgson has already lost West Bromwich Albion's Ben Foster from the England squad with a ruptured cruciate ligament injury that means he will not play again until the end of the season.
Forster pulled out the England squad at the weekend and, having only selected two goalkeepers in the first place, Hodgson responded by calling up Rob Green and the Under-21 Jack Butland. Green last played for his country against Norway in May 2012. Butland, 22, has been capped once for the seniors, against Italy in 2012, but he does not play first team football at Stoke City.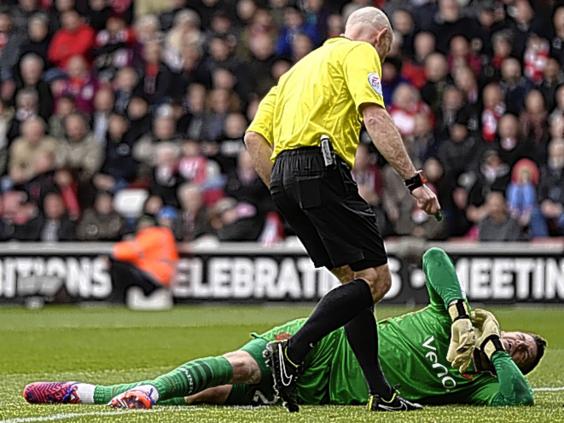 The Everton captain Jagielka says that Hodgson's England regime is a world away from that of Fabio Capello when the players were "walking on eggshells" around their Italian coach. Jagielka said: "I'm not going to sit here and slag him [Capello] off, but it's a different way of doing things. He's had fantastic success with that style during his managerial career, but it was difficult sometimes.
"You'd walk past him and not know where you stood [in terms of your relationship]. It would make the weeks a bit more difficult, and you'd be on eggshells sometimes walking round. But we've got characters in the squad now and it helps that they're allowed to be themselves when we go away. You can see there's a good spirit in the squad, and the boys are desperate to go out and perform."
He added: "Sometimes there can be too many rules. If he [Capello] wanted no-one to have ketchup there was no ketchup, it was as simple as that. Roy allows us ketchup if we want! But we're all professionals these days. I don't think there's too many binge drinkers in the Premier League and there's certainly none in the squad."
Jagielka said that the levels of fitness and professionalism meant that the drinking schools he encountered in his early days as a professional at Sheffield United were a thing of the past. His former team-mate Curtis Woodhouse once admitted to playing games drunk having been drinking the night before.
"It was different, there was a drinking culture. It was never that bad at Sheff U, but I wasn't really aware of Curtis' problems. I know that upbringing wise he found it hard and got into the Sheff U team and captained it early. But it was normal to go out on a Wednesday or a Thursday and play on a Saturday or Sunday. That was a normal thing for the lads to do.
"If five or six of the lads are doing it in every squad then it doesn't really make a difference, but when you bring the speed and the intensity up as you have over the last few years those people are quickly found out. Thankfully the ones that were doing that were at the latter end of their careers and fizzled out. If they hadn't they'd have been found out massively … there's no way you can abuse yourself during the week and then play at the weekend."
Reuse content