Gareth Southgate has denied that England's junior teams were subject to a racial divide after pictures were published of Under-20s players sitting in groups divided along racial lines during meal-times at the Toulon tournament last month.
The Under-21 coach faces a crucial second group game at the European Championship in the Czech Republic against Sweden, and is expected to make just one change from the team that lost to Portugal on Thursday: Spurs winger Alex Pritchard in place of Manchester United's Jesse Lingard.
The pictures in question were published on Mail Online and showed the squad, with similar divides between white and black players, working in the swimming pool and on exercise bikes. The Mail reported that other pictures taken by their photographer did not show the group divided according to race.Southgate, who has worked across England's junior teams, said that there was no problem.
"It's quite clear to me from my experiences with the England junior teams that there is no issue," he said. "It was a picture that was unrepresentative of what goes on in our development teams. Anyone who's seen this group of players mix in training or around the hotel will be fully aware of the realities of the situation. I'm looking out at the room [of journalists] and not seeing a very multi-cultural room. Football can improve.
"When I first started, I grew up in a dressing-room with Chris Powell and John Salako, who were my team-mates at youth team level at Crystal Palace. I am still very close friends with those guys. Mark Bright and Ian Wright were in the first team, I don't know any different. For me, sport crosses religion, race and everything else. I am well aware of the accusations in society and I am aware we can all do better. But I find the accusation of a split within the teams and within football a little bit difficult to stomach, really."
Southgate said that he had pinned up criticism of the England team by Sweden defender Ludwig Augustinnson outside the team's meal-room for his players to read.  Augustinnson said that the England team were "a little overrated". "Some players go for such sick amounts of money in England and it is a bit more expensive than what they are worth," he said. "To take an example, Germany is a much better squad. We'll see how good they are."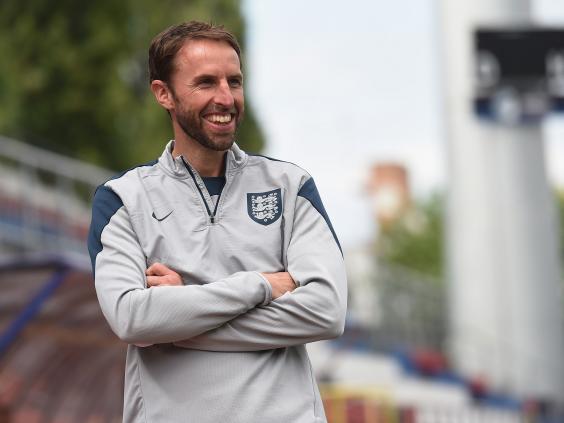 Southgate said it was "always interesting when opponents make comments about your team". England lost their first game against Portugal and need to beat Sweden in the Andruv Stadium in Olomouc in the south-east of the Czech Republic to have a decent chance of reaching the semi-finals. Nathan Redmond, the Norwich winger, said the side were confident. "We came down for lunch and saw the comments posted outside the meal room. You could say it was a good topic for discussion over lunch."
Southgate said this tournament was different to two years ago when, by his own admission, there were Under-21s players in Israel who did not want to play for the team. "I'm aware there were players who maybe weren't so keen to be around and weren't accepting of their role and that is always a difficult situation for players because at their clubs they are first choice."
The team's captain Jack Butland said this tournament was different to 2013 when England lost all three group games. "We should have got something from the Portugal game," he said. "It hurts, of course it does. But we didn't lose in an embarrassing way." Third-choice goalkeeper Jonathan Bond has injured his ankle and is out of the game.
Reuse content