Brazil 2014 has been the story of neurotic defences and  liberated, attacking football but at some point it was a fair bet that the goals would dry up as the stakes were raised. It just happened to be the Europeans who interrupted the party, although that will matter little to Germany.
On march Die Nationalmannschaft to their fourth successive World Cup semi-finals, a record for any country. This is not a lavishly talented German team and given opportunities to score further goals they displayed none of the old ruthlessness we expect of them but, well, they got the job done. Mats Hummels scored the winning goal with just 12 minutes of the game played and the Germans closed the deal with confidence.
It is 18 years without a trophy on the international stage but they rarely fall short when the pressure is on. Afterwards, Joachim Löw, who tinkered successfully with the side that eliminated Algeria in the previous round, dropping Per Mertesacker, reminded the press that Germany had won 28 out of their last 31 official World Cup finals matches: "It's quite a performance."
This game was not in keeping with the ebullient mood of the tournament but it showcased what this current Germany team are best at. Hummels was the outstanding player in the centre of defence although once again Manuel Neuer ran him close, stopping the French attacks on the few occasions they managed to get a shot on goal, most notably efforts from Mathieu Valbuena and then, late on, Karim Benzema.
Löw said that he believed he the conditions in Brazil suited the Latin American countries, although that is the last time his team will have to kick off at 1pm. "In Germany in 2006 all of the four semi-finalists were European," he said. "Now the South Americans are fighting for their lives. They know the climate and it does have an effect. Of course they have an advantage playing on home turf."
France 0 Germany 1 player ratings
France 0 Germany 1 player ratings
1/22 Hugo Lloris

Very little the Tottenham goalkeeper could have done about Mats Hummels' magnificent header in the first-half. An otherwise flawless display. 7

Getty Images

2/22 Patrice Evra

Playing with much more pride than he did four years ago in South Africa, the Manchester United left-back tried tirelessly until the very last. 7

Getty Images

3/22 Mathieu Debuchy

Has been a menace this summer but lacked the conviction to get forwards today. Ultimately left his teammates with no cover in offensive positions. 6

Getty Images

4/22 Raphael Varane

One of the few French players to blend passion with composure, Raphael Varane was an outlet in attack and a rock at the back. 7

Getty Images

5/22 Mamadou Sakho

Renowned for his Jekyll and Hyde performances, this was a decidedly shaky outing from the Liverpool man. 6

Getty Images

6/22 Blaise Matuidi

With a distribution which could have proved so much more damaging to the German defence, Blaise Matuidi delivered a decent shift but could have done more. 6.5

Getty Images

7/22 Yohan Cabaye

Composed on the ball, the former Newcastle United midfielder was typically adventurous and mobile in the middle. 7

Getty Images

8/22 Paul Pogba

Like many of his teammates, Paul Pogba was impressive in the first half but impotent in the second. Just when France needed him, he faltered on the big stage. 6

Getty Images

9/22 Antoine Griezmann

Ran the line admirably in the first half but disappeared into backdrop in the second period. 6.5

Getty Images

10/22 Mathieu Valbuena

Perhaps France's best player of the afternoon, the Marseille winger showed a desire to get forwards whenever he picked up the ball. 8

Getty Images

11/22 Karim Benzema

Was left isolated for much of the game but managed to carve a series of opportunities out for himself. Should have scored at least one of them. 6

Getty Images

12/22 Manuel Neuer

Proved once again why so many consider the Bayern Munich keeper to be the best in world football. His last minute save from Karim Benzema, as nonchalant as it was brilliant, summed up his day. 7.5

Getty Images

13/22 Philipp Lahm

Moved back into right-back, after Joachim Low had seemingly decided his tactics were failing, the German captain eased back onto place effortlessly. 7

Getty Images

14/22 Jerome Boateng

A decent showing from the former Manchester City defender. 6.5

Getty Images

15/22 Benedikt Howedes

Had a quiet afternoon in left-back for Germany but made a number of valuable interceptions early on. 6

Getty Images

16/22 Mats Hummels

A warrior at the heart of Germany's defence, Mats Hummels deserved his goal and then some. Blocking every ball which came his way, it's no surprise France struggled to score. 8

Getty Images

17/22 Sami Khedira

While many will remember his cynical challenge on Mathieu Valbuena, this was a strong midfield display from the Real Madrid star. 7

Getty Images

18/22 Bastian Schweinsteiger

Sat just in front of the German backline, Bastian Schweinsteiger had an important job to do today and did it well. 7

Getty Images

19/22 Toni Kroos

Like Mesut Ozil, Toni Kroos had the ability to fade into the background today. His assist, however, for Mats Hummels' goal proved invaluable. 7

Getty Images

20/22 Mesut Ozil

Occasionally going missing, Arsenal's playmaker will most likely be disappointed with his efforts. 6

Getty Images

21/22 Thomas Muller

Proved to be a menace whenever he picked up the ball. Tested the French defence regularly and was unlucky not to etch his name onto the scoresheet. 7

Getty Images

22/22 Miroslav Klose

The German legend must wait a while longer to break Ronaldo's World Cup goal-scoring record and he was left wanting by his teammates too. 6.5

Getty Images
It was a bad day for Didier Deschamps and France, one in which their shortcomings were exposed. The inexperience in this young team meant that they allowed themselves to be bossed in midfield at times and they could not take the few chances that came their way. Their manager insisted more than once that there was not much between the team, and he was right, but Germany's victory demonstrated what a good tournament side they have become.
"Sometimes you need a bit of luck," Deschamps said. "Sometimes you need to be faster. Neuer made some good saves. I don't think there was a huge gap between the teams. We had some chances, but we weren't as efficient or as lucky as we could have been."
Yet in the closing stages, when Deschamps' team were trying to rescue the game, it was Germany who had the better opportunities on the counter-attack, most notably the substitute André   Schürrle. France started this tournament with such ambition, eight goals in their first two games, but they had precious little to spare in the heat of the Maracana.
It was a big decision from Löw to drop Mertesacker, uncomfortable holding the high line played against  Algeria that caused his team such anxiety. The Arsenal man has neither the pace nor the mobility to do it, but it was notable that with Jerome Boateng switched to the centre once more, Löw's defence played much deeper.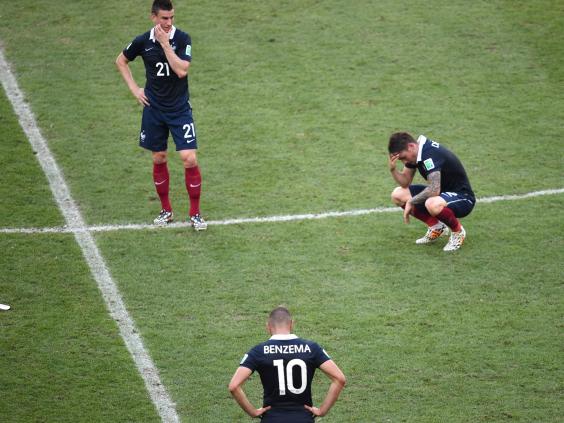 Like all elite coaches, these are big decisions and by the end of the game, as Mertesacker left the pitch with his arm around his Arsenal team-mate Laurent Koscielny, Löw could feel vindicated. His defence had dealt with the three in France's attack of Benzema, Valbuena and Antoine Griezmann, the latter preferred to Olivier  Giroud. What the defence had not coped with, the gloves of Neuer did.
Before the break, France did not test that German back four which was made to look so vulnerable against Algeria. Instead they found themselves often overrun in the midfield where the Germans seemed to have it all their own way, using the spaces around Blaise Matuidi and Paul Pogba and what felt like an extra man at all times. Only at the end of the half did France come back into the game.
They had gone behind to Hummels' header on 12 minutes glanced off the cross of Toni Kroos whose free-kick came from the left wing. There were no points for assertiveness for Raphael Varane who, right from the start of Hummels' run across the box, allowed himself to held at arm's length by his fellow defender.
For all their possession, Germany did not test Hugo Lloris again before the break. There was some nonsense from Miroslav Klose in the area on 24 minutes when he threw himself to ground as Mathieu Debuchy unwisely grabbed a handful of his shirt. The Argentinian referee saw nothing wrong with it.
Valbuena had made France's first chance, a cut-back to Benzema which the latter put wide. Later, with 11 minutes to the break, Valbuena had France's best chance of the game. Griezmann, who had wandered out to the right through what looked like frustration, hit a cross to the back of the post for Valbuena to meet. His shot was saved well by Neuer. The rebound fell to Benzema but Hummels managed to get his effort up and over the bar.
Deschamps seemed unwilling to let his team off the leash in pursuit of the equaliser until late on. Indeed, his first substitution was to replace Mamadou Sakho with Koscielny. Shortly afterwards he brought on Loic Rémy and played the Newcastle United man on the right.
France could not get in behind the Germans, even with their wealth of attacking talent. Matuidi had a chance, a shot blocked by Neuer from the left side. Hummels continued his fine game, stealing the ball away from Benzema at crucial times. Schürrle was on for Klose and Thomas Muller pushed forward into the centre-forward position.
Schürrle had two chances in the last 10 minutes. The first came when Mesut Özil crossed, Muller missed the ball and it fell to the Chelsea man. Lloris saved. Later, Varane threw himself in front of another shot. There was one final chance for France, a break down the left channel by Benzema. His shot was pushed away by Neuer. France had not got close to beating him.
France (4-3-3): Lloris; Debuchy, Varane, Sakho, Evra; Pogba, Cabaye, Matuidi; Valbuena, Benzema, Griezmann.
Subs: Koscielny/Sakho 72, Remy/Cabaye 73, Giroud/Valbuena 86
Germany (4-2-3-1): Neuer; Lahm, Boateng, Hummels, Hoewedes; Schweinsteiger, Khedira; Muller, Kroos, Ozil; Klose.
Subs: Schurrle/Klose 69, Gotze/Ozil 84, Kramer/Kroos 90
Referee: N Pitana (Argentina)
Man of the match: Hummels
Booked: Germany Khedira, Schweinsteiger
Rating: 5
Attendance: 74,420