For England's Golden Generation, Berlin's Olympic Stadium was journey's end. It was where they would contest and win the 2006 World Cup. It would form the golden backdrop to autobiographies that Steven Gerrard, Frank Lampard and Rio Ferdinand would release a couple of months later.
It was, like many things under Sven Goran Eriksson, an illusion. England never got anywhere near the World Cup final and the only bit of Germany they made famous was Garibaldi's, a rather nondescript Italian restaurant in Baden Baden, which their wives and girlfriends used as their base.
Now, for another generation of English footballers, Berlin represented a beginning, the start of the countdown for a squad that is slightly younger and probably slightly less talented than the one that set off for Germany a decade ago.
It might, however, achieve a lot more in this summer's European Championship than the Golden Generation ever came close to in the long, hot summer of 2006. To come back from two goals down to win any international is exceptional. To do it against the world champions in their own capital is by any measure one of the great nights of Roy Hodgson's time as England manager.
Hodgson has been a lucky manager – fortunate not to have been fired the moment the squad touched down from Brazil in the wake of the worst World Cup in England's history, the one won by Germany in the Maracana.
However, the sobering 2-0 defeat to Spain in Alicante in November apart, Hodgson has done very little wrong. Michel Platini's decision to bloat the European Championship with eight additional teams meant that some – and England are one – had very straightforward qualification routes.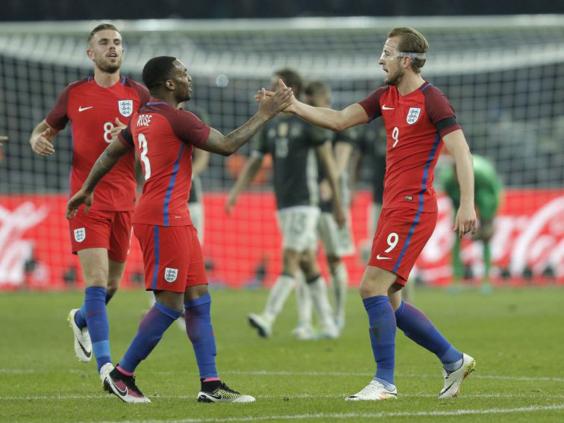 The question the friendlies against Spain, France, Germany and the Netherlands was supposed to answer was how good this England team could be. The answer is potentially very good indeed.
This was a night that emphasised the eclipse of Manchester as England's leading football city. Hodgson selected three from Liverpool and for the first time since 1987, when they finished third in the championship, Tottenham found themselves with four players in an England starting line-up.
All would have travelled home from a prestige occasion feeling buoyed. You could argue than when he deployed his Cruyff turn – in this of all weeks – and drove his shot into the corner of Manuel Neuer's net, Harry Kane was facing Germany's second-choice centre-halves. The shot, however, was driven with the kind of geometric precision that would have beaten any goalkeeper on the planet.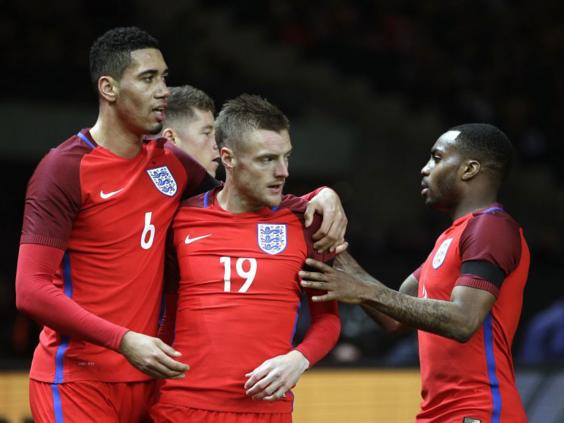 Long before his header slammed in the most improbable of winners, Eric Dier had excelled as a holding midfielder. Danny Rose's debut was everything he might have expected.  But for Neuer's outstretched boot, Dele Alli would have joined the two others from White Hart Lane on the scoresheet. Had he not scored, Alli's one error would have been the scoop over the bar that, but for Dier, seemed certain to be England's lost winner
When Hodgson compared Alli to Bryan Robson there were several raised eyebrows since the young midfielder's game is nothing as physical and robust as the man who gloried in the nickname of "Captain Marvel". However, in Berlin, Alli demonstrated the commitment to a tackle and his fearlessness in shooting that was the very essence of Robson's game.
Germany vs England player ratings
Germany vs England player ratings
1/22 Germany: Manuel Neuer - 6 out of 10

Strong save from Alli to push the ball away from the advancing attackers. Given little to do in the first half, but called upon to deny Alli with an outstretched foot.

2016 Getty Images

2/22 Emre Can - 6

Booked for a cynical foul on Danny Welbeck as he tripped the England forward when nearing the area. Found himself deployed at right-back despite impressing for Liverpool in midfield, and his error allowed Welbeck to dispossess him and led to an England shot at goal.

2015 Getty Images

3/22 Antonio Rüdiger - 5

Struggled to cope with the England attack once his partner in crime has departed, which demonstrates the dependency that the German defence currently has on Mats Hummels.

2014 Getty Images

4/22 Mats Hummels - 6

Should have seen yellow for a high tackle around Welbeck's neck, but instructed Rüdiger where to position himself. Edged the battle with Kane, but went off at half-time with the yong Jonathan Tah coming on in his place.

2016 Getty Images

5/22 Jonas Hector - 6

Crucial block prevented Henderson from having a clear shot on target after Can's error.

2015 Getty Images

6/22 Sami Khedira - 6

Shocking pass almost allowed Alli to score following good work from Welbeck, but that didn't stop him from dropping back to pick up the first ball from Neuer every time. Lovely chip allowed Gomez to head home for Germany's second.

2015 Getty Images

7/22 Toni Kroos - 7

Intelligently spotted Butland in trouble and capitalised with a long-range effort that beat the goalkeeper at his near post. Passing was near-faultless, although one sloppy long-ball gave England the chance to counter.

2016 Getty Images

8/22 Thomas Muller - 6

Rather quiet throughout, which may have been due to his deeper role to accommodate Gomez.

2016 Getty Images

9/22 Mesut Özil - 5

Took up an advanced role in midfield but couldn't have the impact he wanted as Dier marshalled him to perfection.

2015 Getty Images

10/22 Marco Reus -5

Kept at bay by an energetic English defence, with his pace not having an effect on matters.

2016 Getty Images

11/22 Mario Gomez - 7

Should have been celebrating the opener had the assistant referee not incorrectly flagged for offside, but got his goal after the break when he lost Cahill and powered a header past Forster.

2016 Getty Images

12/22 England: Jack Butland – 5

At fault for the opening goal when he tried to play on despite being injured. Decision cost his team, and would have normally expected to have saved Kroos' effort. Could do nothing to stop Gomez's effort, which was incorrectly ruled out for offside. Replaced by Fraser Forster after conceding the goal.

2016 Getty Images

13/22 Nathaniel Clyne - 8

Good block prevented Khedira having an early effort on goal. Flourished going forwards after the introduction of Lukas Podolski, and it was his cross that was expertly flicked in by Jamie Vardy to equalise. Performance keeps him ahead of Kyle Walker in the pecking order.

2016 Getty Images

14/22 Chris Smalling - 7

Recovered well after making a mistake that nearly allowed Gomez in shortly after half-time. Looked assured on the ball and benefitted from facing Gomez rather than livewire Muller.

2015 Getty Images

15/22 Gary Cahill - 6

Missed the target with a free header from a corner, and was at fault for losing Gomez for the second goal and barely jumping off the ground as the ball floated over his head. Didn't do a lot to suggest he'll keep John Stones out of the side for too much longer.

2016 Getty Images

16/22 Danny Rose - 7

Cross that led to Gomez's goal came from his flank, but he didn't receive as much cover from Welbeck as he would have liked. Coped very well on his international debut.

Getty

17/22 Eric Dier - 8

Important block denied Gomez an effort from the edge of the area that arose from a German counter-attack. His first international goal will be one that remains in the memory bank for the rest of his life.

2016 Getty Images

18/22 Jordan Henderson - 6

Dangerous corner caused panic in the area and led to Kane's goal. Looked disciplined and in control of the midfield trio, choosing when to surge forwards and when to sit back and join Dier.

2014 Getty Images

19/22 Dele Alli - 7

Denied by Neuer's foot when the chance to equalise offered itself on a plate. Looked composed and of the level required to make the grade at international level. Guilty of blazing a simple chance to put England ahead over the crossbar with the goal gaping at his mercy.

2016 Getty Images

20/22 Adam Lallana - 6

Sliced an effort over the crossbar when the ball fell kindly to him on the edge of the box. Looked lively, although he didn't have a big say on matters.

Getty Images

21/22 Danny Welbeck - 5

Looked slightly off the pace compared to strike-partner Kane, though given this was his first England appearance in almost a year to the day, he can be forgiven. Replaced by Jamie Vardy with 20 minutes remaining.

2014 Getty Images

22/22 Harry Kane - 8

Starved of clear-cut chances in the first half as England failed to find the final product, but showed his talent with a Cruyff-turn inside the German area and hit the ball from under his feet beyond Neuer's reach into the side of the goal to drag England back into the contest.

Getty
At 19 has, however, been given his chance far earlier than Robson – who was ignored for the 1980 European Championships a year after he had driven West Bromwich Albion to third in the league.
West Germany won Euro 80 and many might expect them to win Euro 2016, although since winning the greatest prize in world sport in the Rio de Janeiro, Joachim Low's side have faltered.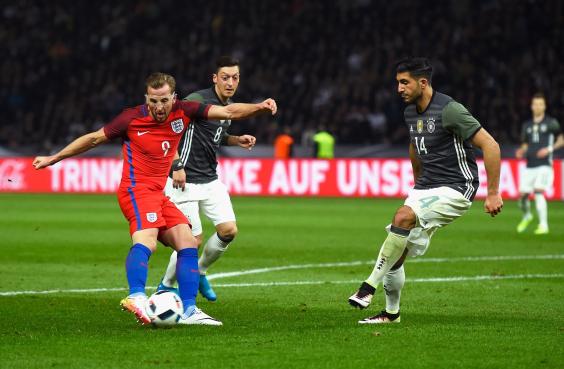 Many do after lifting the World Cup. Italy, who lifted the trophy in this stadium, were a shadow of the same side in Euro 2008 and had disintegrated entirely by the time the next World Cup came around in South Africa.
Philipp Lahm and Per Mertesacker retired immediately afterwards while Mario Gotze, who scored the precious winner in the Maracana is spending an awful lot of time on the Bayern Munich bench. Low may regret his decision not to cash in his chips and seek a lucrative offer from club football after breaking the bank in Rio.
Reuse content