Gareth Southgate made one particular change to the England team that faced Slovenia on Tuesday night that was fairly widely reported this week. 
But the repercussions went further than the England interim manager losing his place on Wayne Rooney's Christmas card list. The outcome of bringing Eric Dier into midfield for the Manchester United man completely changed the way the team played and had an impact all over the pitch.
Before kick-off Southgate pointed out the swap was not like for like in terms of personnel – but it also utterly changed the tactics.
England adopted the Tottenham technique – nearly.  
Tottenham's title challenge last season and their impressive start to this has been built on manager Mauricio Pochettino playing with his full-backs, Kyle Walker and Danny Rose (who happen to be the England full-backs), high up the pitch when his team are in possession, providing attacking options, strength in numbers and crosses into the box. In order that the defence is not exposed, Dier drops in between the centre-backs who move wide to cover the marauding full-backs. 
Southgate, emboldened by having the same trio in his team, tried the same trick. But there were key differences, and subsequently problems, all over the pitch.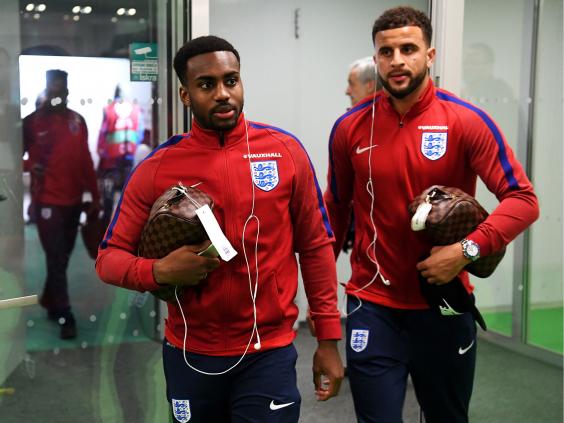 When Rose and Walker push on for Spurs, the "wide" midfielders ahead of them in the 3 of their 4-2-3-1 formation are Christian Eirksen and Erik Lamela both of whom are not really touchline-hugging wingers. They are happy to drift inside and pick up the ball in dangerous areas outside the area. They have a neat touch, great vision.
For England the wide midfielders in their 4-2-3-1 against Slovenia were Theo Walcott and Jesse Lingard who are much more traditional 'chalk on your boots' wingers. The result was Walcott and Lingard looking cramped and crowded out with their full-backs invading their space and treading on their toes. 
Walker and Walcott, in particular, spent the evening on completely different wavelengths with the former often remonstrating with the latter about where he should or should not be. At one point, Walcott tried to drop a five-yard pass to Walker but underplayed it because the pair were almost holding hands. There just wasn't the space was for two wingers on one side. As a result, Walcott had fewer touches of the ball than any England starter, including Joe Hart.
Lingard fared little better down the left. The pair tried to drift inside to receive the ball – Lingard managed it a little better in the game's dying stages - but were not found by their team-mates. When they were, Walcott in particular does not have the touch of an Eirksen and it made for a frustrating night for the Arsenal man. He was hooked after an hour. 
But it wasn't just in an attacking sense that England failed to pull off the Tottenham technique. 
When Rose and Walker attack in the white of Spurs the central defenders Jan Vertonghen or Toby Alderweireld move wide to cover but both are used to playing as full-backs (Vertonghen often does it for Belgium) so it is not an alien concept for them.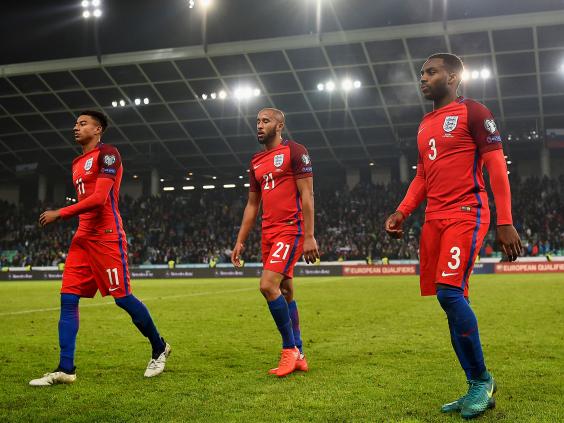 When Roes and Walker attack in the white of England it is Gary Cahill and John Stones who are asked to cover. Cahill played on the right of the two central defenders against Slovenia and is an old fashioned centre-half: good in the tackle, strong in the air. However, he doesn't have the experience of playing full-back so asking him to cover for the marauding Walker is asking for trouble – which duly came England's way to the extent that they were fortunate to bring a point home from the World Cup qualifier. 
Cahill, whose distribution was awful and whose habit of diving in was so nearly exposed, will struggle to stay in the team if Southgate persists with this way of playing. John Stones is much more adaptable and much more comfortable on the ball and looks like a fixture for years to come.
There is a school of thought that England should play 4-4-2 so blessed, comparatively, are they in the striking department. But the Tottenham tactical plan could work, too, if it is built around the five Spurs players of Rose, Walker, Dier, Dele Alli and Harry Kane. Many World Cup-winning teams have been constructed around a nucleus of players from the same club: Germany and Bayern, Spain and Barcelona for example. 
With that thought, though, we might just be getting ahead of ourselves…
Reuse content