Liverpool tried to ship him out to Fulham, Roy Hodgson was, in the manager's own words, "ridiculed" for picking him for England, and Sir Alex Ferguson publicly revealed he did not buy him because of his gait.
Many players would have lost confidence in themselves and their game in such circumstances, yet Jordan Henderson's self-belief never wavered. Still just 24, his faith has been justified. He is Liverpool's captain-elect – if he signs a contract the club are increasingly nervously waiting for him to agree. He is one of the first names on Hodgson's teamsheet, and nobody questions it. He has even unveiled hitherto unknown acting abilities in a high-profile television advertising campaign. Almost by stealth Henderson has gone from bit-part player to leading man.
"I've always thought you'll go through difficult times in life, and certainly in your career," said Henderson. "You've just got to keep believing, be true to yourself and keep working as hard as you can.
England 4 Lithuania 0 - player ratings
England 4 Lithuania 0 - player ratings
1/12 Joe Hart

Claimed the odd cross with authority but could have gone to film another Head & Shoulders advert and would still have kept a clean sheet. 6/10

Getty Images

2/12 Nathaniel Clyne

What little threat there was from Lithuania originated down England's right flank as he was caught out on occasion in the first half. 6

Getty Images

3/12 Gary Cahill

Marshalled the back four well enough but had very little to do against underwhelming opponents. Took the armband when Rooney went off. 6

Getty Images

4/12 Phil Jones

Did enough to unsettle Deivydas Matulevicius when Lithuania threatened midway through the first half. Otherwise a quiet evening. 6

Getty Images

5/12 Leighton Baines

Got forward regularly, although his crossing was inconsistent. Provided good width down the left flank, exploiting space when Welbeck drifted infield. 6

Getty Images

6/12 Michael Carrick

Typically assured in possession, keeping England ticking over and always looking for a forward pass. England's most intelligent midfielder on the ball. 7

Getty Images

7/12 Jordan Henderson

Provided a cross-shot for England's second goal on the stroke of half-time and generally used the ball without doing anything spectacular. 6

Getty Images

8/12 Fabian Delph

Released Rooney for an early chance with a clever pass and was denied a fine goal by an excellent stop from goalkeeper Giedrius Arlauskis. Solid. 7

Getty Images

9/12 Raheem Sterling

Has been on the periphery for Liverpool and remained so here until scoring his first England goal. That gave him confidence and he improved thereafter. 7

Getty Images

10/12 Danny Welbeck

Played like a man tired of hearing how brilliant Harry Kane is all week. Injected invention and pace and capped his contribution with a goal. 8

Getty Images

11/12 Wayne Rooney

A constant threat. Unlucky to hit the woodwork twice and could have broken Sir Bobby Charlton's England goalscoring record. 8

Getty Images

12/12 From the bench: Harry Kane

It felt impossible for him to live up to the pre-match hype but scoring with your second touch on your debut is about as good as it gets. 7

Getty Images
"Belief is the biggest thing. If you can overcome what everybody else says or thinks about you, if you have belief in yourself, then you can get through anything. I always felt if I kept working as hard as everyone else and kept improving, I could have an important part to play at Liverpool, even when I first went there."
We were talking in a hotel near Watford, where England based themselves for Friday's 4-0 dispatch of Lithuania, and Henderson added: "It's the same with England. I still feel there's a lot more to come at international level from me, so that's another challenge for me when I come with England. Can I perform better, can I be better every single game I play?"
The increasing difficulty young English players have in making the grade has led to Greg Dyke, chairman of the Football Association, seeking to impose restrictions on the number of foreign players coming into the Premier League. Henderson does not believe this is needed. It is, he said, down to the domestic players to earn their place on merit, as he has.
"The most important thing is attitude and how much you really want to be successful, how much you want to improve. I played with some fantastic players when I was younger, who if they had made the right choices at the right times and really worked as hard as they could, would probably be playing at a very high level. But that's down to them and the choices they make, and it is also to do with the people around you. You have got to have the right people to keep your feet on the ground and make sure your focus is just on football."
Henderson's parents, Liz and Brian, have been solidly behind him since the Wearsider joined Sunderland as a teenager.  The importance of early nights and a good diet was drummed into the youngster. His father then kept from his son a diagnosis with throat and tongue cancer to avoid affecting Jordan's game until he had surgery. Brian Henderson is now much improved, enabling Jordan to concentrate again on his football.
The English traditionally like their midfielders from an Action Man mould. Steven Gerrard is the ideal: goes box to box, bangs in match-winning goals, tackles hard and plays an eye-catching pass.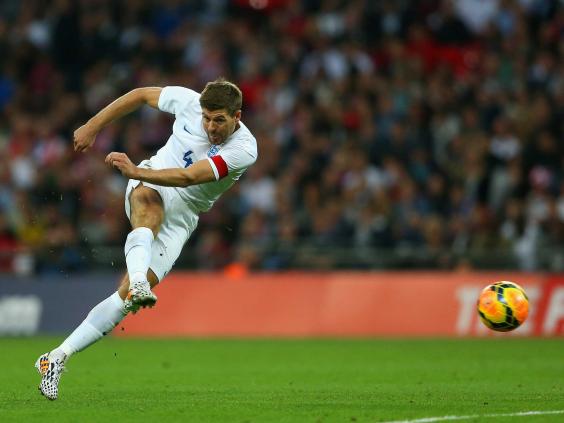 Henderson, in the early part of his career, met only the running aspect of the equation. But he has improved in the other elements and added a positional discipline that was arguably Gerrard's biggest weakness but is now so important a part of the modern midfielder's game.
With club and country, Henderson plays under managers who are both very specific as to how they want their teams to play, and prepared to adjust formations. Henderson's ability to adapt to different roles makes him invaluable to both.
How precious he is to Liverpool, in terms of salary, is still to be determined. Contract talks have been put on hold but Henderson says he hopes and expects his agent and the club to find common ground, and the delay is not a distraction.
"I love playing for Liverpool and I want to be there for many years. Everybody will make a big deal of it but I'm just letting my agent and the club deal with it. That's why we've got agents, to sort stuff like this out. Hopefully this can get done soon, but whenever it gets sorted it gets sorted.
"Every player wants to win trophies. I am no different. I definitely think I'm in the right place to do that. At Liverpool we've got fantastic players, real quality players and a lot of potential. It is the same with England. I really feel we are going in the right direction. Hopefully in the next Euros we can do something special."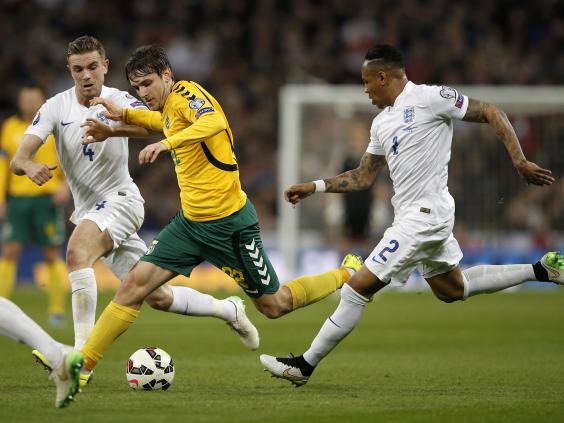 Next up is a trip to Turin on Tuesday for a reprise of England's World Cup tie in Manaus, albeit this time in a "friendly". With Andrea Pirlo, who dictated Italy's win in the Amazon, injured, Marco Verratti is likely to be the man England needs to stop in the middle of the park. The Paris St Germain midfielder impressed against Chelsea in this season's Champions League.
Henderson was not surprised, having faced him in Tel Aviv two years ago. "I played against him at the Euro Under-21 Championships," he said. "He is a very good player; presses the ball well, but is good on it too. He's an important player for them, but you have to challenge yourself against top players."
Henderson has been doing that for some years now, increasingly coming out on top. Verratti can expect a much more even encounter than when the pair met in 2013.
Reuse content