Joe Hart has admitted he has not currently got any serious offers for next season, but said he expects Manchester City to set a fair fee so he is not priced out of a move, due to the good relationship that still exists between the parties.
The goalkeeper said he will have to be "patient" amid what is a "strange" situation, and the uncertainty comes at a difficult time, after he received some criticism for Leigh Griffiths' two late free-kick goals in England's dramatic 2-2 World Cup qualifying draw with Scotland at Hampden Park on Saturday.
While both Hart and Gareth Southgate put the strikes down to the quality of Griffiths' deliveries, the English manager intimated he would experiment with another goalkeeper in Tuesday's friendly away to France, but stressed that was always his plan.
Scotland vs England player ratings
Scotland vs England player ratings
1/22 Craig Gordon – 4 out of 10

Will be disappointed with himself. Should have saved Oxlade-Chamberlain's strike, which itself stemmed from him misjudging a backpass from Tierney.

2/22 Christophe Berra – 6 out of 10

A decent display and cannot be blamed for either of England's goals, though could have organised his backline better.

3/22 Charlie Mulgrew – 5 out of 10

Guilty of ball-watching for England's late equaliser and losing track of Kane, though could have done with a shout from Robertson.

4/22 Kieran Tierney - 7 out of 10

Impressive from the youngster. One goal-line clearance, one vital block to deny Rashford a clear shot at goal, but let himself down on the Oxlade-Chamberlain goal.

5/22 Ikechi Anya - 6 out of 10

Had an opportunity to get at a nervy Walker but did not take it.

6/22 Andrew Robertson – 6 out of 10

Troubled England's right flank, though benefitted from Rashford's hesitancy to track back. Mix-up with Mulgrew cost his side.

7/22 James Morrison – 5 out of 10

Hampered by an early knock, failed to find his rhythm in the game. Substituted at half-time.

8/22 Scott Brown – 6 out of 10

Took only three minutes to pick up a yellow card. If only he had put as strong a foot in on Oxlade-Chamberlain in the build-up to the goal.

9/22 Stuart Armstrong – 6 out of 10

Showed neat touches around England's box and his movement troubled red shirts at times, but should have held the ball up better before Kane's equaliser.

10/22 Robert Snodgrass – 5 out of 10

Scotland needed a performance from him, but he was quiet and ineffective, much like he was throughout the second half of the season.

11/22 Leigh Griffiths - 9 out of 10

Two incredible late free-kicks and both deserved. Suffered from poor service but did not let that deter him, pressing England's backline throughout.

12/22 Joe Hart – 4 out of 10

Largely untroubled until the late goals, both of which he should have saved. Questions have to be asked whether he is still England's best 'keeper.

13/22 Kyle Walker – 5 out of 10

Poor. Penalty call against him for the trip on Griffiths could have gone either way, but it was just one of several mistakes.

14/22 Chris Smalling – 6 out of 10

Recovered from a nervy start that included one horribly shanked clearance over his own goalmouth.

15/22 Gary Cahill – 7 out of 10

More assured than his defensive partner for the majority of the game, until that reckless challenge to concede first fatal free-kick.

16/22 Ryan Bertrand – 7 out of 10

Bright down the left, especially going forward.

17/22 Jake Livermore – 7 out of 10

His selection raised the odd eyebrow but, particularly in the first half, he was England's most composed player.

18/22 Eric Dier – 5 out of 10

Paled in comparison to Livermore on a real off-day for the Tottenham midfielder. Picked up a needless yellow card, too.

19/22 Marcus Rashford – 5 out of 10

On his first competitive international start, a display that suggested he remains only an impact player for now. Did not take to his role on the right flank.

20/22 Dele Alli – 5 out of 10

Totally failed to get going, looking tired and cumbersome at times. England's best player on his day, but that was not today.

21/22 Adam Lallana – 7 out of 10

England's best attacking outlet and particularly came the fore after half-time, once he began to find more space in Scotland's half.

22/22 Harry Kane – 7 out of 10

Missing his usual composure in front of goal but found it when it mattered. A simple finish but one he needed to make.
Hart returns to City this summer after a loan spell at Torino, with Pep Guardiola having again made his position clear by purchasing 23-year-old Ederson from Benfica. The English international said there can still be "an ideal" outcome from his situation, and that he is intent on playing at the highest possible level. Hart did not rule out another move abroad, but stated he now needs "stability".
"I would love to give you a poker-straight answer, but I've got nothing at the moment," Hart said in the Hampden Park mixed zone. "People are focused on international duty and respecting that players are focused on international duty. Come Tuesday night, I don't know how everyone else finishes but after that is when conversations can be had and people can start being real.
"And then… something's going to happen, one way or another, but it's almost in the hands of the businessmen now. I'm just a player, I turn up and play… I just want to play football. I love football. I don't know if you guys can see it but that's what I live and breathe and I want to play football at the highest possible level I can play, that's the plan."
Hart said he had not yet personally spoken to City about his future.
"They have obviously signed the new keeper, and I get the direction. There is no real need for me to talk to them, I'm lucky enough to have management who deal with that side of things. I think they spoke to my agent. There is no animosity between the two teams, they are going about their business, and we are going to go about ours.
"I certainly don't think they are going to try and price me out of a move. I think there's enough respect between the player and club to work together. There's no point in working against. There is no animosity between the two. They are going in their direction and I need to go in mine."
Hart admitted such circumstances are generally "strange" for goalkeepers and "a game of chess" due to the fact that top clubs tend to have a fixed number-one and don't rotate.
"You look at some of the top teams in the world that have got the best strikers, and they are looking to buy another top striker. If you have got a top goalkeeper, you are not often looking to buy another goalkeeper. It's a game of chess and my situation is different to everyone else's, and we are going wait and see how it plays out."
"It looks like it is easy for some goalies. But my personal situation is interesting, and patience is going to have to be the key. I'm lucky that I've got this great distraction of being involved with my country for the next couple of days, and then we will see. I'd love to be withholding information about my future but I don't have the information to withhold, but one thing I do know is that I am in the England team at the moment, and I want to try and win on Tuesday night."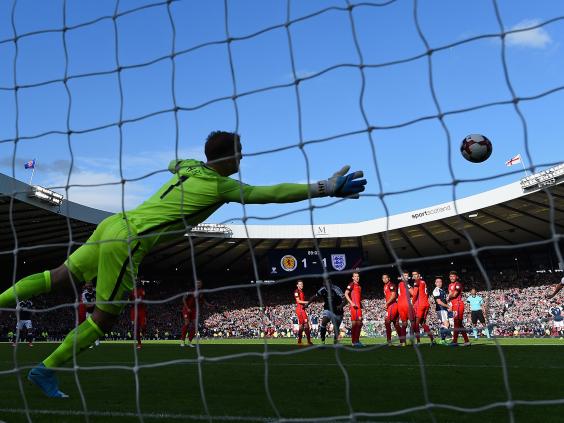 Asked would he return to Serie A, Hart did not rule out a move, but said he would now prefer "stability" in any case.
"I need an offer first and then I need to work out my options if I have choices. I want to be playing at the highest possible level, pushing myself. It's a short career. I want to push everything out of me. Physically I feel in great condition and I want to go again.
"If the switch is what needs to happen, and that's key, we all need stability in our life. I'm not a kid any more, I can't just pack my stuff like a 19-, 17-year-old and go on loan. I am a 30-year-old man with stuff I need to organise. I like stability. There is an ideal situation to come out of this but nothing is perfect. It's a short career and football is crazy so I have to be prepared for anything."
Hart also said his England place would be a consideration in any decision.
"I've got to respect this career, this shirt's not mine, it's not nailed on mine, it's no-one's, and we've got high quality and I have to be playing football at a good, well… at the top level, to the maximum of my ability to even get in the squad at the moment. That's the plan, it's a strange world the goalkeeping world and patience is probably going to have to be key at the moment."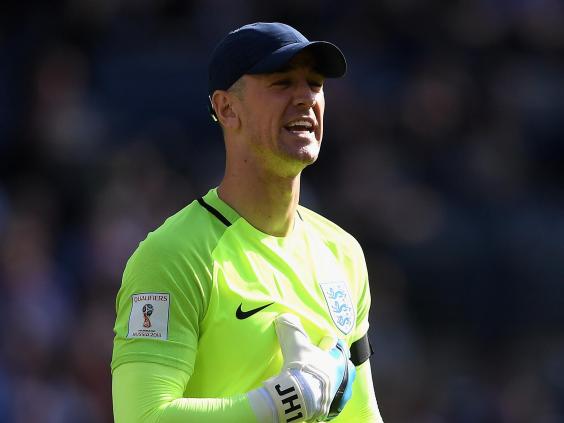 Southgate however hinted that Hart is unlikely to start against France on Tuesday.
"Our intention was always to give someone else a game - however that looks I will have to ride that out," the manager said. "I am seeing a headline that says 'Hart is not safe'… but we need competition. Who knows who will be fit and available and too many times we have got to a tournament when a key player is not fully fit. We cannot rely on one or two players."
Southgate also said the Griffiths goals were two "moments of quality" and Hart said there was "nothing you can do".
"Sometimes you've got to say well done," Hart stated. "Today was certainly a case of that.
"I think, as a goalkeeper, you set your wall up, sometimes there's nothing you can do. He's produced two bits of quality."
Hart went up to congratulate Griffiths after the game, and the Scotland goalscorer revealed that the England goalkeeper said the manner of the first strike was unexpected.
"Joe said to me afterwards that the first one caught him by surprise but the second one he said that I couldn't have hit any better and that it was a great free kick."
Reuse content