OK, my thoughts on that England game. We have plenty to talk about but before we look at the tactics of that very tactical game let us say that England have reasons to be optimistic.
They can take confidence from the way the game against Uruguay on Thursday is looking now. We know that England have to win against Uruguay – maybe with Luis Suarez in the team. But they can do it.
Uruguay had problems defending set pieces in the game they lost to Costa Rica on Saturday. And also, Italy are waiting for Uruguay in the last game, so Uruguay really do need to win now. They can't afford to sit and wait in the game in Sao Paulo. They have to attack. That means England could have space – and the space can create problems because of the pace of their offensive players.
We know much more about those players after the game we saw in Manaus. We know that Raheem Sterling and Daniel Sturridge, with their pace and ability, can break any defence, even in a World Cup.
A very strong aspect of England on Saturday was the exchange of positions between the offensive players, when they had the ball. Wayne Rooney moving into the middle sometimes; Sterling was switching on to the left, to take up different positions and attack the defenders.
We were talking here last time about how they needed to have conviccion, hambre, quererla – conviction, hunger, wanting the ball. They did. Ross Barkley and Adam Lallana gave more energy and different options too. It was a dynamic thing to see.
So why did the team lose to Italy? Because it is only fair to say that Italy had control of the game. They won because of tactical adjustments, rather than showing more commitment than England. They had a good tactical plan, with a very clear idea about what they were trying to do and with the quality of players to carry it out.
Maybe England expected Italy to have four at the back. In reality, in possession it was five so many times – because Daniele De Rossi dropped off from midfield, in between the centre-backs, Gabriel Paletta and Andrea Barzagli, and that made a line of five, which was their platform.
The same thing happened when England played Italy in Kiev in the Euros two years ago and there were the same effects. Italy were able to get the full-backs, Matteo Darmian and Giorgio Chiellini, high in the wide areas. Darmian was the more offensive of the two and caused England a lot of problems.
England 1 Italy 2 player ratings
England 1 Italy 2 player ratings
1/22 Joe Hart

Didn't stand a chance for either goal, but almost at fault for another. 6/10

GETTY IMAGES

2/22 Glen Johnson

Never really exposed, but never entirely uncomfortable. 5

GETTY IMAGES

3/22 Gary Cahill

Partially at fault for both goals, and generally struggled with Balotelli. 5

GETTY IMAGES

4/22 Phil Jagielka

Sometimes caught out, but in the right place for Mario Balotelli's chip. 6

GETTY IMAGES

5/22 Leighton Baines

Repeatedly exposed and never got chance to display his attacking abilities, other than one superb slipped pass for Rooney. 5

GETTY IMAGES

6/22 Jordan Henderson

Putting him right beside Gerrard made England, and the player, look a little flat. 6

GETTY IMAGES

7/22 Steven Gerrard

Typically effective in attacks, less dependable when forced to defend. 6

GETTY IMAGES

8/22 Danny Welbeck

A productive showing that dismissed doubts over whether he should start. 7

GETTY IMAGES

9/22 Raheem Sterling

The player who best defined some of the new optimism around England. 8

GETTY IMAGES

10/22 Wayne Rooney

One fine assist, a lot of futile play. Poor. 5

GETTY IMAGES

11/22 Daniel Sturridge

A Gary Lineker-style finish to a cap a fine World Cup debut. 7

GETTY IMAGES

12/22 Salvatore Sirigu

Stepped in for the injured Gigi Buffon and then stepped up, making some excellent saves. 7/10

Getty Images

13/22 Matteo Darmian

A good performance, even if his pace wasn't as penetrative as usual. 7

Getty Images

14/22 Andrea Barzagli

So dependable, and perpetuating a fine line of Italian defenders. 8

Getty Images

15/22 Gabriel Paletta

The hair might be thinning, but the former Liverpool player made his own presence felt. 7

Getty Images

16/22 Giorgio Chiellini

Some cynical challenges, and still doesn't look entirely comfortably at left-back. 6

Getty Images

17/22 Claudio Marchisio

A brilliantly precise finish, a productive performance. 7

Getty Images

18/22 Daniele De Rossi

The necessary aggression amid so much Italian elegance. 7

Getty Images

19/22 Marco Verratti

Barely misplaced a ball, and played a key role in the first goal. 7

Getty Images

20/22 Antonio Candreva

An utterly exceptional cross for Balotelli's goal, and a surprise he was taken off. 7

Getty Images

21/22 Andrea Pirlo

The clever passes are too plentiful to remember, but the dummy for the opening goal impossible to forget. 7

Getty Images

22/22 Mario Balotelli

Frequently a threat, occasionally wasteful, but ultimately the match-winner. 7

Getty Images
People were criticising Rooney for not helping Leighton Baines to defend the England left but it is not as easy as that. It is difficult for a winger to do that job of helping out and defending – but even more difficult for strikers. Rooney and Danny Welbeck are strikers and they couldn't defend the wings as well as wingers could. Rooney could not always be thinking: "I have to defend. I have to defend."
Maybe there was a technical aspect lacking in England when Mario Balotelli scored Italy's winning goal. Maybe Gary Cahill could have been more aware. He looked back to check for Balotelli twice in the seconds before the header. Maybe Glen Johnson could have been closer, too.
But I don't blame Cahill and Johnson. It's not always just the final position of players that is important when you analyse the goal. It's also what happens before. The goal came because of the danger that was created by Italy's quality and numbers in the wide areas.
When chances are created for Balotelli he will just do things. It is a fact that he is a player who is good in the air and when those balls are played in like that it is always a risk. Yes, you can analyse Cahill and Johnson and talk about England's defence. But Italy had the time to prepare the cross and that was more important when we discuss this goal.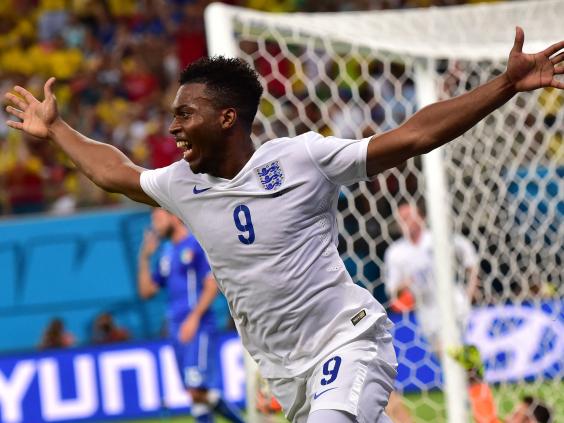 Darmian was not the only danger going forward. Antonio Candreva, who made things difficult for Baines, and Claudio Marchisio were also difficult to control from a tactical point of view because they were working between the lines, getting behind Steven Gerrard and Jordan Henderson.
Another important tactical aspect: Marco Verratti was quick to press Gerrard, so he couldn't move the ball easily and England needed the mobility up front to find the offensive players. In England, we had been talking all about Andrea Pirlo. It seems that in Italy they were talking all about Gerrard.
Italy's passing game and movements in attack were always good. They scored from a very good corner: credit to their manager and the players involved for a very good set-piece idea. And then they scored again from the very good movement, cross and the finish from Balotelli. The four-man defence that Italy had, with De Rossi dropping back in possession, let them pass out from the back, always, with De Rossi looking for Pirlo. Italy had a plan.
It is a great game to talk about and analyse. A game to absorb you. Now you will all be doing the calculations about the group and here are a few ideas.
Costa Rica have to keep their same level against Italy on Friday but it seems that Italy will be aware now of the Costa Rica danger. I expect Italy to beat them. That means the last game between England and Costa Rica has to be crucial. Even a defeat to Uruguay is not the end of the tournament for England. You can go through to the knock-out stage even with three points.
Spain's attacking habit can stand them in good stead
It might not be easy but Spain have to think about staying with their philosophy and keep doing the things they have done in the past, after losing 5-1 to the Netherlands.
They played a high line and were exposed and they will want to be more compact in defence, as they have been in the past. The Dutch pressed them with very great intensity and made it very difficult for them. It is fair to say that at times the defenders needed more people coming back to help. But it was one game. Their philosophy has done great things for them.
The winners in football have to analyse what went wrong, keep to their ideas when they lose and come back. Spain have to think about winning and scoring goals when they play Chile on Wednesday. That will put what happened against the Netherlands behind them.