The insularity of football knows no bounds.
When the then Manchester City manager Roberto Mancini was scheduled a few years ago to meet British Cycling's performance director Dave Brailsford – the prime exponent of elite sport's pursuit of marginal gain and new ways of winning – he turned up so late that an exasperated Bradley Wiggins gave up waiting around to see him at Manchester's Velodrome. The ensuing press conference involved Brailsford describing all that football could teach him. It was supposed to be the other way around.
That's the kind of arrogance that fabulous wealth and attention have bred in the game, though an England national side so clearly adrift of the world's best can hardly afford it. This is the sport – and national team – which was so wise that it paid Fabio Capello £6m a year and found him calling up Paul Scholes the night before the 2010 World Cup squad selection deadline, asking him if he fancied playing. Nobody who watched Capello speaking in his faltering English that day – your correspondent included – asked: "Why?"
That is the question that the Football Association's new head of performance services Dave Reddin, with his outsider's perspective born of a huge role in England lifting rugby union's World Cup in 2003 and in Team GB's success in London nine years later, has been looking to apply in nine months with the governing body. Why, for example, is the England team announced to its members so near to kick-off? At the 2010 World Cup finals Capello even put goalkeepers Rob Green and David James through the wringer, not telling either who would take the gloves. The rugby union team is known four days in advance and Reddin challenges football's orthodoxy.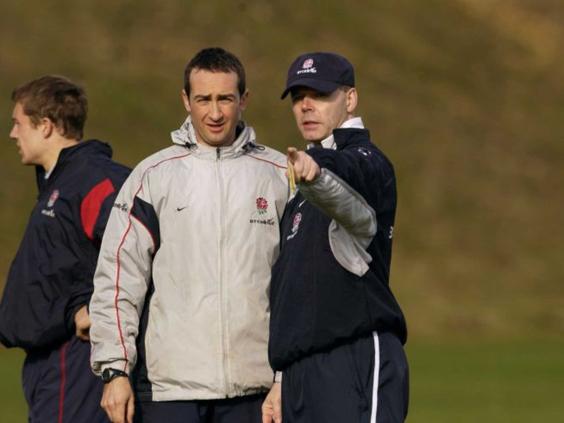 "When do we select a team? When do we announce a team?" he asks. "The night before the game? The day of the game? I look at that, particularly at international level, and say 'why would we do that?' Why would we not announce it early internally? Which allows everyone to understand what their role is that week, whether they are playing or not playing, that allows those who aren't starting to adopt the role of opposition.
"'Because managers are paranoid about the world finding out,' is the traditional answer. So what's the worst that can happen?" Reddin adds. "So they set up and understand a little bit about the way you're going to play. But if you are better prepared maybe you can deal with that. Look at the Premier League now – internationals especially – and it's rare that someone is playing what nobody was expecting… where you fundamentally change the way of playing."
The superficial understanding of performance enhancement has made penalties – the old favourite – the prism through which Reddin's appointment has been widely viewed.  The notion that practising them is pointless barely needs be put to him. "By that logic why would you practise  anything?"
There is no silver bullet among his thoughts on how to solve the penalty problem, though his compartmentalisation of the challenge provides some answers that have not always been there.
 Develop the technical ability "to hit the spot 10 out of 10 times because if that technical competency is nailed on, of course pressure will dig away at it a little bit but not to the same degree." Find a way of getting younger teams to do it under pressure. Train the players for whom the shoot-out will be a more alien environment. "Because the reality in the tournament situation is the guys who are going to win or lose it are not the guys taking penalties every week." And don't identify the takers through a show of hands in the centre circle after extra time? "For sure [deciding on the hoof] is not ideal," he says. "That's not the time you want to be making those decisions." 
It is beyond football that Reddin most wants to look, though. It helps that he brings the perspective of failure, as well as success. After Sir Clive Woodward made him a full-time part of the England rugby set-up in 1997, the pair were convinced that they were going to take England to victory in the 1999 World Cup. "We threw the kitchen sink at it and everyone got really inspired by it," he says. "But we were nowhere near it. It wasn't a credible plan."
It was four years later that they made it – after he had inculcated among Woodward's men such a determination to lift their fitness levels to match the previously untouchable farmers' sons of New Zealand and South Africa that Jason Leonard, Will Greenwood and Lawrence Dallaglio would be in to train with him for an hour at 6.30 every Monday and then head off to their clubs.
The idea of Alex Oxlade-Chamberlain and Jack Wilshere dropping in at Wembley en route to London Colney is not a part of the plan. "The evolution of the club game in rugby was very different back then," Reddin says. "You've got to be very careful about giving the impression 'England say we want players doing loads of other stuff.' That would cause a war with clubs. We want to work with the clubs." But a little of that same absorption with England – an international call-up being less of a duty – seems to be at the core of the way Dan Ashworth, the FA's director of elite development, and Reddin want to redefine things.
The competitive disadvantage Reddin starts with this time is the lack of first-team football that England players at all age groups are being allowed in the Premier League. But he asks if it might be used to England's advantage – turning the international scene into a place where they will get a chance to play competitive football and demonstrate their worth. "They are being loaned out here, there and everywhere because they can't get into their clubs but that's a huge opportunity," Reddin says.
Enabling English football's dressing-room leaders to express themselves is a core part of the psychological impact Reddin seeks to bring across from rugby union. "If I go back to 2003, it is easy to say 'oh, you had some great players and natural leaders' but I don't remember it that way at all. There were some great characters who had the seeds of great leadership skills – but they became leaders because they were given a lot of responsibility." The stereotype of the English footballer – that they lack the intellect to lead anywhere other than on the pitch – is not one he says he recognises.
The small touches can affect the psychology. At Twickenham in 2003, a wall opposite the England dressing room door became the "wall of great wins" – a place where perhaps 40 plaques described a great triumph in England's history. Reddin introduced the same device to the much-cherished Team GB performance centre which became known as "The Shed" – thrown up by him on the hoof in August 2012 when space became available, allowing all disciplines to mix. A blank wall has been designated in the Club England rooms at St George's Park. There's nothing on it yet. Reddin believes there will be.
The attempt to reach outside of football's narrow preconceptions will take him and Matt Crocker, the FA's head of coach and player development, to observe British Sailing teams in the new year. "I'm not a sailing coach but the way they develop technical competency and decision-making in sailors is fascinating," Reddin says. "How does a sailor read the weather? How does he read a meteorological report? How does he assess the environment constantly? Where are the clouds going? We are not interested in how you measure the weather but how we teach a footballer to try and recognise some of those things in a similar way. I think there are some obvious parallels there with fast moving games like football."
Reddin nods at the suggestion that the idea of the FA observing sailing will breed cynicism and sneers, world champions though many of that sport's athletes are. "I don't claim to be right but I would rather be open-minded and go out there and see what's possible," he says.
He relates the story of Roger Bannister and the four-minute mile. "There were all the physiologists out there at the time telling him that physiologically it wasn't possible for a human being to run under four minutes. He said: 'I'd rather not listen to them because that sort of thinking gets into your feet.' Then he broke the four-minute mile. Then 10 more people broke it within six months."
Reddin's key points to improved performance
Penalties
Improve the players who do not take spot-kicks every week. Don't just decide who is going to take the kicks after extra time
Develop leadership
Wayne Rooney is intelligent. Capable of running team meetings. Give him the skills to do that.
Forget the Germany obsession
We are going to win – we'll do it by not copying other people. If we just copy others we'll always be behind because by the time we get to where they are now, they'll have moved on again.
Announce the team earlier
And so allow everyone to understand what their role is that week, whether they are playing or not playing. Is it really such a disaster if the papers find out?
Make players love England
If they are struggling to get into their Premier League club, make England their shop window.
Put victory on the wall
Twickenham had a 'wall of great wins' outside the England dressing room before the 2003 triumph. There was another one at the Team GB Olympic Village nerve centre. Create one for England.
Reuse content