"It began with chants of 'No surrender to the IRA', and ended with the wail of sirens and bark of police dogs." So began my "match report" for The Independent the last time England played in Dublin, on 15 February 1995.
As England prepare to go back to Lansdowne Road on Sunday, for another friendly with Republic of Ireland, it is sobering to look back on events of 20 years ago when English football was the pariah of the world game.
England matches then were frequently accompanied by fan violence and had been for nearly 20 years, with incidents in cities across western Europe. Measures such as CCTV, while reducing hooliganism domestically, had limited effect when it came to preventing violence abroad. In addition a right-wing nationalist following had attached itself to the England team, which was to be significant in Dublin.
The political context around the game was relatively benign, with an IRA ceasefire in place and the British and Irish governments negotiating amicably on the question of Northern Ireland. Yet the UK's National Criminal Intelligence Service discovered Combat 18, a violent neo-Nazi group, planned to cause trouble at the game. In the first of several organisational errors, the Garda, the Irish police, decided not to act on the intelligence, which included details of known troublemakers' travel plans. The last Dublin match between the teams, in 1990, had been peaceful enough, so while some trouble was anticipated the expectation was they could handle it.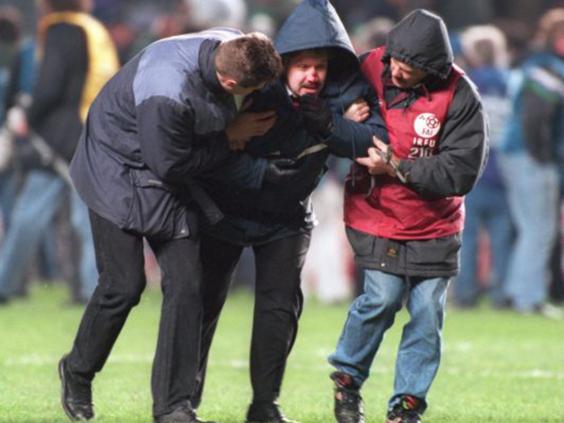 Prior to the match there were reports of fights between Leeds United and Manchester United fans at Manchester Airport as they prepared to cross the Irish Sea, then in Dublin between English and Irish supporters. Come the match England fans were in the upper and lower tiers of the antiquated West Stand, about 40 yards to the right of the press box. With hindsight putting them on the upper tier, an ideal place from which to launch missiles, seems foolish, though away fans are sometimes in such areas to prevent them invading the pitch. More damning, some tickets sent back by the Football Association were sold by their Irish counterparts to local fans, so the area was poorly segregated.
Before kick-off the Irish President, Mary Robinson, was booed by England fans, then "God Save the Queen" was jeered by Irish fans. The atmosphere was tense, but the game began peacefully.
Then after 27 minutes David Kelly – one of seven English-born players in the Irish team – scored. Trouble immediately broke out among away fans in the upper tier and soon missiles, including broken wooden seats, bits of metal, then whole wooden benches, were raining down on the pitch. Several people were hurt, including a press photographer, but miraculously no one suffered life-threatening injuries and  no player was hit.
Meanwhile, outside, the riot police were being told they were at the wrong entrance and were trying to find their way in. Long before they arrived, referee Dick Jol had taken the players off for their own safety. Jack Charlton, a World Cup winner with England, who was Ireland manager, tried to reason with the fans and was met, to his undisguised fury, with a volley of missiles and chants of "Judas".
It became obvious the police either had to clear the stadium of 3,000 English fans or the game would be off. The decision was soon made to bow to the inevitable and this became the only match in England's 143-year history of international football to be abandoned and never restaged.
The stadium gradually cleared of Irish fans while the English were contained, but it was 90 minutes before trains arrived at the thankfully convenient railway station under the main stand to take the visitors to ferries at Dun Laoghaire.
Football's spitting controversies
Football's spitting controversies
1/10 Frank Rijkaard vs Rudi Voller, 1990

One of the most unsavoury moments in World Cup history, and perhaps football's most notorious spitting controversy of all. First, the Dutch legend followed up a strong tackle of the mulleted German striker with a subtle spit at his opponent - Voller was booked for his protestations. The pair were later embroiled in a fracas that led to both receiving their marching orders. Before leaving the pitch, Rijkaard aimed another, more substantial mouthful at Voller's inviting mane.

Getty Images

2/10 Patrick Vieira vs Neil Ruddock, 1999

Two of the Premier League era's most fearsome hard men had battled throughout a feisty encounter between Arsenal and West Ham until Vieira received his marching orders. Employing Frank Rijkaard's 'Well, I've been sent off already' logic, Viera spat at Razor, and earned himself a six-match ban.

3/10 El-Hadji Diouf vs Celtic fans, 2003

The first of two appearances on the list by the controversial Senegalese winger, Diouf was banned for two games and fined by both Glasgow Crown Court and his club Liverpool after spitting at a Celtic fan during their UEFA Cup quarter-final clash. Diouf would later sign for Rangers in a bid to further endear himself to the Parkhead faithful.

Getty Images

4/10 Francesco Totti vs Christian Poulsen, 2004

Totti has courted controversy throughout his illustrious career, never more so than when he was banned for three games after taking it upon himself to spit at sometime-Liverpool midfielder Christian Poulsen at Euro 2004. "The true Francesco Totti is not the one on the video," the Roma legend explained.

AFP/Getty Images

5/10 El-Hadji Diouf vs Arjan De Zeuuw, 2004

Diouf, showing a Louis Suarez-esque ability to learn from his own mistakes, was in in the dock again and earned a three-game ban after firing a mouth-missile towards Arjan de Zeeuw during Bolton's 1-0 defeat to Portsmouth. Afterwards, he admitted: "My behaviour showed a lack of moral responsibility to the public who support me and I'm deeply sorry."

Getty Images

6/10 Fabian Barthez vs Abdellah El Achiri (a referee), 2005

Barthez's crime is of particular note given that it occurred during a friendly, as Marseille met Morocco's WAC Casablanca. Despite having already been substituted, the goalkeeper took it upon himself to run onto the pitch, wade into a brawl and spit at the referee. "I'm not guilty because I didn't spit at his face," Barthez insisted. He was banned for six months.

AFP/Getty Images

7/10 John Terry vs Carlos Tevez, 2008

The 2008 Champions League final wasn't the best of nights for the Chelsea skipper. Not only did he miss the crucial penalty in the shoot-out that handed the trophy to Manchester United, he was also accused of wiping his nose before subtly transferring the contents onto Carlos Tevez's neck. Terry denied wrongdoing and escaped punishment with the evidence inconclusive.

Getty Images

8/10 Lionel Messi vs Duda, 2008

Proof that even the game's true superstars can occasionally lose their head, and control of their saliva. Messi took exception to a challenge from the Brazilian defender during Barcelona's victory over Malaga and was caught by TV cameras appearing to aim a sneaky spit at his opponent's back, but no action was taken.

AFP/Getty Images

9/10 Cristiano Ronaldo vs Robbie Savage, 2009

The Portuguese superstar was by no means the first to be riled by Robbie Savage when the pair tussled during Manchester United's 4-1 FA Cup victory over Derby. Photos seemed to show Ronaldo aiming some phlegm in the direction of the Welshman during the incident, but Savage graciously insisted that "nothing happened" and his opponent was cleared of any wrongdoing.

Manchester United/Getty Images

10/10 George Boyd vs Joe Hart, 2014

Hull's clash with Manchester City was already an ill-tempered affair before Joe Hart took exception to how George Boyd went down under the goalkeeper's challenge. As the pair squared up, Boyd appeared to spit as he delivered a (verbal) mouthful into his opponents' face. "He wouldn't do that, no chance," insisted Hull manager Steve Bruce. The FA disagreed, and banned the Scottish midfielder for three games.

Getty Images
Yet it was still not over. Both sides were spoiling for a fight and a small skirmish on the lower tier provided the excuse. A full-scale battle ensued between police with batons and protective gear, and fans, all conducted to a backdrop of more missiles thrown from the upper tier. The police, angry and embarrassed at being caught out earlier, did not hold back and, while there was a hardcore of English happy to go toe-to-toe with them, there were also innocents caught in the chaos. I saw one man attempting to shield his terrified girlfriend as the combat raged around them. A belated Valentine's Day treat neither would ever forget.
We filed our reports and headed, stunned, for our hotels. For the English media there was only embarrassment, no matter how many times our Irish colleagues insisted: "You're OK, it's not your fault, just a few nutters". But it was not a small minority, there were hundreds of the visiting support who were eagerly involved. The violence may have been orchestrated by a small extremist group but in those days there were many non-political England travellers happy to get stuck in if a fight was on.
In the aftermath there was talk of Euro '96 in England being at risk but with terrible irony Gerhard Aigner, the secretary-general of Uefa, pointed out it was safer to play England in England than it was to host them elsewhere.
In the event Euro '96 turned out to be a fiesta of football with England fans adopting the flag of St George to avoid the right-wing connotations that had attached to the Union flag. But the hooligans were not done. It took further rioting at the France '98 World Cup and Euro 2000, in Belgium and the Netherlands, before the authorities finally realised the problem had gone beyond football's capacity to solve it.
The crackdown has been successful, notably a requirement for anyone subject to a football banning order to surrender their passports during periods when England were playing abroad. Nevertheless, occasional outbreaks of threatening behaviour persist, as does the "No surrender" chant, 17 years after the Good Friday Agreement and even after Prince Charles has shaken hands with Gerry Adams.
This week the police are insisting not only that the 1,875 fans subject to banning orders hand over their passports, but also that they report to a police station between 10am and 1pm on Sunday. Failure to comply risks a six-month jail sentence and a £5,000 fine.
Members of the FA-run England Supporters Travelling Club, who are supposed to be the only visiting fans able to purchase tickets, will be required to collect them in Dublin with photo ID. Lansdowne Road is now a modern stadium, easier to police, and both countries' forces have worked together in the build-up. Nevertheless, the 1pm kick-off, preventing all-day drinking beforehand, is not a coincidence.
Reuse content