Scotland's domestic football drops into an ever deepening abyss. While Gordon Strachan and his players were relaxing in the five-star Mar Hotel ahead of Friday night's game against the Republic of Ireland, they spotted Rangers' hated former director, Brian Stockbridge, who is blamed for the club's spiral into near insolvency, being entertained by businessmen who turned out to be new owner Mike Ashley's hired hands.
"Not in a million years," the Daily Record raged, contemplating the idea of Stockbridge being brought back into the Ibrox fold. But when you're a busted flush like Rangers, the fans have no say on who picks over the entrails. More of Ashley's money will be needed to keep the lights on and pay the wages next month.
The malaise, which has consumed Celtic too, was why Friday night's 1-0 victory over  the Irish was like a breath of warm air drifting in off the Clyde. Scotland's European Championships qualifying group could still go any number of ways, with Strachan's side, Martin O'Neill's Irish and Germany all on seven points. But something Scottish is certainly building. England can expect more than sound and fury when they follow the Irish into Celtic Park tomorrow night.
There was a park football element to the game against the Irish. It was blood and thunder, kick and rush at times because it mattered so much. But when the dust had settled, Scotland were able to offer their Strachan imprint – fast, controlled football, down on the turf, with interchangeability of positions in a fluid  4-2-3-1.  "We played that way at Wembley too, at times," Russell Martin, the Norwich City defender who has become a regular part of Strachan's  set-up, says of last summer's 3-2 defeat, in which the Scots led twice. "And I think we do it a lot more now because we have been together a lot longer and we are a different team. We are at a different part of the process to what we were then. Yes, we look forward to it.  We try to play the right way. That's what the manager wants. He wants us to entertain people and make the Scottish fans proud."
Strachan's team was better, quicker, smarter and the one with the individualism befitting the occasion against the Irish and in flashes the performance was in keeping with the qualifying campaign. Though their match in Georgia was settled by an own goal in their favour, the display was impressive, and the same went for the draw in Warsaw last month, against a Polish side playing off the back of a famous win against the Germans. Friday night revealed the significance of Everton's Steven Naismith – the game's outstanding player by a comfortable distance – and Wigan's Shaun Maloney, whose performances at times during the club's relegation year made it surprising that he didn't find Premier League employment elsewhere.
Roy Hodgson will have to deal with the intuitive way the two star performers interact if his team are to prosper in Glasgow. Each demonstrated a capacity to create and finish, with the temperament for a febrile occasion. The deep lying midfielders are granted the freedom to advance and attack, too. The Scots duly flourished in Glasgow without the player who has made the biggest impact under Strachan, Watford's Ikechi Anya, operating at the top of his game.
Steven Fletcher's failure to capitalise on opportunities Maloney, in particular, created for him, illustrated one of the grounds for optimism for England. Fletcher has not scored in five and a half years for Scotland. The absence of a goalscorer places a responsibility on Anya, Maloney and Naismith to create spaces.
Naismith was developed at Kilmarnock, Maloney at Albion Boys' Club and Celtic, before they followed that familiar route to England. Necessity has been the mother of invention for the club who nurtured them because there is not the money to buy big.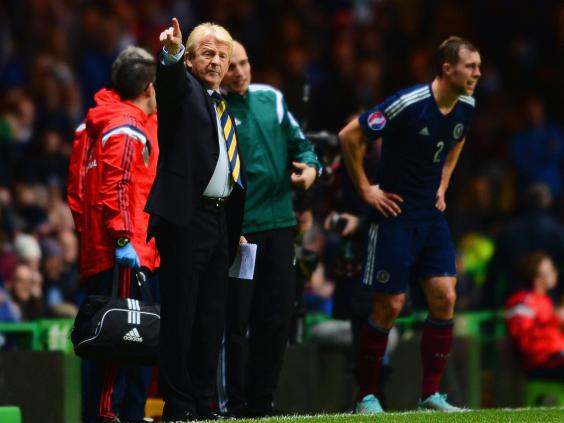 But Strachan has been as assiduous as international managers have had to be in scouring the English leagues for players. Derby's Chris Martin, another in the squad, is English like his Norwich namesake and theirs were not the only estuary accents from those processing in black tracksuits through the mixed zone. Yet there was an unmistakeable sense among those drifting through the freezing makeshift marquee that the spirit of creativity and belief Strachan has inculcated has been instrumental in the two years since Craig Levein was sacked.
"I think England will want to try and play in a different kind of manner and play that little bit more football – play the ball more on the ground than Ireland," said Chris Martin. "But I think we've shown over the past 12 months, 18 months, that we can mix it any way. We have got many facets to our game. We can enjoy the Ireland result and then go into the match more relaxed than we would have been if we hadn't got it: enjoy it, and play the way we want to play."
Graeme Souness talked after Friday's showing of how Strachan's players should go into tomorrow's game "a swagger which comes from belief". The Daily Record's focus shifted from Stockbridge to Souness, Strachan, Steve Archibald, David Speedie and Co – the class of 1985 – and how this team were entitled to display some brashness. The Souness side beat England 1-0 at Hampden in the old Rous Cup that year. Don't let it be said that the Auld Enemy have not been warned.
Reuse content