Sepp Blatter could perform and incredible U-turn on his decision to stand down as Fifa president after receiving supportive messages from officials in Africa and Asia, it has been revealed.
The 79-year-old Swiss announced his decision to step down on 2 June after admitting he knew he did not have the full backing of the football world, and more importantly of the 209 Fifa Member Associates who voted for either Blatter or his election rival Prince Ali bin al-Hussein last month.
However, despite confirming that an "extraordinary Congress" will be called in order to elect a new president, Swiss newspaper Schweiz am Sonntag has reported that Blatter is considering a rethink on his decision to step down and could yet remain in office.
Contenders to replace Sepp Blatter as Fifa president
Contenders to replace Sepp Blatter as Fifa president
1/6 Michel Platini

Current president of Uefa. Voted for the Qatar World Cup, which makes position somewhat difficult. Asked Blatter to resign before elections.

Getty Images

2/6 Prince Ali Al-Hussein

The Jordanian was the only contender against Blatter when the elections took place. Managed to pick up 73 votes from the Fifa executive committee to Blatter's 133. Has already confirmed he will stand again.

PA

3/6 David Gill

The former Manchester United chief executive refused to take up his place on the Uefa executive committee after Blatter's re-election. 'My professional reputation is critical to me and I simply do not see how there will be change for the good of world football while Mr Blatter remains in post,' he said at the time.

Reuters

4/6 Luis Figo

Former Real Madrid and Barcelona player announced himself as a candidate for the most recent election but pulled out in protest at how it was being run, saying the process was 'anything but an election'.

AFP/Getty Images

5/6 Jerome Champagne

Also announced himself as president contender but failed to gain the minimum five nominations required. The Frenchman is a former Fifa deputy general secretary and has been a fierce critic of Uefa.

GETTY IMAGES

6/6 Michael van Praag

Dutch FA president was also a contender for president before pulling out in order not to split support between himself and Price Ali.

GETTY IMAGES
His re-election came two days after seven Fifa members were arrested in Zurich on corruption charges, with the total number of current and former Fifa officials indicted as part of an FBI investigation into alleged widespread corruption up to 18.
Fifa confirmed this week that the election to vote in Blatter's replacement will take place between December and February, and that the exact date will be confirmed on 20 July.
But the most recent development started earlier this week when Fifa's director of communications and public affairs Walter de Gregorio was forced out of Fifa after clashing with Blatter over his decision to consider a U-turn, the report also claims.
De Gregorio argued that Fifa needed a completely new start and advised Blatter to stay true to his word and resign, but a footage of De Gregorio making a Fifa related "joke" that saw him mention Blatter, himself and Fifa general secretary in a car driven by a policeman paved the way for his dismissal.
In a statement issued this morning, Chairman of the independent Audit and Compliance Committee of Fifa Domenico Scala appeared to support Blatter's resignation and admitted that "change" must occur at the world governing body.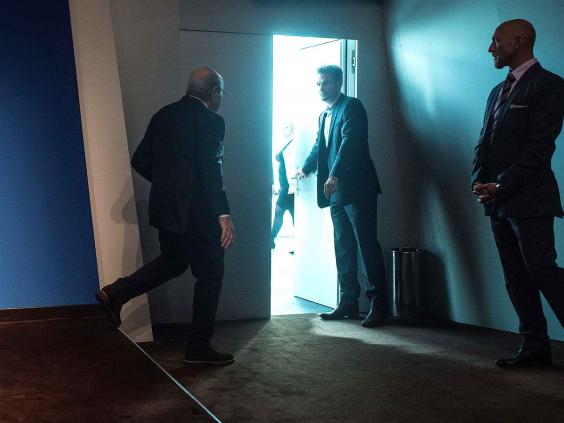 He said: "For me, the reforms are the central topic. That is why I think it is clearly indispensable to follow through with the initiated process of president's change as it has been announced. "
But Damian Collins MP, who has rivalled Blatter for some time and is a founder member of New Fifa Now, warned that a U-turn needs to be looked out for given  that Blatter stated he would not run again in the 20154 election – only to change his mind and win a fifth term in office.
Collins said: "We need to be on high alert for dodgy dealing at Fifa.
"Blatter said in 2011 that he wouldn't stand again for president and then changed his mind. He will do anything now to keep influence over Fifa, to frustrate real reform and try to protect his rotten legacy.
"Scala is right to speak out against this. Fifa needs to understand that unless Blatter goes and there is real reform that it could be the end of the organisation. The threat of sponsors withdrawing support and of a broader boycott of Fifa will remain without new leadership and real reform."
Reuse content