They have revealed little across the course of the past few weeks to strike fear into the heart of United States, their second round opponents, but Belgium have certainly uncovered a new star.
All the talk as they arrived here was of their dazzling Premier League commodities: Eden Hazard, Romelu Lukaku and Adnan Januzaj. But for the third time in this tournament it was Lille's relatively unknown 19-year-old substitute Divock Origi whose substitute's contribution proved decisive. A key contribution against Algeria, the late goal against Russia and finally a stinging shot from him here, parried away for Jan Vertonghen to follow up and score, Origi has needed little time to make his mark from the bench. He has reason to demand more than a place there next time.
The South Koreans' World Cup was not over. Even when Russia took their early lead against the Algerians, a 2-0 win would have seen them through. That kind of result should not have been within the bounds of possibility against a European nation who came into this tournament as the brilliant, young dark horse of their own continent. But Belgium once again failed to live up to that label.
South Korea 0 Belgium 1 player ratings
South Korea 0 Belgium 1 player ratings
1/23 Kim Seung-gyu

Made a couple of decent saves but will have expected a much busier evening's work. That's not his fault, though, and he was commanding when called upon. 7

GETTY IMAGES

2/23 Lee Yong

Raced forward when needed to support his midfield and defended admirably – especially from set-pieces. 7

GETTY IMAGES

3/23 Yun Suk-young

Like Lee Yong, Yun Suk-young was exciting down the flank but lost possession quite frequently. This poor distribution ultimately cost South Korea. 6

GETTY IMAGES

4/23 Kim Young-gwon

Was a warrior at the back for South Korea. Headed every ball, cleared every cross and tackled every player who dared stray too close. 8

GETTY IMAGES

5/23 Hong Jeong-ho

An impressive performance on what should have been a more pressing evening. While the Belgians were poor at times, this was in some part down to the Korean defending. 7

GETTY IMAGES

6/23 Ki Sung-yueng

Was able to maraud forward at his pleasure after Steven Defour's dismissal and made the most of his newfound freedom. His deliveries were top quality too. 7

GETTY IMAGES

7/23 Han Kook-young

Protected his defence well but lacked the ambition to venture into the Belgium half. 6

GETTY IMAGES

8/23 Lee Chung-yong

While showcasing the ability to craft chances out of nothing, Lee Chung-yong's final ball was something of a disappointment. 6

GETTY IMAGES

9/23 Son Heung-min

Was a tireless pest which the Belgians struggled to deal with all night. Ran the line with enthusiasm and was unlucky not to be rewarded. 7

GETTY IMAGES

10/23 Kim Shin-wook

Unfortunately lacked the ability to finish off some encouraging South Korea attacks. Had another striker been on the pitch, tonight's scoreline could have been very different. 5

GETTY IMAGES

11/23 Koo Ja-cheol

Proved his work rate with some encouraging forays into the Belgium penalty area but, like his colleague Kim Shin-wook, he struggled to make his chances show. 5

GETTY IMAGES

12/23 Thibaut Courtois

Despite his side going down the ten men on the brink of half-time, the Chelsea shot-stopper was barely tested. Dealt with any situation which presented itself. 7

GETTY IMAGES

13/23 Anthony Vanden Borre

While striving to gallop forward on many occasions, Anthony Vanden Borre struggled to make his mark. Will have been expected to achieve more. 6

GETTY IMAGES

14/23 Jan Vertonghen

A rock in the heart of the Belgium defence and scorer of their winning goal, the Tottenham Hotspur man was on top form. 8

GETTY IMAGES

15/23 Daniel van Buyten

A surprising choice by Marc Wilmots, at 36-years-old, Daniel van Buyton was as imposing as he's ever been. A stellar performance. 7

GETTY IMAGES

16/23 Nicolas Lombaerts

Really struggled to match the pace of his peers and ultimately proved to go missing for large periods. A disappointing night. 6

GETTY IMAGES

17/23 Steven Defour

Gave possession away cheaply until his red card confirmed a poor evening for the Porto midfielder. 3

GETTY IMAGES

18/23 Marouane Fellaini

Worked tirelessly for much of the game but lacked the penetration which has defined his distribution so far in the tournament. Decent but unremarkable. 6

GETTY IMAGES

19/23 Moussa Dembele

Was called upon to step into Steven Defour's shoes after his dismissal and did a commendable job in the centre of Belgium's system. 7

GETTY IMAGES

20/23 Dries Mertens

Not nearly as impressive as his previous outings, Dries Martens' shift will be remembered for his horrendous miss in the first half. Could have cost his country dearly. 6

GETTY IMAGES

21/23 Adnan Januzaj

Non-existent for large swathes of the match, Manchester United's wonderkid found the big stage difficult. 5

GETTY IMAGES

22/23 Kevin Mirallas

Started the game upfront and is, perhaps, the reason for Belgium's early impotency. When moved back into midfield the Everton man proved more of a threat. 6

GETTY IMAGES

23/23 Divock Origi

If the rumours of Liverpool's interest prove to hold any credence, then the Reds may have a talent on their hands. Made a noticeable difference after coming on. 7

GETTY IMAGES
They were sloppy and slack in possession in what developed into an even first half. Moussa Dembele's error allowed Sunderland's Ki Sung-yueng – the architect of the Korean game - to seize possession and deliver a shot from the edge of the penalty area which Thibaut Courtois did well to palm away to his right.
The Belgians gradually began to assume some control, with a side which included seven new faces from their last win over Russia – a sign that Marc Wilmots had the second round clash against the United States at Salvador in mind.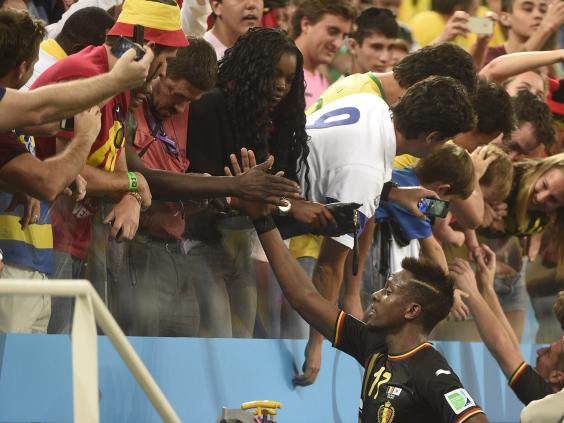 His players were presented with one of the stand-out goalscoring opportunities of the World Cup group stage when the Korean defenders played pinball with a Kevin Mirallas' shot in the area, after the Everton striker collected from Marouane Fellaini's knock-down header. But when the ball fell at the feet of Napoli's Dries Mertens, he conspired to blast it over the bar.
There is an eccentric side to the South Koreans.  The nation's huge interest in the sport has not translated into as high a technical component among the side as it ought to have done. And no-one has told goalkeeper, Kim Seung-gyu, that he is permitted to catch the ball, rather than launch spectacular punches at it. But Belgium still failed to make good on the class differential.
They did not supply Manchester United's 19-year-old Januzaj, who became the second youngest player, after Northern Ireland's Norman Whiteside, from the same club to play in a World Cup finals.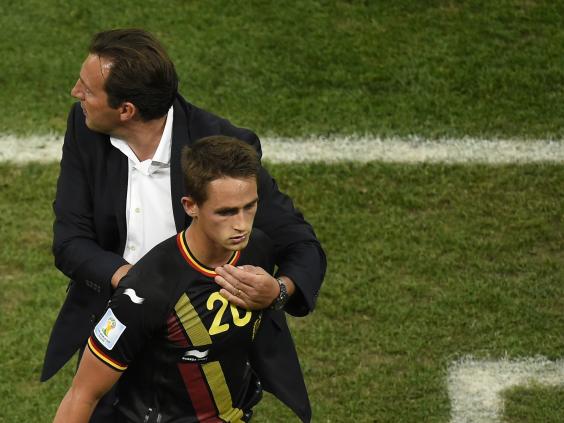 And the frustration with the deadlock seemingly contributed to the mindless decision by Porto's Steven Defour, to go into a two-footed challenge on  Kim Shin-wook in the closing stages of the first half. Defour planted studs on Kim's right leg and was justifiably dismissed.
Januzaj and Fellaini did get their chance to link up after the break. If the World Cup has done little for the international reputation of Lukaku, kept to the bench after two starts which did not even last an hour, it has provided a reminder of the strength Fellaini can bring. He flourished again in the advance No 8 role which his team-mates have been insisting for the past two weeks that David Moyes should have used him for. He had a strong penalty appeal when he had clipped Januzaj's ball beyond Hong Jeong-ho and the defender clattered into him.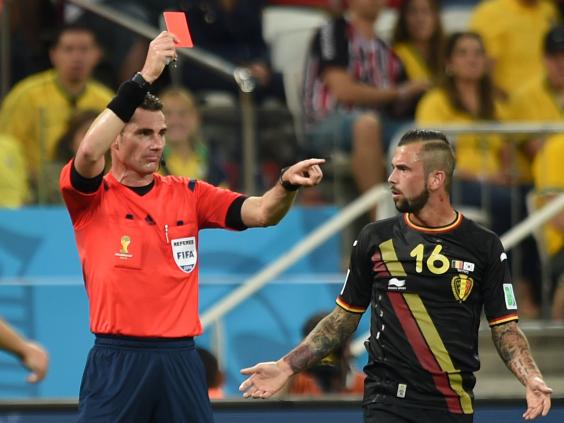 The loss of Defour did not cause the Belgians difficulties. But there was still a parity till  Vertonghen's late strike. The influential Ki, who is on loan to Wearside from Swansea, floated a cross onto the top of bar, and Wilmots' decision to withdraw Januzaj and Mertens  on the hour revealed his need for different options.
Then came the decisive goal, followed by Eden Hazard, another substitute, bursting  into the area and forcing another smart save from Kim Seung-gyu. Belgium have found an exciting new property.
The group stage has been characterised by a need to chop and change a side struggling for a rhythm..
Now they need more from the players we thought we knew all about.