Too tired, too slow and too few points. Spain's World Cup is over, and an era ends. Vicente Del Bosque's team have become only the fifth defending champions in history to go out in the group stage, but the first the lose their opening two games and thereby the quickest to ever go home.
They are also the first team eliminated from the 2014 tournament. That sums up the scale of the fall almost as much as the poverty of their play. Chile, as they promised before the game, have made history.
The South Americans also consigned Spanish dominance to the past with a display that brilliantly outpaced their famous philosophy and made it look brutally outdated.
The contrasts seem to be confirmed within minutes. Spain embarked on a relatively sedate spell of passing, only for Chile to snap at the ball and tear at their defence. It caused instant panic, not too dissimilar from the chaos the Dutch created any time they got near the Spanish box last Friday. Arturo Vidal nutmegged Javi Martínez in the box and, just as Eduardo Vargas seemed set to finish, Xabi Alonso took it off his toe... but almost put it into his own net.
Again, chaos. It was a warning sign. The fact Martinez was involved indicated that Spain's problems were perhaps more profound than the choice of personnel. Del Bosque's side did temporarily recover some of their old confidence, thanks to some composed passing. That at last illustrated that the decision to drop a declined Xavi was not mistaken. For a time, it was Chile forced into errors.
Spain 0 Chile 2 player ratings
Spain 0 Chile 2 player ratings
1/22 Spain: Iker Casillas 5/10

Another nightmare showing from the Spanish captain. Looked frail at set-pieces and was to blame for Chile's second. Is this his last major tournament with with his country?

Getty images

2/22 Cesar Azpilicueta 6

Did very little after a surprise call-up to the Spanish starting eleven. Gave possession away far too cheaply and looked out of place.

Getty images

3/22 Sergio Ramos 6

Constantly striving to get forward, as well as defending well, Ramos at least showed an intent to halter Spain's slide.

Getty images

4/22 Javi Martinez 6

While not doing too much wrong, Martinez failed to excel when Spain needed a leader.

Getty images

5/22 Jordi Alba 6

Ran the line reasonably well but was left wanting defensively on far too many occasions. Had a difficult afternoon trying to contain Alexis Sanchez.

Getty images

6/22 Xabi Alonso 5

The former Liverpool man had an awful first half, surrendering possession far too easily. A number of wild shots, which blazed over the bar, summed up his country's night.

Getty images

7/22 Sergio Busquets 5

The Barcelona midfielder will ultimately be remembered for that horrendous miss in the second half. Offered little else.

Getty images

8/22 Pedro 6

Had a quiet evening when much was required from him if Spain were to get back into the game. Will be bitterly disappointed with his distribution tonight.

Getty images

9/22 David Silva 6

Went missing for large periods of the game but did improve towards the end of his shift. Could have made the difference if luck went his way.

Getty images

10/22 Andres Iniesta 6

While his undeniable class was evident throughout, Iniesta's passing didn't penetrate the Chilean defence nearly enough. An ineffective evening.

Getty images

11/22 Diego Costa 5

A poor performance from a striker who looks severely out of place in the Spanish set-up. His game, built on power and pace, doesn't match up with the philosophy in which he has been expected to embrace.

Getty images

12/22 Chile: Claudio Bravo 8

While consciously adding an air of the spectacular to his saves, Bravo made a range of excellent stops to keep Spain out. A fine display from an exciting goalkeeper. Bravo indeed.

13/22 Mauricio Isla 7

Racing forwards at every opportunity, Chile's right-back has made something of a name for himself tonight. Chileans, however, won't be surprised by his display tonight.

14/22 Eugenio Mena 7

Like his counterpart on the other side of Chile's defence, Isla, the Santos left-back offered an attacking threat as well as defensive solidity.

15/22 Gonzalo Jara 7

A rock at the heart of Chile's backline, the former Nottingham Forest defender earned his stripes by keeping the likes of Diego Costa at bay.

16/22 Gary Medel 7

Playing in his more familiar position at centre-back, despite being used in midfield for Cardiff City, Medal wore his heart on his sleeve and made a couple of essential interceptions.

17/22 Francisco Silva 7

Offering a springboard for Chile to leap into attack from, Silva often stayed back and manned the fort. Giving the players around him the freedom to run at the Spanish defence, he played a vital role this evening.

18/22 Charles Aranguiz 8

Scoring Chile's second and proving to be a constant thorn in Spain's side, this was a marvellous performance defined by his electric pace. A true shame he couldn't stay on the pitch.

19/22 Marcelo Diaz 7

The FC Basel man was an essential cog in Chile's well-oiled, and well drilled, midfield. Kept his teammates grounded when they may have become over exuberant.

20/22 Arturo Vidal 8

An impressive performance from Juventus' 27-year-old star man. Representing all that Chile stand for, Vidal held up the ball superbly and wasn't afraid to run with it.

21/22 Alexis Sanchez 9

A menace throughout, the occasionally maligned Barcelona playmaker was at the top of his game today. Unlucky not to score from one of his many opportunities.

22/22 Eduardo Vargas 8

After putting his side ahead early into the game, Vargas then became more defensively-minded and did an important job in holding the ball up until the cavalry could catch up. An effective display.
One dreadful pass from Marcelo Díaz needlessly gifted David Silva and Diego Costa the ball and so much space, only for the forward to take it too far then hit a wayward shot. Andrés Iniesta collected and the ball came back to Alonso, but the goalkeeper Claudio Bravo was equal to it.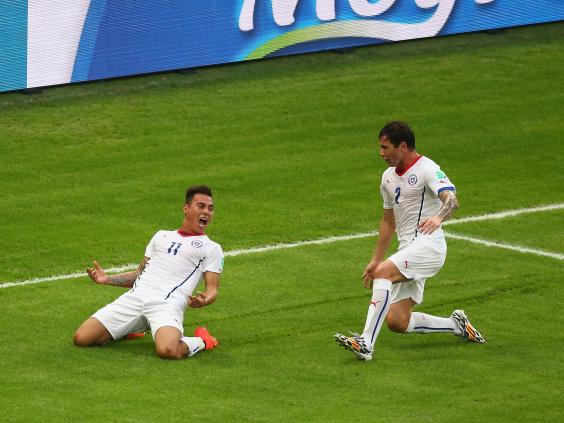 Soon, Chile recovered their balance, and upended Spain's. They certainly left a line of Spanish defenders on the ground as, within four minutes, the South American side surged into the lead.
It was a goal at once glorious and awful. Every Chilean touch was brilliant, every Spanish attempt at a tackle hapless. Vidal and Alexis Sánchez sleekly worked the ball through to Charles Aránguiz, who cut back for Vargas to cleverly finish.
The raucous Chile fans erupted again, Spain were quietened by what was by now their horror situation: they had to chase the game, under severe pressure from what was at stake, but also leaving themselves susceptible to the pace of Sanchez.
One wild Alonso shot revealed their anxiety; a poor Diego Costa finished underlined their lack of edge. By then, there was an impotent toil to their play, so reminiscent of France in 2002.
Chile displayed more life and vigour in everything they did. While Spain struggled to generate momentum, the South Americans were winning flying challenges and effortlessly pulling off nutmegs.
The second goal summed it all up, right down to an Iker Casillas error. While Spanish displayed panicked hesitation, Chile emphatically seized the initiative. The goalkeeper punched a free-kick anywhere he could. Aránguiz powered it precisely into the corner. Costa could not replicate such accuracy at the other end. The Chelsea striker has provoked much debate, from his eligibility to his suitability, but the bottom line here is that he was not fully fit. That was emphasised straight away in the second half, as he squandered the kind of chance he scored all too easily at Atlético Madrid.
Costa did display some of his supreme bustle moments later on, with an impressively improvised bicycle kick to set up Sergio Busquets just yards from the goal. It was the wrong player, however, and this was the wrong finish. Somehow, Busquets missed.
It was another sign.
The oddity was that Spain had at that point had more than enough chances to win the game well. The reality was that they didn't deserve to.
Costa eventually went off for Fernando Torres to a chorus of boos, which seemed to sum it all up. Del Bosque had so much talent on the bench and so much depth... but selected a faded star as a saviour.
Salvation didn't seem set to arrive. Instead, Chile kept delivering dangerous balls in the Spanish half, with Sanchez powering through them in the stark manner of Arjen Robben. It brought even more chaos.
Spain could do nothing like that to Chile. More passes were moved around the box, more shots were sent just wide, but there was never an actual sense it was close.
There was only more laboriousness. Substitute Santi Cazorla attempted to control the ball in a dangerous position but only succeeded in falling over it.
Spain have fallen from their perch. One of the greatest sides of all time have suffered one of the most dismal endings.
Reuse content