Gareth Bale is ready to play through the pain barrier when injury-hit Wales face Cyprus in Cardiff on Monday night.
The 25-year-old Real Madrid star has been nursing a back problem picked up in Friday night's goalless draw against Bosnia and Herzegovina.
Wales have been using compression clothing in an effort to ensure that Bale and his team-mates recover in time for their next Euro 2016 qualifier, and manager Chris Coleman has allayed any fears over his £86million man's involvement.
He said: "There is no problem for Gareth. He had a kick but he's all right. In the game the other night he came to the side but whatever he was saying my ears were closed because, if there was an issue, he wasn't coming off.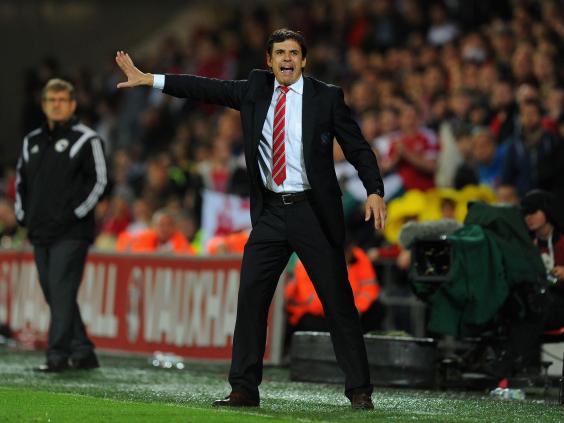 "We gave him treatment, he had a bit of strapping on his back, but he's fine. He has said he wants to play for us, even if he has had a niggle.
"He's not playing for us every time at 100 per cent. There's a protocol between Real Madrid's medical team and our medical team but we've never risked him.
"There's a difference between playing with a risk. You can't do that.
"The last thing we want to do is send him back injured. But if there's not a big risk, if there's a chance of getting through the game in a little bit of pain, that's all right."
While Bale is fit, Coleman will have to do without Jonathan Williams after the Crystal Palace midfielder currently on loan to Ipswich suffered an ankle ligament injury against Bosnia.
It means Wales are now missing 11 players, including Aaron Ramsey and Joe Allen, through injury – and it leaves the Dragons even more reliant on Bale who, despite not being at his best on Friday, still came within inches of conjuring a late winner.
Coleman has been impressed by his star player's growing leadership qualities since his big-money move to Madrid, and the captain Ashley Williams has revealed it was the former Tottenham man, rather than himself, who gathered the players together for a post-match huddle in the wake of Friday's draw.
He said: "After the game it was Gareth's idea, he said 'let's do a huddle'. We felt like it was a big moment for us, seeing everyone tired and battered. We had got a point and performed well and we said we wanted to give the appreciation to the fans.
"I think it shows how together we are. We are a tight group and we are friends and we get on a lot better now than teams in the past."
Victory for Wales over Cyprus, who are ranked 56 places below them, would keep the Dragons top of Group B and take them to seven points, their best return from the opening three games of a qualification campaign in a decade.
They could have been going for a third straight win had Swansea defender Williams not put a pinpoint Bale delivery over the bar in the closing stages against Bosnia.
The 30-year-old admits the miss has haunted him, but hopes he will get the chance to put things right tonight.
"I have watched it back a million times," he said. "I try not to get too obsessed about it, but you are praying for someone to score after that and it did not happen.
"The main thing was to keep the clean sheet, but I am desperate for another chance to come my way, with hopefully a different outcome."
Another healthy crowd is expected at Cardiff City Stadium, with a predicted attendance of around 20,000. Friday's figure of 30,741 was the highest for a Wales home game in three and a half years.
Reuse content