Eniola Aluko was the leading scorer in England's World Cup qualifying campaign, the Chelsea striker hitting 13 goals as Mark Sampson's team won their group with a 100 per cent record from their 10 games to reach Canada.
But as she prepares to face Norway in this evening's round-of-16 tie here, after drawing blanks in her first two outings of the tournament to date, she is still waiting to score at a World Cup in what is her third appearance at the finals following China 2007 and Germany 2011. 
"It's frustrating," said the 28-year-old striker, "but you just have to have the opportunities to score. People forget that earlier in my career I was played out of position – I've played wide on the right, wide on the left, so I got fewer goalscoring chances.
"In the France [group] game here I was asked to play a lone role up front and I don't think many forwards, if they'd stayed in that role throughout the 90 minutes, would have had many scoring opportunities.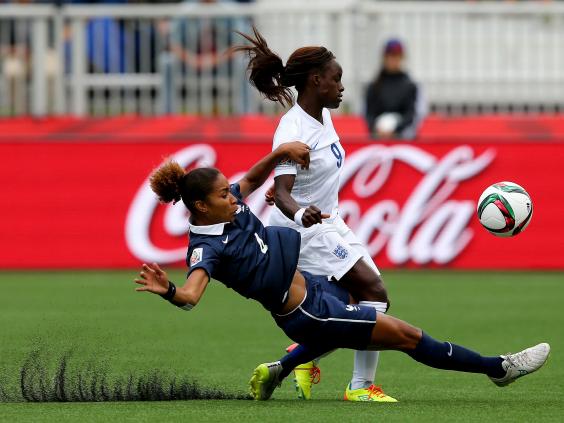 "I'd love to score in every game, but you've got to look at things tactically. Sometimes you've got to do things for the team. But I was unlucky with a shot that hit the bar in the game against Mexico and then I didn't play in the last group match against Colombia. So all I can do when I'm on the pitch is try to get in the right positions and hopefully get chances to put the ball in the net."
Aluko has been getting moral support from her brother Sone, the Hull City striker, who has been following her progress on TV back home. "I talk to my brother all the time," said Aluko.
"I talk to him a lot before games and he gives me lots of advice. He's very proud of how I played against France, and if we go a bit further in the competition I hope he'll come out here and see me."
As well as advice from her sibling, Aluko is taking encouragement from the goal she scored when England last met Norway, a 1-1 friendly draw in what was head coach Sampson's first match in charge following his appointment in December 2013.
She was thus the first scorer in Sampson's tenure and, having prospered under his leadership, is now hoping to break her World Cup duck.
"I know that last match against Norway doesn't mean anything now," she said, "but as a forward it always helps psychologically if you've been successful and scored against a team. And it would be brilliant to score against them again.
"But we have to get a win against them this time, and that's going to be difficult. Norway are strong, physical, hard to break down. They got a great result [1-1] against Germany in their group and were actually unlucky not to top the group. We have to believe we can beat them though, and I'm confident we can do that."
The Norwegians, like England, finished their group in second place and, though at 11th in the world they sit five places below Sampson's  side, they will be feeling confident of progressing to the quarter-finals.
It will be something of a "master and apprentice" scenario for Sampson, who at 32 and in his first job in international management – and in what will be the biggest match of his career – will have a vastly experienced and high achieving adversary in the 61-year-old Norway coach Even Pellerud.
Under Pellerud's guidance the Norwegians were runners-up at the inaugural 1991 World Cup, winners of the 1995 tournament and bronze medallists at the 1996 Olympic Games.
He later spent nine years in charge of the Canadian team, leading the Canucks to a fourth-place finish at the 2003 World Cup. And after beginning his second spell with Norway in December 2012 he led them to runners-up spot at Euro 2013, at which England's poor performance cost Sampson's predecessor Hope Powell her job.
"I've got massive respect for the Norway coach," said Sampson. "The successes he's had are a huge credit to him and his current team – just like his previous teams – are really well organised, very disciplined and have got a strong, physical presence that makes them very difficult opponents. But we're prepared, focused and excited to be taking on this next challenge."
The challenge for Sampson and his players is to make history by becoming the first England team to win a Women's World Cup knockout match. In the previous three editions they contested the group stage was successfully negotiated, but defeat at the first knockout stage followed on each occasion.
"It's been a long time since an England team have progressed from the group stages, men or women," pointed out Sampson, "so it was important we overcame that hurdle. Now the big challenge is, 'can we make history?' I believe we can."
Reuse content