Ever since Brandi Chastain tore off her shirt to celebrate converting the winning penalty in the final of the 1999 World Cup, America's women have been the dominant football team across the Atlantic. Gold medals at the 2004, 2008 and 2012 Olympics have further burnished the legend. Go into an American sports store and the soccer player emblazoned on the wall is Alex Morgan, not Clint Dempsey. It was Abby Wambach who was included in Time magazine's annual list of the 100 most influential people on the planet this year (following Cristiano Ronaldo in 2014), not Michael Bradley.
However, that pre-eminence is under threat. Under Jurgen Klinsmann, their male counterparts captured the national imagination with their performances at the World Cup in Brazil and have continued to flourish. This week they returned from a European tour that featured their first win over the Netherlands and first in Germany. Klinsmann has also masterminded a first win away to regional rivals Mexico and against Italy.
As if to confirm this is not just a golden group, in New Zealand the U-20 men's team has reached the quarter-finals of the world U-20 finals.
While the improvement in the men's team may benefit the women as it enhances soccer's popularity in the States generally, it does mean competition for sponsors' dollars and airtime with the danger that the women will be overshadowed by the men, as they are in almost every other football-playing country.
Winning their first World Cup since 1999, and doing so just across the border in Canada (perfect for travelling fans, and television viewers) would go a long way to keeping the women ahead of the men. The US went into the tournament as narrow favourites ahead of Germany but are yet to justify the huge and vociferous backing of their travelling support. Friday's night's goalless draw with Sweden followed a laboured victory over Australia. In the first game they were indebted to Hope Solo's saves, in the second to a late goalline clearance from Meghan Klingbergen. While the US ought to beat Nigeria in their final game on Tuesday, qualification is not yet secured.
It would be a considerable blow to the organisers if the US do not progress deep into the competition, as they are relying on cross-border fans to swell ticket sales. Many Canadians would be less upset, especially as it would end Wambach's dream of a World Cup winner's medal. She has not been forgiven for an incident in the London Olympic semi-final between the neighbours. With Canada 3-2 ahead and time running out, Wambach stood next to the referee and counted out the seconds while Canadian keeper Erin McLeod held the ball. A free-kick was given for time-wasting. That led to a contested penalty Wambach converted. Morgan then scored in extra-time to put the US through.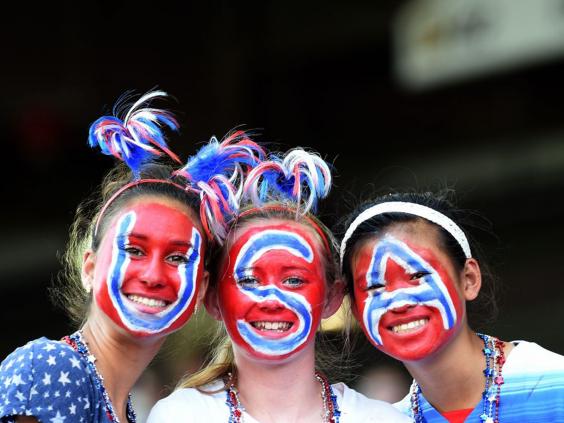 As if that was not enough Wambach then led the campaign against matches at this World Cup being played on artificial turf. It has not escaped Canadians' notice that Wambach's club side since 2012, Western New York Flash, play on artificial turf and she has not led a petition against that.
Wambach is one of nine Americans in their 30s (the oldest, Christie Rampone, is 39, while only two players are under 25, the youngest, Morgan Brian, 22). This could be a problem for a team that traditionally relies on pace and power.
Both the male and female US teams are noted more for athleticism than skill. The American development system tends to produce players of both sexes who are quick, strong and agile but are not noted for imagination and flair.
This has been evident in their matches to date against similarly functional opposition. You rarely see an American player try and dribble by an opponent. Megan Rapinoe runs at them, but relies on her speed to go past. Their attacking game,  especially when Wambach is on the pitch, depends heavily on crosses.
Despite all this the Americans will always be contenders, as two England players underlined. "Australia pushed America and showed some great play at times, it just seemed like they ran out of steam in the second half," said Alex Scott. The defender, who has played professionally in the US, added: "That is when the Americans will pounce on any team with their ruthless mentality of never knowing when they are beat, and of finding a way to win."
Eniola Aluko, another to have played across the Atlantic, said she thought Germany looked more likely winners, but she would never write off the Americans because "their mentality of winning is ridiculous, they just never give up".
Aluko added: "They have that legacy of winning, the 1999 World Cup, the Olympics, they expect to win. People like Abby Wambach and Hope Solo, they just don't accept losing, they never give up."
Reuse content