Two years ago, Lucy Bronze sat on the bench watching England slide to a trio of defeats at Euro 2013 waiting for her chance to play in a major tournament. On Tuesday it finally arrived, but in a role she had never imagined.
Bronze is a right-back, but with Alex Scott seemingly immovable in that position for England, she has developed a secondary position as centre-half, even working out at the gym to be better prepared for the greater physicality involved. More of her 18 England caps have been won in central defence than elsewhere. Then, in England's opening game in the Women's World Cup against France she found herself on the  left wing.
There was logic in manager Mark Sampson's decision. France right-winger Élodie Thomis has punished England in previous matches. Bronze was told to double up with left-back Claire Rafferty to stop Thomis. While England lost 1-0 and rarely looked like scoring, this part of the game plan worked so well Thomis was withdrawn.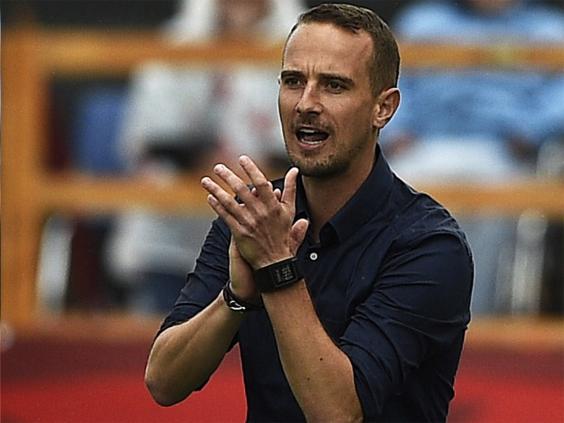 "It was really good to play, though it was different as it was a position I am not used to," said Bronze. "It was a tactical decision and it kind of worked. Thomis was one of their big threats. We knew about her pace and getting the ball to feet, playing two full-backs out there kind of kept her quiet.
"I found out I was playing there a few days ago, but we've been trying it out in training the past few weeks so it was not completely new. I've been working on it a lot and Mark and [goalkeeping coach] Lee Kendall have been working on my positioning. I know we still got beat so the result doesn't show that, but the performance was positive."
Prior to last week's warm-up against hosts Canada, Bronze had not played for England for six months after knee surgery. "Just to be here has made all the hard work recovering from injury worthwhile, to get on the pitch and play a full 90 minutes even more so," said the Manchester City defender.
Bronze said she was surprised that, when Sampson switched to a more attacking formation, it was Scott who was substituted while Bronze went to right-back. This could mean, with Bronze regarded as the more offensive player, that she will be preferred in the remaining group games, from which England need at least four points to qualify for the knockout stages. Sampson has said he already knows his starting XI.
Or, as Bronze herself said, "I think we are just keeping certain players fresh. For the 20 minutes before I hadn't really done that much on the left wing so I had energy."
England's remaining opponents are Mexico, on Saturday, and Colombia next Wednesday. They drew 1-1 on Tuesday in the other Group F match. "They are really important," said Bronze. "We have no points on the board at the minute but we know two wins out of two and we are qualified, so it is fine. The France game is put to bed. We  performed well. The result was not the greatest but  we still have every chance  of qualifying."
Reuse content