World Cup fever is here. Stickers, shirts and St George's flags have been flying around as the nation prepares to get behind the England team for their quest for success in Brazil.
But are you prepared? Do you still think that David Seaman is the goalkeeper for the national team? Our guide will give you everything you need for following England during the World Cup in Brazil.
How does it work and why should I care?
The World Cup is a five-week tournament which is held every four years. This year's tournament includes 32 nations - 13 of which come from Europe. Each group has four teams who play three games each, and the top two nations from each group qualify for the knockout round. The winner of Group A will face the runner-up in Group B, and the winner of Group B will face the runner-up in Group A, and so on.
Why should you care?
It's a huge deal. The World Cup is the world's biggest sporting event bar none. It was estimated that over a billion people watched some part of the 2010 World Cup Final in South Africa, where Spain beat Holland 1-0. Companies such as Coca-Cola and Hyundai are among those spending over £350 million on advertising during the Final itself.
What are England's chances?
Fairly slim. This has been marked as the 'transitional' period for Roy Hodgson's men, with young players taking prevalence in the squad, so not much is expected. Most notably, Chelsea left-back Ashley Cole, who has 107 caps and renowned as one of the best left-backs in the world over the last decade, was omitted from the squad in favour of 18-year-old Luke Shaw.
The early signs aren't too encouraging. In their two warm-up games, England drew 2-2 with Ecuador and 0-0 with Honduras, who are both World Cup opposition. And while they are both energetic, hard-working teams, the results would have disappointed supporters, who would have expected comfortable victories in both games.
England have been handed the so-called 'Group of Death', containing 2006 World Cup winners Italy and 2010 semi-finalists Uruguay, with Costa Rica making up the rest of Group D. It won't be an easy task, and many are expecting England to be knocked out at the group stage - something they have not experienced since 1958.
Potential opponents
Should England finish top of their group (which is unlikely) they would face the team that finishes second in Group C - one of Colombia, Greece, Ivory Coast or Japan. The most likely outcome for England is that, should they qualify, they will finish second and face Colombia, who are tipped to finish top of Group C. Even without star striker Radamel Falcao, Jose Pekerman's dark horses would certainly present themselves as stern opponents.
Meanwhile, the less-fancied Greece will be tough to break down, having conceded just four goals in 10 qualifying matches. Also a team to watch out for are the Ivory Coast, whose squad contains the likes of Yaya Toure and Didier Drogba. They are a powerful side and what they may lack in technical ability they more than make up for with athleticism. Finally, there is Japan, who remain popular for their energetic style of play but never enjoy much success, and failed to impress when they co-hosted the 2002 World Cup.
Welcome to the Jungle (Manaus)
England travel to the Arena de Amazonia in Manaus - a city situated in the middle of the Amazon rainforest - for their crucial tie against Italy on Saturday 14 June. Temperatures are expected to soar to around 32C, and with 100 per cent humidity, the players could struggle to handle the climate.
Organisers are hoping the 11pm kick-off time will provide much relief to the players, but regular drink breaks will be necessary. Fans can expect a subdued performance from both sides as the brutal conditions take its toll on the players.
The star man
Wayne Rooney. With 39 goals for his country, he is regarded as the only 'world-class' player in the side, and reflected that tag with 17 league goals last season for his club, Manchester United. However, he has never scored at a World Cup, despite the fact that this will be his third tournament, and there have been calls for the 91-cap striker to be dropped by Roy Hodgson. His attempts to silence the critics did not go unnoticed, scoring in the 2-2 draw with Ecuador in Miami, and he will be raring to go in Brazil.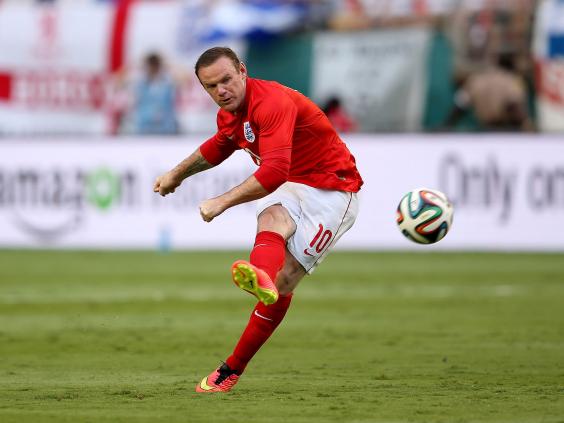 When should I pull a sickie?
We would never encourage anyone to pull a sickie, but there may be a few empty chairs at work and some nursing hangovers after England take on Uruguay on Thursday 19 June. Kick-off is at 8pm in the UK, and should England win, it is likely celebrations will continue into the early hours of Friday morning.