It was the fifth minute of the six added on to an already chastening 90 for the world champions. Spain had possession in their half but could not get the ball forward as Sergio Ramos and Jordi Alba were harassed by a swarm of small, stocky men in tight white shirts. The exhausted men in red ran up the white flag.
Against the best passing side the world has seen, Jorge Sampaoli's running men never stopped running, as well as passing pretty well too. From their star men in Alexis Sanchez and Arturo Vidal, the energetic Juventus midfielder, to their seeming journeymen, Cardiff's Gary Medel and Nottingham Forest's Gonzalo Jara, the universal commitment was a lesson to their illustrious opponents. Spain were press-ganged out of the World Cup.
That Chile carry a threat is no secret; they ran rings around England last year and Bastian Schweinsteiger doffed an appreciative cap to them in March after Germany scraped a fortunate 1-0 victory in Stuttgart. But how good are they? "Very good," was Schweinsteiger's verdict. Victory over the Dutch in Sao Paulo on Monday would set up a probable second round with Mexico or Croatia; anything else would point them towards Brazil, and Chile would be unperturbed by either challenge.
"We have to want it more than opponents, to surpass them in spirit," said Sampaoli last year, offering a suggestion of what his side would be about in Brazil. "We will go mano a mano against anyone."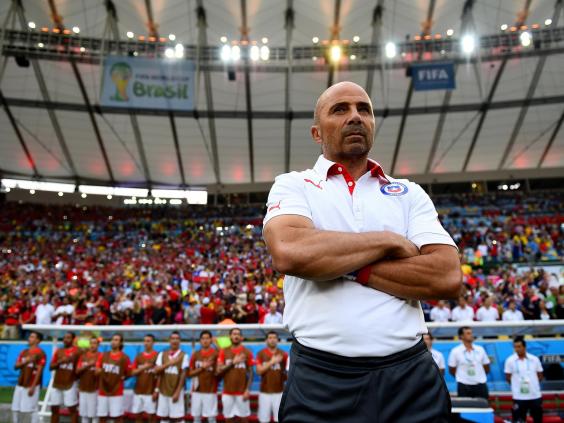 His words were echoed on Wednesday by Vidal. "We didn't come for a holiday, we came to fight for the championship," he said.
At 5ft 11in Vidal was the tallest of the 10 outfield players who started for Chile. The three central defenders Francisco Silva, Jara and Medel are in turn 5ft 10in, 5ft 10in and 5ft 7in. Up front Sanchez is 5ft 7in, Marcelo Diaz, the playmaker, is an inch shorter, and Charles Aranguiz, the second goalscorer, 5ft 7in.
It is enough to bring Sam Allardyce out in a nervous rash. Chile are cast in their manager's image, short, short on hair, angry, muscular and inexhaustible. Sampaoli is a disciple of Marcelo Bielsa, his predecessor but one as Chile manager. The two were briefly club-mates at Newell's Old Boys – both are Argentine – and Sampaoli's managerial way is modelled on Bielsa's.
"You could say we are the rebels of this tournament," said Sampaoli. "We played with a system and an idea. The players believe in one idea and defend it."
Sampaoli took over in December 2012 and oversaw five wins in six qualifying games to reach Brazil. There are times, perhaps inevitably, when his sides run out of gas – they squandered a 3-0 lead in Colombia. The lack of height will also be an area those more direct than Spain will look to exploit. How Louis van Gaal sets Holland up on Monday will be instructive, and also give a fresh idea of how far Chile can go. They have not been past the round of 16 since finishing third in 1962.
"We will see if it is the best Chile team ever," said Sampaoli. "That is something we can only say after the tournament."
Reuse content