In one of the interview rooms at England's Urca training ground Daniel Sturridge became so consumed with describing his emotions in the aftermath of his first World Cup finals goal that we got a brief rendition of the famous wriggly-arms goal celebration. Albeit this time he was sat behind a desk with a Football Association press officer to his right and a giggling Danny Welbeck to his left.
"I said I wouldn't do the celebration if I ever scored," Sturridge said. "Then when I did, I thought I was offside, I looked over to the bench and all the lads were around someone on the floor. I was thinking: 'What's going on over there?' I didn't know what was happening and I was caught up in the moment. It was all a bit of a blur.
"Then I saw Gary Lewin [the physio] was down, and I was like: 'What's going on here? He's stolen my moment! I'm trying to do my thing and he's lying down on the floor injured' … actually I hope he's well. He has had an operation, and we all wish him well."
The last part of the sentence came from the heart but it was added just as Sturridge, arms out either side, mid-wriggle, was in full flow. For a moment there we got a glimpse of the Sturridge character. The man has a strong personality, he likes to be centre-stage and when he is "doing his thing" he means it. Nothing wrong with that, because if England are going to get out of Group D they are going to need a goalscorer who believes in himself.
England have one-half of the lethal Liverpool strike partnership that very nearly landed Brendan Rodgers' team the Premier League title last month. Uruguay have the other half, Luis Suarez, the man the Uruguayan press like to refer to as "the gunslinger". Except Uruguay's gunslinger is still mulling over whether to risk his knee, and Sturridge is already off the mark.
It felt like Sturridge was in the zone yesterday, touring the interview rooms with his friend and former Under-21 strike partner Danny Welbeck. The Manchester United man is much more softly spoken, that accent as unmistakeably Mancunian as a rainy summer day. At one point Sturridge interrupted proceedings to tell the assembled press how highly he rated his friend.
England 1 Italy 2 player ratings
England 1 Italy 2 player ratings
1/22 Joe Hart

Didn't stand a chance for either goal, but almost at fault for another. 6/10

GETTY IMAGES

2/22 Glen Johnson

Never really exposed, but never entirely uncomfortable. 5

GETTY IMAGES

3/22 Gary Cahill

Partially at fault for both goals, and generally struggled with Balotelli. 5

GETTY IMAGES

4/22 Phil Jagielka

Sometimes caught out, but in the right place for Mario Balotelli's chip. 6

GETTY IMAGES

5/22 Leighton Baines

Repeatedly exposed and never got chance to display his attacking abilities, other than one superb slipped pass for Rooney. 5

GETTY IMAGES

6/22 Jordan Henderson

Putting him right beside Gerrard made England, and the player, look a little flat. 6

GETTY IMAGES

7/22 Steven Gerrard

Typically effective in attacks, less dependable when forced to defend. 6

GETTY IMAGES

8/22 Danny Welbeck

A productive showing that dismissed doubts over whether he should start. 7

GETTY IMAGES

9/22 Raheem Sterling

The player who best defined some of the new optimism around England. 8

GETTY IMAGES

10/22 Wayne Rooney

One fine assist, a lot of futile play. Poor. 5

GETTY IMAGES

11/22 Daniel Sturridge

A Gary Lineker-style finish to a cap a fine World Cup debut. 7

GETTY IMAGES

12/22 Salvatore Sirigu

Stepped in for the injured Gigi Buffon and then stepped up, making some excellent saves. 7/10

Getty Images

13/22 Matteo Darmian

A good performance, even if his pace wasn't as penetrative as usual. 7

Getty Images

14/22 Andrea Barzagli

So dependable, and perpetuating a fine line of Italian defenders. 8

Getty Images

15/22 Gabriel Paletta

The hair might be thinning, but the former Liverpool player made his own presence felt. 7

Getty Images

16/22 Giorgio Chiellini

Some cynical challenges, and still doesn't look entirely comfortably at left-back. 6

Getty Images

17/22 Claudio Marchisio

A brilliantly precise finish, a productive performance. 7

Getty Images

18/22 Daniele De Rossi

The necessary aggression amid so much Italian elegance. 7

Getty Images

19/22 Marco Verratti

Barely misplaced a ball, and played a key role in the first goal. 7

Getty Images

20/22 Antonio Candreva

An utterly exceptional cross for Balotelli's goal, and a surprise he was taken off. 7

Getty Images

21/22 Andrea Pirlo

The clever passes are too plentiful to remember, but the dummy for the opening goal impossible to forget. 7

Getty Images

22/22 Mario Balotelli

Frequently a threat, occasionally wasteful, but ultimately the match-winner. 7

Getty Images
"I've grown up with Welbs and I think he's unbelievably talented," Sturridge said. "He hasn't got the credit he deserves in the past." Welbeck is the boy who has worked his way through the United academy system and, apart from that wobble last season when he looked unhappy, could easily stay for another decade. Sturridge is the much less reserved of the two, with six clubs on his CV already, including schoolboy stints at Aston Villa and Coventry City.
He was asked about Gus Poyet's observation that the Uruguay players would be prepared to do anything – and he meant anything they could get away with – to win Thursday's game.
"I'm going to do anything in my power to win this game," Sturridge said. "I'm prepared to do anything, and I'm talking anything. I'm being serious. I'm prepared to do anything to win this next game. It's do or die. It's a World Cup. I'm hungry, I'm confident, and I'm so happy to go out there. Do we want to go home? No. I want to win this World Cup like everyone back there does. I'd be gutted to go out. I'd be devastated to go out in the group stage."
It was qualified later that he was not quite prepared to do quite anything. "I'm not saying I'm going to dive or do anything that's not within the laws of the game, but I will do anything – like my team-mates – to win this game." But there was no mistaking the commitment.
As for Suarez, Sturridge finds himself in an awkward position. He is the obvious go-to guy when it comes to the secrets of what makes the Premier League's current leading player the phenomenon that he is, but one gets the sense that the FA is not too keen on Sturridge talking extensively about the man they have banned for a total of 19 domestic games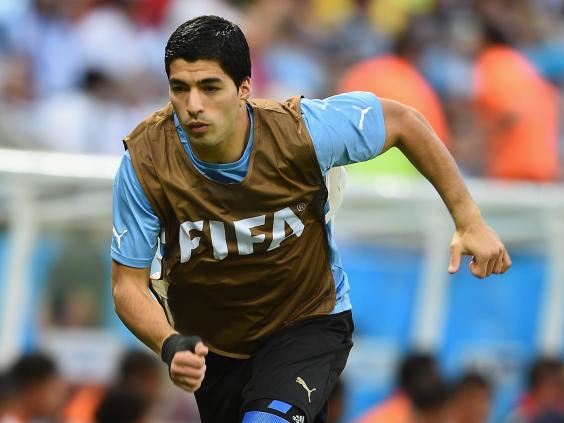 Perhaps it is a Steve Peters positive thinking thing. Had he been banned from talking about Suarez? "No, definitely not. I feel we're playing against Uruguay. I don't think they'll be saying we have to worry about Daniel Sturridge, Wayne Rooney or Steven Gerrard. It's a team game. We spoke a lot about [Andrea] Pirlo before the first game, but [Claudio] Marchisio had to strike the ball from 25 yards to score the goal."
The most illuminating insight that Sturridge offered on Suarez was the difficulty in knowing what the Uruguayan was likely to do. "There's a lot of unpredictability to players' games: Luis, Neymar... you can't show [Arjen] Robben on his left foot, he'll go on his right foot down the line. These days players are unpredictable."
Judging from the words coming out the Uruguay camp, Suarez is less certain whether he will be playing on Thursday. He says he will only do so if he is "100 per cent" fit, although it is hard to imagine him sitting on the bench watching Uruguay's World Cup finals participation slip away and deciding not to try to do anything about it.
Two days have passed now since the defeat to Italy and there seems no deviation from the England approach from that game; that they must also attack Uruguay and not go back into their shells as they have done at other tournaments. "We'll play the same way, the same exciting, attacking football, defend well as a team," Sturridge said. He added that this time they needed "a little more killer instinct", which will, among others, be his responsibility.