Parking The Bus – yet another tedious corporate snooze-fest of a worldwide fan competition to choose the slogans to go down the side of every team bus – has in fact yielded some amusingly joyous results.
"Impossible is not a French word" will be daubed along Les Bleus' official transportation, impervious to the certain fact that impossible absolutely is a French word. The movingly pessimistic South Koreans have gone for "Enjoy it, Reds", stopping just short of adding "While You Can."
England fans head for the pub
Not such welcome news, I'm sure, for those health tsars who recently issued warnings to Brits, by cautioning about hitting the drink during the tournament with such reckless abandon: new research says the UK audience is more likely than any that in other country around the world to watch matches in the pub. Fans will consume an extra 32 million pints even before the start of the quarter-finals, adding £125m in revenue to the economy. At least George Osborne will be happy.
Robbie savaged for choice of pose
Robbie Savage decided to get himself some new threads ahead of his punditry gigs. Asked by Tailors from Harris and Howard Bespoke in Alderley Edge, Cheshire, if he would mind playing the part of Jesus in the famous statue of Christ the Redeemer in Rio, Brazil, for a photograph the shy and retiring Savage finally relented. The end result attracted much sartorial criticism on Twitter: "Just seen a picture of Robbie savage, in a white suit, posing like Christ the Redeemer. How to ruin the world cup..." said one discerning admirer.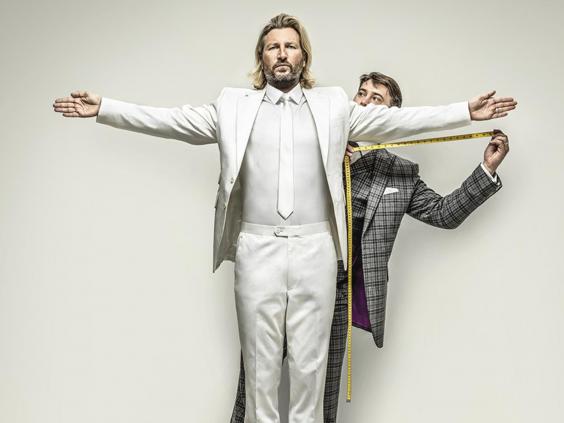 Who will be the better sweaters in Manaus?
Much has been made of England's attempts to combat dehydration by customising recovery drinks for their players, even going so far as to fill them with different electrolytes for certain team members.
Italy's approach to the same problem is somewhat less high-tech – they will be relying on local fruit and veg. "Coconut water is the ideal supplement and pineapple and papaya have anti-inflammatory powers," said team nutritionist Elisabetta Orsi.
It's tempting to scoff at the old-school Italians, but should they win in Manaus, it'll be a case of "all the gear no idea" for England.