The France team manager Didier Deschamps made an extraordinary start to the nation's World Cup campaign on Saturday night by expressing concerns that his players had been spied on by a drone plane which flew over their training camp this week.
The French players are understood to have briefly halted training at their palacial Ribeirao Preto base north of Sao Paulo on Tuesday when the craft was spotted overhead and the squad craned to see what it was. Deschamps is understood to have complained to Fifa about the intrusion, with concerns about the possibility that it might have been an attempt to spy on his tactical preparations for a campaign which opens against Honduras on Sunday night.
"You're talking about the drone right?" Deschamps said, when the issue was raised at his press conference. "Apparently drones are used more and more. It's not up to me. Fifa handles this and has been carrying out an inquiry. We don't want an intrusion into our privacy but it's very hard to fight this these days."
FRANCE: Group E team profile
FRANCE: Group E team profile
1/5 How they qualified

France were drawn in the same group as World and European champions Spain, and with the addition of Belarus, Georgia and Finland it was obvious that it would be a battle between those two mega powers. France were pretty stellar in their results but fell short against La Furia Roja at home which cost them first place. Les Bleus faced Ukraine at the play offs who almost provided an upset as they beat the 1998 World Cup winners 2-0 at Kiev. However, a loud Stade de France and a determined Tricolores side managed to overturn the aggregate and won 3-0 thanks to two goals by Liverpool's Mamadou Sakho.

2/5 Manager

Didier Deschamps is no stranger to success with the French team as he captained them to a World Cup home win in 1998 and a Euro triumph two years later. It is obvious that he is not afraid to take risks, as proven by his dismissal of Manchester City's Samir Nasri. With a Ligue 1 title and a Champions League final under his belt, the 45-year-old could indeed be looking for another World Cup moment.

3/5 Star Player

In the absence of Franck Ribery, striker Karim Benzema will have to step up and take the burdon of France's attack if they are to have an impact in Brazil. The 25-year-old will arrive as a Champions League winner following Real Madrid's success this season, and he will need to prove that he can do it without the services of Cristiano Ronaldo and Gareth Bale to really cement his place among the world's best.

GETTY IMAGES

4/5 Emerging Talent

Paul Pogba is a powerful midfielder that had a breakthrough season inb the Serie A for Juventus where he amassed 36 caps, scored seven goals and produced an equal number of assists. The 21-year-old's excellent performance has not gone undetected, as Chelsea are eyeing him as David Luiz's replacement.

5/5 How they will line up: (4-4-2)

Lloris; Debuchy, Koscielny, Varane, Evra; Cabaye, Matuidi, Pogba, Valbuena; Greizmann, Benzema.
Fifa, who have not yet responded to Dechamps' comments, are thought to be investigating the issue.
The Frenchman's press conference ended with a Honduran reporter telling Deschamps: "The drone was not from us." Deschamps laughed and replied: "I didn't do anything special about the drone."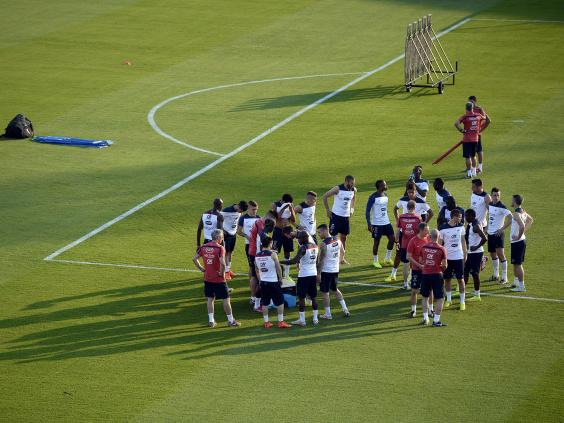 Deschamps, who refused to don headphones allowing him to understand English language questions here, also made his first response to the suggestion by Football Association chairman Greg Dyke that France "will be committing suicide" if they fail to progress from an easy Group B which also includes Switzerland and Ecuador.
"Since he is the president of the English FA you may want to ask him this question," Deschamps replied. "If it was Roy Hodgson I may have answered but it's not the case."
The Frenchman was prickly when English journalists raised the question of the in-camp cliques which dogged the squad at the 2010 World Cup. "I haven't understood everything. I didn't wear my headphones but I heard 'South Africa' and you should not mention South Africa," he said. "Clique is a rather technical word for me. There are likes and dislikes. There are people who like each other and others who don't. We have to live in common. Others enjoy each others' company and like to go out together."
Reuse content