If Spain are preparing to claim for themselves even more footballing immortality, it does not feel like it. The World Cup holders and back-to-back champions of Europe are aiming to win their fourth consecutive major tournament this summer. Three was unprecedented.
Vicente del Bosque's side, though, are not exactly being heralded with anything like the hype usually reserved for likely winners. They are fourth favourites with all English bookmakers, at longer odds than Germany, who have won nothing since 1996. At the ITV World Cup launch last month, their team of pundits were all asked for their favourites, and while Brazil and Argentina came up most times, Spain were barely mentioned. Portugal were backed with more enthusiasm.
This might just be simply people's fatigue with a team which have proved themselves the best of this or any other generation. Or it might be because Spain themselves are tired, that after six years at the top of the world game, this group of players have lost the edge or spark that made them so successful.
It is not easy to stay at the top for such a long time. "It is very difficult," David Silva told The Independent last month. "Winning three competitions is important but to do it again is very complicated. But we are in a good moment and we have to try it."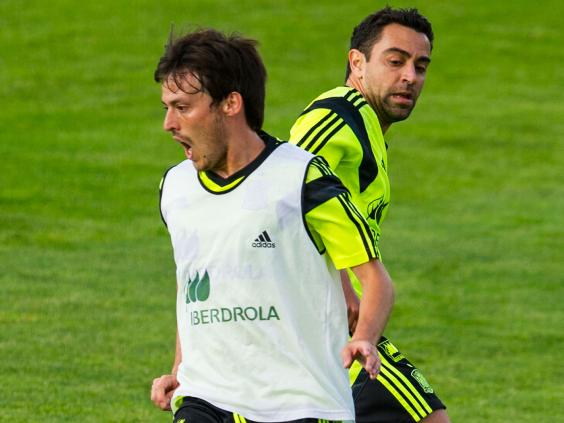 Those who doubt Spain's ability to retain their title would point to last summer's Confederations Cup. In the final, in the Maracana, Brazil ran through Spain, beating them 3-0 and making their famous tika-taka style look weak and blunt. If that evening suggested that the possession fetishism which has been so successful was outmoded, then this domestic season may have undermined it further.
Atletico Madrid won La Liga playing reactive, dogged and disciplined football, while Real Madrid won the Champions League through the power of their athletic counter-attacking. Barcelona, who tried to adapt their style under new coach Tata Martino, finished with just the Super Cup, won last August, on away goals.
This matters, because the decline of Barcelona, such as it is, has been mirrored by the decline of Xavi. He has been not just the heart but the brain and legs of Spain and Barcelona through the most successful period of their history. This was Xavi's worst year for a decade. At the age of 34 he can no longer set the same tempo he used to. For the league-title-deciding final game of the season, against Atletico at home, needing a win, Martino left him on the bench.
World Cup 2014: What shirt each team will be wearing
World Cup 2014: What shirt each team will be wearing
1/32 Brazil

2/32 Croatia

3/32 Mexico

4/32 Cameroon

5/32 Spain

6/32 Netherlands

7/32 Chile

8/32 Australia

9/32 Colombia

10/32 Greece

11/32 Ivory Coast

12/32 Japan

13/32 Uruguay

14/32 Costa Rica

15/32 England

16/32 Italy

17/32 Switzerland

18/32 Ecuador

19/32 France

20/32 Honduras

21/32 Argentina

22/32 Bosnia Hercegovina

23/32 Iran

24/32 Nigeria

25/32 Germany

26/32 Portugal

27/32 Ghana

28/32 USA

29/32 Belgium

30/32 Algeria

31/32 Russia

32/32 South Korea
The question for Del Bosque is whether he can summon the required level from Xavi in the Brazilian heat this summer, in what will surely be his final international tournament. If he cannot, then the manager has a bigger decision to make.
Xavi is a unique footballer but does have an heir of sorts in Koke, Atletico Madrid's brilliant young midfielder. Koke has tended to come in off the wing for Atletico this season – he even made his first Spain start at right-back – but clearly has remarkable awareness, skill and competitive character. Those skills are necessary but probably not sufficient when it comes to taking on the mantle of the most important player of the last decade. The 22-year-old's football vision might not yet be developed enough to impose on the team.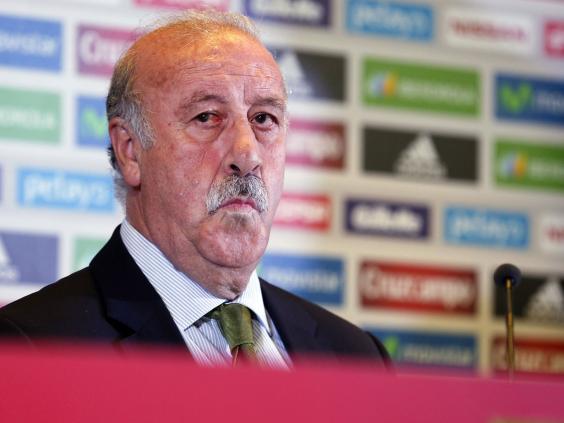 Del Bosque might be tempted to look elsewhere, then, not to a replacement for Xavi but to an alternative approach. The Euro 2012 finals were the most extreme realisation yet of possession football at international level, and Spain played three of their games, including the quarter-final and final, with Cesc Fabregas up front.
It worked well – Spain won the tournament and beat Italy 4-0 in the final with a brilliant display, one of their best – but there were times, whether with a conventional or a "false" No 9, when they struggled to break down dug-in opponents. Was this because of a lack of pace and incision in the team, or because they were facing a series of parked buses? Silva is more than aware of the problem caused by opponents defending in their own box.
"It is very difficult," Silva said. "When a team puts everyone back, it is more complicated. They know that if they give us space, we can do a lot of damage."
But if Spain's old game is slowing down, and opponents are wise to it, they have a different option this time compared to 2012, for Del Bosque has access to a conventional No 9 at the top of his game, in Diego Costa. The Brazilian striker has qualified through residency to play for Spain.  As he has shown for Atletico all season, Costa is muscular and mischievous, and more than able to play up front on his own.
Spain begin their World Cup preparation this evening with a friendly against Bolivia in Seville, two weeks before they start their title defence against the Netherlands – a repeat of the 2010 final – in Salvador. The problem for Del Bosque is that his squad for tonight's game includes no players from Atletico or Real Madrid, because of last Saturday's Champions League final. Costa is injured anyway, having been rushed back from a muscle injury to play in the final, of which he lasted just eight minutes.
So Del Bosque will be unable to try Costa up front tonight, or in the El Salvador friendly in Washington DC next week. It is far from certain he will even be ready to face the Dutch. Nor will Del Bosque be able to try Koke in midfield, or choose between right-back options Juanfran and Dani Carvajal.
With the exception of former Everton loanee Gerard Deulofeu, who will be back in Spain next season, it is a rather familiar squad for tonight's game: the Barcelona core, plus Silva, Juan Mata and Fernando Torres. It is not a bad team – it is the most successful international side ever – but it might not tell people much that they do not already know, nor whether these players can go on to win again.
Reuse content