Jack Wilshere received the text message that he was to be given the No 7 shirt for England at this summer's World Cup finals while he snoozed on a sun lounger in Portugal last week. It occurred to him that he would need to get his personalised boots updated but most of all that he was inheriting one of the most cherished shirts in the history of the England team.
For those of us who grew up in the 1980s, No 7 will always mean Bryan Robson – who wore the shirt at the 1986 and 1990 World Cup finals. Before him it belonged to Kevin Keegan in 1982 and, in 1970, Francis Lee, arguably England's best player in that epic game against Brazil at the Mexico World Cup finals. Alan Ball wore No 7 at the 1966 World Cup finals. Before him John Connelly (1962) and Bryan Douglas (1958) inherited it from Tom Finney (1950) and Stanley Matthews (1950 and 1954).
For Wilshere's generation, however, No 7 will always belong to Goldenballs himself, David Beckham, who wore it at three successive World Cup finals – 1998, 2002 and 2006 – and would have worn it in 2010 too, were it not for the Achilles injury that ruled him out of the tournament. In the event it went to Aaron Lennon. Now the famous seven will be on Wilshere's back.
A clue to Roy Hodgson's thinking when it comes to picking the team for the opening group game against Italy in Manaus on 14 June? Certainly the midfield position alongside Steven Gerrard looks to be one of those in the England team that is open for competition. Tomorrow's game against Peru at Wembley will offer some clues as to which way Hodgson intends to go. His No 7 Wilshere looks the obvious candidate given how little game-time he has had since cracking the navicular bone in his left foot against Denmark on 5 March.
There are other options too. Jordan Henderson has played that role most effectively for Liverpool this season. Frank Lampard has played there this season for Chelsea. Ross Barkley is the fourth central midfielder on the list, although he seems naturally suited to a more attacking role. Alex Oxlade-Chamberlain and Adam Lallana can play centrally but are more likely to figure wide.
Click HERE for full-size version of graphic
It looks like the competition to partner Gerrard will come down to Henderson v Wilshere. It was Henderson who occupied the role in the previous friendly, against Denmark when Wilshere was injured in a challenge by Daniel Agger. That night he was deployed on the left side, as he often had been by Arsène Wenger for Arsenal before he sustained his injury almost three months ago.
"I do like the 4-2-3-1 we play at Arsenal with the two in front of the back four," Wilshere said. "I think that will suit a lot of players here as well. You have seen what Gerrard has done in that position for Liverpool this season. He is in the PFA team of the year in that position, and then we have great wingers too so we could use that. But at the end of the day that's down to the manager.
"We played 4-4-2 and 4-3-3 and the good thing about this bunch is that we can adapt. We have a lot of players. Adam Lallana can play on the wing or the middle, same with Chamberlain. [Danny] Welbeck can play up top. We have got a lot of versatile players and hopefully that can help us."
Wilshere is still yet to start a game since his comeback from injury, which makes him a prime candidate to get game-time tomorrow. He has been ready for the last four weeks of the season, he says, but Wenger decided that he should build a base of fitness before throwing himself back into action. At 22, Wilshere should have played more than 15 times for England but the ankle stress fracture that destroyed his 2011-12 season took a chunk off his young career, including the European Championship that summer.
In his absence, the squad has changed. Henderson has returned to the fold having not played a single minute in qualification. The likes of Gareth Barry, Scott Parker and Tom Cleverley are out. Jonjo Shelvey and Jake Livermore have been tried and discarded for now. Should Gerrard and Lampard, as expected, call it a day after the World Cup finals then the midfield places will open up again.
When he established himself in the Premier League in the 2010-11 season, the expectation was that England's central midfield was Wilshere's for a generation. Now it is not so clear. There are other rivals emerging and the shadow of injury hangs uncomfortably over a player so young.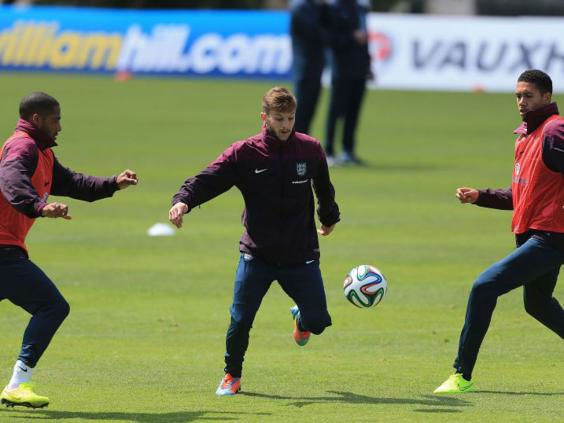 Asked whether he has faith that his body will not let him down, Wilshere points out that all his injuries until now have been related to "impact" rather than muscular troubles. "I can't say I am not going to go near another player now [to tackle]," he said. "Anything can happen in that aspect."
It leads us on to another issue; Paul Scholes' criticism that Wilshere had simply not developed from his teenage years. He has taken it all with good grace, having spoken to Scholes, a man he describes as "probably the best English midfielder ever". "I wasn't going to say he doesn't know what he is talking about," Wilshere says, "unless it was about tackling!"
Three years ago, there would have been little doubt that Wilshere was on course to be Gerrard's midfield partner come the Brazil World Cup finals. Now it is not so simple. Wilshere even essays mock horror at how much younger than him the likes of Luke Shaw, Raheem Sterling and Oxlade-Chamberlain are. At 22, it is hardly now or never for him either, but tomorrow night is four days short of the third anniversary of his best performance for England, against Switzerland in a Euro 2012 qualifier.
"Everyone knows the World Cup is the top level," Wilshere said. "Everyone watches every game shown on TV. Don't get me wrong, everyone is going to have their opinions of what you can improve on and what you've got to work on but I think a good World Cup can erase a lot of doubts.
"Most of all it's about the team. If the team has a good World Cup, you are going to look good as a player."
Reuse content