There are several thousand people crowded beside the 16th-century fort and lighthouse. There is a cooling breeze from the Atlantic, men with ice boxes selling beer, and on the big screens, Brazil are playing.
Welcome to Salvador's Fan Fest, surely the ideal place to find out whether the Brazilian football fan really does live up to that samba-swaying, joy-exuding stereotype. Almost everybody is in yellow for Monday's game against Cameroon – even a passing poodle – and the overzealous frisk by a heavily armed policeman seems a small price to pay for joining the party.
Yet the atmosphere is initially subdued. Big Phil's Brazil have not quite got a nation believing just yet. "It's not been so good so far," says Rafael, a 23-year-old watching the game with two friends. "I hope we can win today and then in the next rounds we will be better."
The jury is certainly out on Fred, a player whose wonderfully unglamorous name is not quite as mundane-sounding in Portuguese. "Fredgie" is how to pronounce it, although a few other words are aired as he improvises an ill-advised Andy Gray-style header on his stomach in the six-yard box: "terrible" is Rafael's verdict. Fortunately Neymar soon gets the crowd going with his opening goal and Rafael's female companion is swooning. Tapping me on the shoulder with an inflatable, she declares she is "adorando Neymar".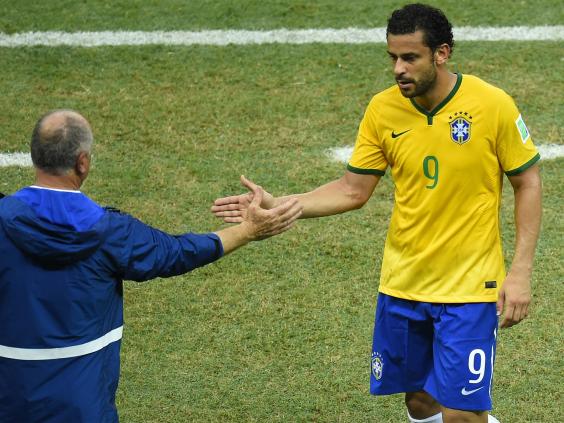 There are groans when Cameroon equalise but as Neymar's second goes in, a man in a leopard-skin vest takes a selfie while a woman in regulation hot pants dances.
Neymar is clearly the man of the moment and horns are blown at his every trick. Even the sight of him adjusting his patriotic green-and-yellow underpants as he leaves the tunnel for the start of the second half earns a roar of approval.
Night has fallen and the atmosphere is warming up. The celebrations as Fred makes it 3-1 are more intense than before – out of relief, perhaps – even if the moment is spoiled somewhat by a shower of beer courtesy of a woman in a yellow curly wig behind.
Fred is not the only one dividing opinion and there are jeers as Hulk goes off – Antonio to my right notes it is "not his day", even if his ample backside is a hit with the Brazilian ladies.
World Cup 2014: The worst haircuts in Brazil
World Cup 2014: The worst haircuts in Brazil
1/14 Cristiano Ronaldo

The world's best player has never been afraid of rocking some perfectly coiffed barnets, but this one looks as if his barber dropped the clippers mid-shave - however a story later emerged on Twitter that said Ronaldo had shaved the zig-zag in his hair as a show of solidarity for a child who had brain surgery. The Portuguese footed the £50,000 surgery for Erik Ortiz Cruz to have an operation in March.

Getty Images

2/14 Nani

Nani has always been ridiculed by his Manchester United team-mates for being in awe of Ronaldo, and now that he's chosen to copy his former club team-mate by shaving something into his hair will only provide more material for the banter.

GETTY IMAGES

3/14 Marouane Fellaini

A long favourite of hair-based galleries for a long time, Marouane Fellain's mop still looks awful. At least it has a decent story behind it - it's a nod to his father, who sported one when he was younger.

Getty Images

4/14 Néstor Pitana

Argentinian referee Nestor Pitana needs to lose only about four hair-strands before he takes Sir Bobby Charlton's crown as having the best (worst) comb over.

Getty Images

5/14 Raul Meireles

A man who wouldn't look out of place with the hipster crowd of east London, Ronaldo's team-mate Raul Meireles has the best beard of the World Cup. He needs to spend more time on his hair, though.

Getty Images

6/14 Luka Modric

Not a particularly bad cut but the Croatian playmaker looked much better with the flowing blond hair we all knew and loved.

Getty Images

7/14 Dani Alves

Dani Alves clearly opted for the wrong shade of highlighter. Instead of going for blond it looks as if the Brazil full back has picked up grey.

Getty Images

8/14 Neymar haircut

The most famous man in Brazil's hair is all over the place. Up at the front, shaved at the sides, terrible blond highlights... a mess.

Getty Images

9/14 David Luiz

The third Brazilian in this list sent this internet into a spin with rumours he had chopped off his famous locks, David Luiz emerged with his curly head of hair in tact. A living, breathing Sideshow Bob.

Getty Images

10/14 Asamoah Gyan

It's a rare moment when a striker wears the No 3 shirt, but Asamoah Gyan is so close to the number he decided to get it imprinted with blond highlights in the side of his head. If only Ghana could have found a third against the Germans.

Getty Images

11/14 Luis Nani

Another to sport have his number shaved into the side of his head, Portugal and Manchester United winger Luis Nani opted to have the No 17 bordered by a star.

Getty Images

12/14 Benoit Assou-Ekotto

We're not sure if the hairband at the front of Benoit Assou-Ekotto's hair is to stop his afro getting in his eyes, or to protect his forehead when he decides to butt his Cameroon team-mates.

Getty Images

13/14 Paul Pogba

The coveted French midfielder has gone a bit over the top with the highlighter. Not content with adding a bit of colour to his mohican, Pogba has also added blond streaks to the side of his head and shaved various parts.

Getty Images

14/14 Kyle Beckerman

USA midfielder Kyle Beckerman might be summoning his inner Bob Marley with these long dreadlocks, but it's not working.

Getty Images
Not everybody is entirely focused on the football. The crowd forms a space behind as a man with blond dreadlocks pulls a couple of capoeira dance moves. It is Neymar's moves on the pitch, though, that everybody wants to see. "He is fantastic," says Fernando, a doctor in his 60s. He is unconvinced by Brazil's midfield, though, and sees substitute Fernandinho's introduction as pivotal. "As the tournament goes on the team will get better, more compact and more confident," he says.
Leaving the Fan Fest after the game, Sergio, a white-haired man with his wife and son, admits his surprise at the experience. "We're not very organised in Brazil but it has been great here."
There were no samba drums but a sense, with Brazil qualified as group winners, that the party is warming up. At least until I climb into a taxi and the driver starts discussing Chile. "I'd rather play Holland. Chile know our game inside out," he says. Brazilians are more sceptical than the stereotype would suggest.