The pitch on which England will begin their World Cup campaign against Italy in 86 days' time is undergoing emergency repair work after the overuse of fertiliser killed sections of the parched turf.
The Amazonian heat has made the turf difficult to grow in this city and clearly in need of heavy daily watering, with two sprinklers working when The Independent viewed the stadium. But the bald sections with no growth are the most obvious defect, leading the state overseer of the stadium project, Jerocilio Silva, to admit that they had been fertilised too aggressively. He said that the Sao Paulo company in charge of the pitch surface had been called back in to resolve the problem. Green crystals are visible in the affected bald areas. "That's the treatment for it to blossom again," said Silva. "Our company will try to solve the problem."
The 44,500-capacity Arena Amazonia is structurally 98 per cent complete, according to the Brazilians, and there was no evidence this week of the kind of chaotic scenes witnessed last December, when there seemed to be a desperation to finish the stadium. The frenetic construction process has been overshadowed by the deaths of three workers last year. A court ordered the suspension of work on the roof of the basket-shaped stadium in December after one of them fell 35 metres to his death.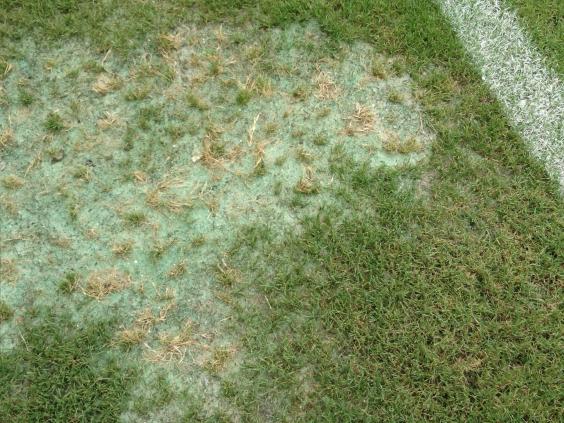 Construction work is yet to begin on an adjacent restaurant building, in which the BBC is understood to have secured studio space with the illuminated stadium exterior in the background. A heap of excavated rubble marks the spot where the restaurant will stand.
The complexities of the project lie in Manaus' need to ship in a lot of materials and look for external expertise. The acidic sandy soil makes the cultivation of grass difficult, which is why fertiliser was needed for the stadium's Bermuda grass seed, which is considered most appropriate for the region's climate.
The importation of steel stadium frames from Portugal, scheduled for 2011, had taken until 2013, according to Silva, while the sophisticated outer membrane made in Germany and designed to reduce the heat on players had also been delayed.
Reuse content