Football as an escape route: it is the biggest cliché of the Brazilian game but there is no avoiding it as you step inside Esporte Clube Bahia's Fazendao training ground. The security gate closes and you leave behind the favela with its potholed roads, half-finished buildings and yellow-and-green plastic bunting, and find in front of you, set against a backdrop of orange-brick shanty housing, an oasis of grass football pitches.
When some 70 per cent of the population live on the minimum wage or much, much less, it is football that helps the dreams of so many young Brazilians take flight.
"Ninety per cent [of footballers] come from the lowest classes and, coming from conditions of poverty, football is an opportunity to rescue themselves, their families and those around them," explains Nelson Goes, director of the club's youth department."
The 80 youths aged between 14 and 20 who live in the unprepossessing dorm blocks up on the hill know that the dream can come true. It was here, after all, that Brazil's Barcelona full-back Dani Alves – who grew up some 300 miles inland in the small rural outpost of Salitre and was out in the fields helping his father at 5am each morning – began his journey to fame and fortune.
But for every Alves there is a Gervasio Xavier Junior, for whom the dream did not come true. More of him later.
First, Goes, the Under-17s coach, who oversaw Alves' initial development when he arrived at Bahia in 1999, recalls his 18 months working with him: "He came from the interior of Bahia from a club called Joazeiro. He is from a rural area, which is poor. After one month at the club it seemed like he'd been here a year. He got on with people, he was a joker and liked a laugh. He is a charismatic person but always worked hard and trained at full intensity.
Brazil 1 Chile 1 (Brazil win 3-2 on penalties) player ratings
Brazil 1 Chile 1 (Brazil win 3-2 on penalties) player ratings
1/22 Julio Cesar

Had precious little to do in the first half but stood up firm when challenged more often in the second period. Made an emphatic save from Charles Aranguiz after 64 minutes. Made several great saves in the shoot-out! 7

Getty Images

2/22 Dani Alves

Was regularly berated by Luis Felipe Scolari for failing to track back after losing possession. Was tricky to deal with upfront but poor at the back. 6

Getty Images

3/22 Marcelo

Like Dani Alves, Marcelo was more of an attacking threat that a beacon of defensive solidity. 6

Getty Images

4/22 Thiago Silva

Was typically emphatic in the air but struggled to make an impact going forward. The obvious, but only exception, was his flick onto David Luiz for the PSG-bound defender's early goal. 7

Getty Images

5/22 David Luiz

The most passionate man on the pitch, David Luiz wore his heart on his sleeve. Occasionally getting too wrapped up in his emptions, though, he'll need to control his temperament in future. 6

Getty Images

6/22 Fernandinho

Taken off towards the end, this was a decent if unremarkable display from the Manchester City ace. 6

Getty Images

7/22 Luiz Gustavo

Does the unglamorous job of mopping up after his teammates' mistakes but, with their relaxed attitude to keeping possession, this is an invaluable role. 7

Getty Images

8/22 Hulk

A constant menace throughout, gliding through the Chilean defence with relative ease, but will perhaps only be remembered for the poor pass which lead to Alexis Sanchez's equaliser. 6.5

Getty Images

9/22 Oscar

Had a quiet afternoon and, with his reputation climbing an ever steepening gradient, the Chelsea man will have expected to do more today. 6

Getty Images

10/22 Neymar

Carried a nation's hopes on his shoulders with relative ease. Worried the Brazilian faithful with an early injury but kept running until the very end. 7

Getty Images

11/22 Fred

Ineffectual for large periods, like he has been for much of this World Cup, Fred showed little desire to make chances out of nothing. Expected his teammates to do the work. 5

Getty Images

12/22 Claudio Bravo

Will have been expecting a far busier afternoon but, thanks to his defence, was well protected all game long. 6.5

Getty images

13/22 Eugenio Mena

Despite being foolishly booked in the early exchanges, earning himself a one game ban, Eugenio Mena was a rock at the heart of the Chilean defence. Heading every ball, blocking every shot and tackling any Brazilian which dared stray too close – this was a masterful defensive display. 8

Getty images

14/22 Gonzalo Jara

A thoroughly impressive shift at the back of Chile's system. While many question his inclusion in their squad, Gonzalo Jara continues to prove his doubters wrong. 7

Getty images

15/22 Gary Medel

Nicknamed the 'Pitbull', Cardiff City's midfield general raced across the central areas with a canine desire to chase the ball. Delivered an effective performance. 7

Getty images

16/22 Mauricio Isla

Galloped forward at any opportunity with a performance which defined a breathless first half. Became more defensively minded in the second period but his work-rate was unrivalled. 7

Getty images

17/22 Francisco Silva

Perched just in front of the Chilean defence, Francisco Silva's job was simple and he made it look so. Dealt with the threats of Hulk and Neymar with an effortless swagger. 7.5

Getty images

18/22 Marcelo Diaz

Remaining composed in the midst of a packed Chilean midfield, when Brazil relentlessly piled on the pressure, Marcelo Diaz is the reason the hosts were contained for so long. 7.5

Getty images

19/22 Arturo Vidal

It is no surprise that Arturo Vidal has been linked with a £44million move to Manchester United of late. Kept possession well but his tackles had a worrying bite to them. Could have been dismissed on more than one occasion. 7

Getty images

20/22 Charles Aranguiz

A thorn in every Brazilian defender's side, Charles Aranguiz was regularly seen racing down the flanks with menace. A peerless display. 8

Getty images

21/22 Alexis Sanchez

Played the role of controller for much of this tie. Ran the midfield single-handedly and drove his side forward along with him. Deserved his goal and more. 8

Getty images

22/22 Eduardo Vargas

Not as threatening as his colleagues but still put in an admirable shift. 6

Getty images
"He was very aggressive in his attacking play," he continues. "In Brazil, this is the full-back's job. In Europe it's more conservative but he always had this. We had a three-month state championship at Under-17 level where he scored 10 or 12 goals playing as a full-back."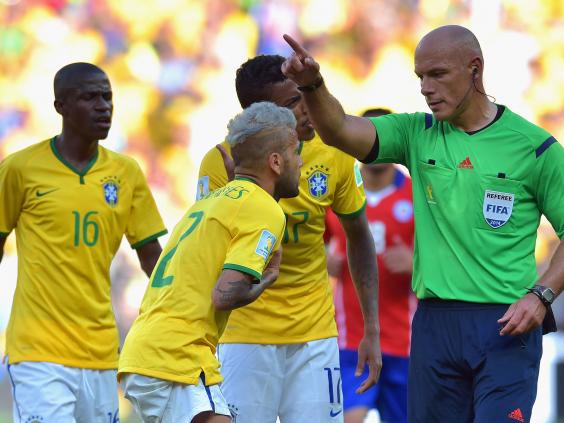 By the age of 18, Alves' break arrived when the absence of the team's regular full-backs persuaded Bahia's then coach Evaristo de Macedo –a former Barcelona and Real Madrid player – to throw him into the first team. Alves' website describes how he marked his debut by scoring a goal and winning a penalty, and Goes remembers: "He came in and he stayed in." By 2002 he had the golden ticket to Europe with Seville.
Alves embodies the Brazilian football fantasy but, as Goes acknowledges, so few actually live it – indeed, he estimates the chances of any of young player following Alves' path as "0.01 per cent".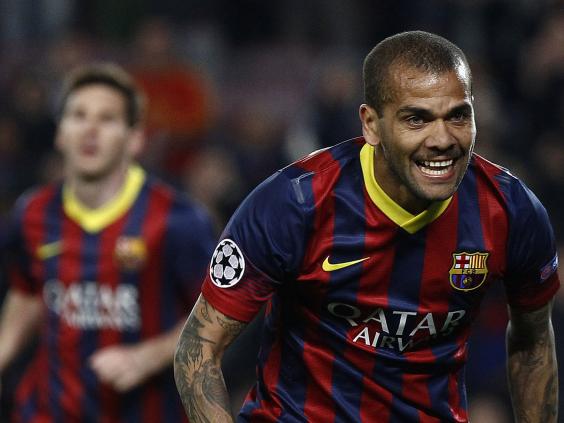 However, a more typical story is the fate that befell Gervasio Xavier Junior. For every Alves or Neymar there must be a million nearly-men and Junior, 29, is one of them. He is watching the World Cup unfold from inside the press centre at the Arena Fonte Nova, where he manages the canteen.
As a schoolboy growing up in Uruguay, one of Salvador's poorest neighbourhoods, he trained with both of the local clubs, Vitoria and Bahia, and at 16 an agent arranged a trial for him with Corinthians. His parents begged and borrowed to buy him a ticket for the 24-hour bus journey to Sao Paulo and he remembers the excitement of it all. "Players from all over Brazil. Bunk beds. Lots of joking. High hopes. An opportunity to be in Sao Paolo with Corinthians. It was an adventure." The memories flash back like a series of holiday snaps.
A physically big man today, he was a powerful midfielder with an eye for a pass and he came through his trial game on the club's famed Terrao, a football pitch of bare earth. He graduated to the grass and he remembers a striker with "big hair" who was "really skinny but very fast and had so much talent". Today, while he serves journalists food, he watches that same player – Jo – wear the canary-yellow jersey at his home World Cup.
After Junior's two months at Corinthians came to nothing, his parents sent him out to work at 16, packing bags in a supermarket. "I stopped playing for a while," he says, but he kept knocking on doors. Along the way he encountered the conmen who prey on the desperate dream-chasers. "I was picked up by an agent who promised to send me to a club in Parana called Cascavel. When the day came to go, he said: 'Wait a few days more'. He was trying to trick me to get money. The club didn't even know he existed. I was 20. I ended up with no job and no club."
There was later "an email to go on trial with Leeds United", which came from a Fifa agent to whom he paid a deposit of £800. "Somebody had got the name of a real agent," he adds. "The money was lost."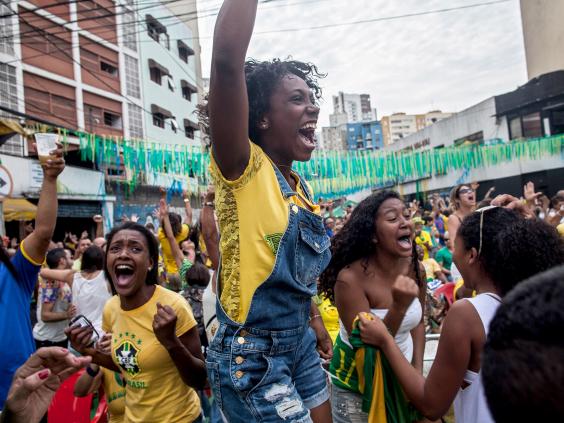 Eventually, in his early twenties, he realised the dream of playing professional football with a club called Galicia in the second division of Bahia's state championship. He was paid £160 a month and, because Galicia's season ran for only six months, the club refused to pay him for the half  of the year   when they had no fixtures. Thus for four years he held down a job as a salesman while playing and training with Galicia. "It was very difficult – not eating right, sleeping badly, combining eight hours' work and three hours' training."
He laments the "corruption and self-interest" encountered on his unglamorous odyssey yet beams his sunshine smile and stresses "football still makes me happy". He wants to do a coaching course next year but for now simply feels fortunate, in his roundabout way, to have made it to the World Cup. "I am here in this atmosphere – it's like a gift for me, living football again. Afterwards it will be back to reality."