After a certain amount of confusion among the Argentina players, there was now only clarity. It was down to more than the fact they had three points. They also had three forwards, as Alejandro Sabella finally switched formation to seal the 2-1 win over Bosnia and Herzegovina.
This, at last, saw the real Argentina, the real Lionel Messi, raising questions over why Sabella had forced something as unfamiliar as a 5-3-2 on them in the first place – and whether this could prove a complication in their quest to win a third World Cup. Speaking after the game at the Maracana,  Manchester City's Pablo Zabaleta readily acknowledged the entire team basically felt much more "comfortable" in their usual 4-3-3.
"The change gave us more attacking potential," Zabaleta said. "We were a bit more  balanced, we could come out a bit quicker, we were helping the forwards more. In the  second half, Alejandro [Sabella] put another attacker on, so we could give them more problems in defence.
"The 4-3-3 is the system that gave us so much success in qualification, the one we feel most comfortable with."
Argentina 2 Bosnia-Herzegovina 1 player ratings
Argentina 2 Bosnia-Herzegovina 1 player ratings
1/22 Argentina: Romero 7/10

Saved well from several Bosnian efforts without ever being really tested. Got caught out of position for late Ibisevic goal but played well.

2/22 Zabaleta 6

Not at his flying best and got caught out for late Bosnia goal but did fine overall.

3/22 Rojo 6

Yellow carded for a bad foul early on and had to be careful from then on, not bad but needs to get better.

4/22 Garay 7

In charge of the defence and kept Dzeko quiet, solid at the back.

5/22 Fernandez 6

Not a poor performance by any means but lacked that sparkle from full-back.

6/22 Campagnaro 4

Very little on offer and rightly removed at half-time.

7/22 Rodriguez 4

Substitued at halftime after ineffective first 45.

8/22 Mascherano 8

Argentina's best player in the first half and good throughout second. Solid, strong and even had a couple of half decent efforts at goal

9/22 Aguero 6

Nowhere near his flowing best but good enough to cause problems at times.

10/22 Messi 8

Very quiet night for first hour but produced the only real moment of true quality with his quite sublime solo goal to win the match.

11/22 Di Maria 6

Some nice flicks and tricks but no real attacking thrust.

12/22 Bosnia: Begovic 7

Solid between the posts but helpless for either goal. Looked comfortable throughout and will be important in future games.

13/22 Mujdza 6

Did fine without really making any highlights or mistakes.

14/22 Kolasinac 6

Very unlucky to have own-goal to his name, helpless for it. Recovered well and played his part in defence after early mistake.

15/22 Besic 6

Like all the Bosnian back-four, did well to keep Argentina to relatively little chances, couldn't get close to Messi for his goal though.

16/22 Bicakcic 6

Had a chance right at the death to put a good ball in but looked too tired. Did well in defence for the most part.

17/22 Pjanic 7

Played well in attack and got back to help defence throughout, good performance.

18/22 Spahic 5

Picked up a yellow card for bad foul but coped OK in midfield.

19/22 Hajrovic 8

Had several efforts at goal and was Bosnia's best player. Needed that slight bit of extra quality to turn his chances into goals but did very well.

20/22 Dzeko 5

Tough task as the lone striker and never really had a sniff at goal. Bosnia need him to be better the their next two games.

Getty Images

21/22 Misimovic 5

Busy but ultimately not a major impact on the game.

22/22 Lulic 7

Did well up and down the wing and can be happy with his performance. Good pass for Ibisevic's goal.
Sabella's initial decision to experiment with five at the back in training had caused bemusement around the Argentina camp even before the game, and raised a lot of theories as to why he had taken the decision. The manager only added to the intrigue by being so evasive on the subject in the pre-match press conference. It transpired he only told the players they would  definitely be starting with five at the back in the hotel before the game. That only lasted until half-time.
It had been speculated that Messi asked for the 5-3-2 in order to play closer to Sergio Aguero, following on from a growing feeling that the playmaker is developing extensive power within the squad. That was seemingly disproven by his own words, as Messi made it clear he was much more content in a 4-3-3.
"In the first half we gave up possession to Bosnia and so I was too deep," he said. "I was alone and Kun [Aguero] was alone. It was very difficult. We like [4-3-3] better because, when you go forward, you have more possibilities of passing the ball and scoring."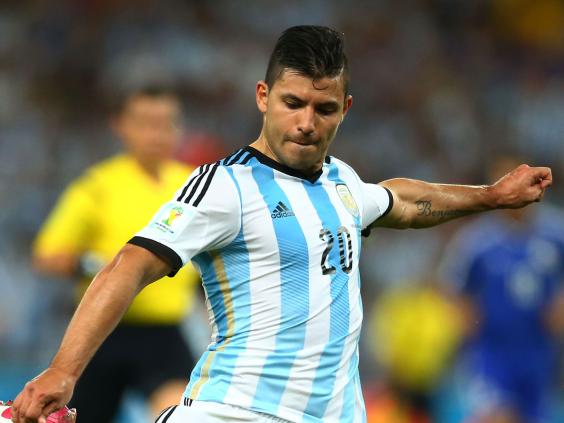 There had been some logic to the initial decision, given that Argentina's defence is notoriously porous and  Bosnia and Herzegovina's attack is famously potent. But it meant as many as four players were wasted marking one, Edin Dzeko. The knock-on effect at the other end was that, once Argentina's energy ran out after the Sead  Kolasinac own goal, they couldn't fill those massive gaps so readily. Bosnian  goalkeeper Asmir Begovic admitted his team were also affected by the switch.
"It meant we had to change as well. We had to pay more attention at the back as they left a lot of people up front.
"We lost, but the difference was the best player in the world. We're going to take some positives from that and move forward."
Messi was certainly moving forward with much more force. His rampaging runs from deep became the defining feature of the game. Bosnian defenders could not get close to him, but that was because so many more team-mates were much nearer. A reshaped midfield gave better support behind, a restructured attack allowed more space. The off-the-ball runs of Aguero and substitute Gonzalo Higuain were key to that match-clinching 65th-minute goal.
The question is whether Sabella will now persevere with 4-3-3. But he is also a manager who will likely think as much about Vedad  Ibisevic's late consolation goal. The change in this game almost cut to the crux of his career. Even presented with attackers like this, he always worries as much about what the opposition can do to his side. "I'd be happy to win half-nil," Sabella recently said. Against a more proactive attack than Bosnia and  Herzegovina, he will likely return to a formation that is  more restrained.
Zabaleta further alluded to his precautions. "We've always said it's important to have two styles to play because, depending on how they play in the match, you can change."
Here, there seemed only one way of succeeding.
Reuse content