For the Spanish squad walking mournfully out of the Maracana, there was no denial or anger. There was only acceptance.
Xabi Alonso was one of the few who felt capable of speaking after the 2-0 defeat to Chile, and he said what the world was thinking. "Eras end with defeat," the midfielder quietly admitted. "And this was a painful defeat."
It led to some bruising realities. Spain are out of a tournament for the first time in eight years, having endured the worst ever performance from a defending champion at a World Cup. That is a stark drop from the perfection they came close to.
In winning three consecutive major trophies, they defied football history, and set new standards and records. They could not set new parameters for how teams are built. They couldn't defy the passage of time, or the inevitable and almost intangible erosion of any great side's intensity.
That, more than any other issue, is what this is all about. This Spanish team as the world knew them are now gone, never to return.
They were already a rather different incarnation. That could be seen in their inability to recover from going behind against both the Netherlands and Mexico.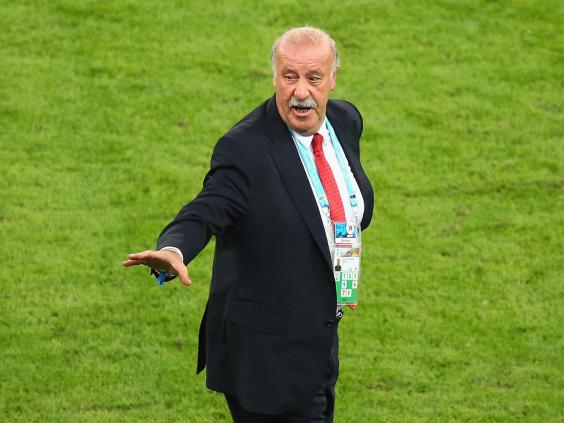 Although Spain genuinely had so many chances to pull both games back – and  even settle them before going behind – there was no real regret at the opportunities missed. It was not quite that David Silva or Sergio Busquets came so agonisingly close to scoring in either game. It was that they didn't come close enough; as if they had lost that edge to go the crucial extra inches. That is  almost a consequence of something subconscious, but Alonso acknowledged its effect.
"We've not been able to keep the same levels of ambition and hunger, perhaps the real conviction to go for the championship."
The way in which they ran out of energy was reminiscent of France's impotent toil in the 2002 World Cup or Brazil in 2006. Both of those teams had won multiple trophies, but that only led to a widespread loss of truly exacting will.
It cuts to the core of the issue. Although many individual Spanish players are still in their prime, and still world-class, the chemistry of a collective is something different. Alex Ferguson arguably knows more about quickly ripping up and rebuilding winning teams than any other manager in the history of the game, and he once revealed his philosophy on it.
Spain 0 Chile 2 player ratings
Spain 0 Chile 2 player ratings
1/22 Spain: Iker Casillas 5/10

Another nightmare showing from the Spanish captain. Looked frail at set-pieces and was to blame for Chile's second. Is this his last major tournament with with his country?

Getty images

2/22 Cesar Azpilicueta 6

Did very little after a surprise call-up to the Spanish starting eleven. Gave possession away far too cheaply and looked out of place.

Getty images

3/22 Sergio Ramos 6

Constantly striving to get forward, as well as defending well, Ramos at least showed an intent to halter Spain's slide.

Getty images

4/22 Javi Martinez 6

While not doing too much wrong, Martinez failed to excel when Spain needed a leader.

Getty images

5/22 Jordi Alba 6

Ran the line reasonably well but was left wanting defensively on far too many occasions. Had a difficult afternoon trying to contain Alexis Sanchez.

Getty images

6/22 Xabi Alonso 5

The former Liverpool man had an awful first half, surrendering possession far too easily. A number of wild shots, which blazed over the bar, summed up his country's night.

Getty images

7/22 Sergio Busquets 5

The Barcelona midfielder will ultimately be remembered for that horrendous miss in the second half. Offered little else.

Getty images

8/22 Pedro 6

Had a quiet evening when much was required from him if Spain were to get back into the game. Will be bitterly disappointed with his distribution tonight.

Getty images

9/22 David Silva 6

Went missing for large periods of the game but did improve towards the end of his shift. Could have made the difference if luck went his way.

Getty images

10/22 Andres Iniesta 6

While his undeniable class was evident throughout, Iniesta's passing didn't penetrate the Chilean defence nearly enough. An ineffective evening.

Getty images

11/22 Diego Costa 5

A poor performance from a striker who looks severely out of place in the Spanish set-up. His game, built on power and pace, doesn't match up with the philosophy in which he has been expected to embrace.

Getty images

12/22 Chile: Claudio Bravo 8

While consciously adding an air of the spectacular to his saves, Bravo made a range of excellent stops to keep Spain out. A fine display from an exciting goalkeeper. Bravo indeed.

13/22 Mauricio Isla 7

Racing forwards at every opportunity, Chile's right-back has made something of a name for himself tonight. Chileans, however, won't be surprised by his display tonight.

14/22 Eugenio Mena 7

Like his counterpart on the other side of Chile's defence, Isla, the Santos left-back offered an attacking threat as well as defensive solidity.

15/22 Gonzalo Jara 7

A rock at the heart of Chile's backline, the former Nottingham Forest defender earned his stripes by keeping the likes of Diego Costa at bay.

16/22 Gary Medel 7

Playing in his more familiar position at centre-back, despite being used in midfield for Cardiff City, Medal wore his heart on his sleeve and made a couple of essential interceptions.

17/22 Francisco Silva 7

Offering a springboard for Chile to leap into attack from, Silva often stayed back and manned the fort. Giving the players around him the freedom to run at the Spanish defence, he played a vital role this evening.

18/22 Charles Aranguiz 8

Scoring Chile's second and proving to be a constant thorn in Spain's side, this was a marvellous performance defined by his electric pace. A true shame he couldn't stay on the pitch.

19/22 Marcelo Diaz 7

The FC Basel man was an essential cog in Chile's well-oiled, and well drilled, midfield. Kept his teammates grounded when they may have become over exuberant.

20/22 Arturo Vidal 8

An impressive performance from Juventus' 27-year-old star man. Representing all that Chile stand for, Vidal held up the ball superbly and wasn't afraid to run with it.

21/22 Alexis Sanchez 9

A menace throughout, the occasionally maligned Barcelona playmaker was at the top of his game today. Unlucky not to score from one of his many opportunities.

22/22 Eduardo Vargas 8

After putting his side ahead early into the game, Vargas then became more defensively-minded and did an important job in holding the ball up until the cavalry could catch up. An effective display.
"I always believe a four-year cycle is probably the most you can achieve," the former Manchester United boss said in 2010. "There are very, very few teams who can create more than a four-year cycle."
Spain were possibly one of them. They went further than any other international side in history by winning that third trophy, and adding Euro 2012 to the silverware of 2010 and 2008. Similarly, there was the effect of their deep-rooted coaching revolution two decades ago.
As one of the few countries in the world to undertake such a significant step, it gave their international team the cohesion of a club side, beyond anyone else. All of that was only deepened by an actual club side in Barcelona, and the amount of players they provided.
It isn't too long ago that debate raged over whether anyone could do anything against Spain except defend very deeply. A fair argument before this World Cup was that, if they simply kept applying their same possession game, they would stay on top.
That was the problem. As Barça began to wane, so did the Spanish team. It is here that Ferguson's philosophy becomes so telling. Retaining a hard edge requires making hard decisions.
Initially, some of the them may seem ludicrous. Take the decision that first made this Spanish team. Back before Euro 2008, Luis Aragones felt he had to drop Raul. It earned all manner of criticism, and was similar to Ferguson's sales of Paul Ince and Roy Keane. They all ended up paying off.
Del Bosque was unwilling to be so bold, not least with the declining Iker Casillas. Although he did drop Xavi, it was too late. The damage had been done in the first game against the Dutch. The side's most symbolic player was simply unable to set the same tone or pace. It meant the Netherlands were able to tear at them like never before, and saw some holes in the side properly ripped open. From there, everything fell through.
That tends to be the trend with such great sides. Their falls are rarely gradual. They are sudden and searing. Although an inherent nous tends to stave off decline for some time, as happened with Spain in Euro 2012 and throughout the 2014 qualifiers, the first proper blow can have a disproportionately profound effect. Once one thing goes wrong, everything unravels.
That was precisely the case in the Dutch game. That 5-1 defeat marked the first time since 6 September 2006 that Spain lost a competitive game after first going ahead. It was as if everything they knew had suddenly evaporated. From there, it all fell apart. The centre didn't hold. They didn't know what to do any more.
A suspect defence sank. An unbalanced midfield could no longer play the passes to keep them out of trouble. The strikers couldn't finish, and that finished them off.
There was just a general discontentment. "The happiness of before is gone," Alonso said. The fact he was one of the few to front up is even seen as significant. Alonso is known to be deeply unpopular within the team for the sides he took under Jose Mourinho and Real Madrid, but that only adds to the feeling general rifts have grown. Some around the camp have contrasted the current situation with Euro 2008. Then, the squad would gather in Joan Capdevila's room, just having a good time together.
That happiness is gone. That team is gone.
Reuse content