The hosts were a controversial choice, with domestic opposition to the government and its spending on stadia, yet once the World Cup began the supporters got behind their flawed but occasionally brilliant team.
In a dramatic tournament there were hometown decisions, but also strong referees, a match-fixing row and a player sent home in disgrace. A north African team sprang a surprise, but in the end it came down to the usual contest: Europe v Latin America.
As the saying goes, the more things change the more they stay the same. It is 36 years since the World Cup was last staged in South America. The world and its most popular game are very different, but much about Brazil 2014 echoes Argentina '78.
Best remembered on these shores for a Scottish misadventure offset by Archie Gemmill's bewitching goal, the abiding image is of tickertape cascading down the Estadio Monumental in Buenos Aires as Argentina celebrated their triumph. But decades on there are mixed feelings in Argentina. The cost of this year's World Cup has provoked anger highlighted by strikes and protest marches, though nothing on the scale seen during the 2013 Confederations Cup. This is partly because they have been roughly suppressed, but the handling of dissenters is mild compared to Argentina in 1978.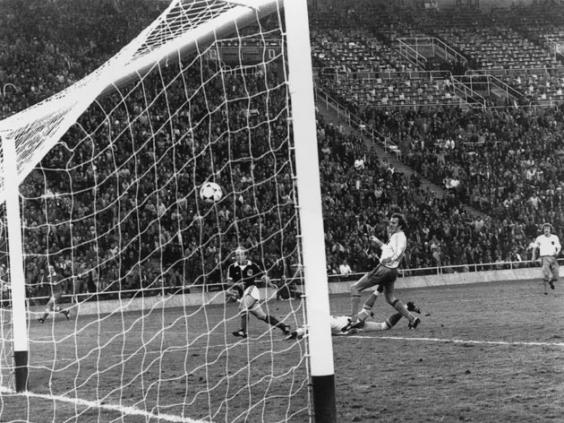 After several years of violent civil disorder there had been a military coup in 1976 following which 15-30,000 people, mainly perceived political opponents, "disappeared". Thousands of others were incarcerated in jails where torture was widespread.
Amnesty International publicised the junta's crimes but from an organisational point of view, the dictatorship was a bonus. As Fifa secretary general Jerome Valcke said in relation to Brazil's chaotic preparation, "less democracy is sometimes better for organising a World Cup". It was not until the military, aware of the global prestige a World Cup could bring, took control, that Argentina invested heavily enough to stage the finals successfully.
The vast expenditure on stadia and infrastructure was estimated at 18 times what West Germany had spent on the 1974 finals, even prompting protests from the junta's own treasury secretary who described it, in another parallel to the present day, as "the most visible and indefensible case of non-priority spending in Argentina today". His house was bombed during the tournament. Nevertheless, aside from some poor pitches, the World Cup ran smoothly.
World Cup 2014: 10 stars who have shone during the World Cup in Brazil
World Cup 2014: 10 stars who have shone during the World Cup in Brazil
1/10 James Rodriguez

The player who has most seized this World Cup, and thereby most seized attention. James might have been a marvellous talent on the radar of top clubs before this tournament, and the £38m Monaco paid last summer reflected his potential, but the 22-year-old has simply moved onto a different level. It is quite a quirk that Manchester United could have got him for £5m back in 2010, because he could command anything up to £80m now. Real Madrid are believed to be leading the chase. Rodriguez has set quite a pace.

Getty Images

2/10 Guillermo Ochoa

Was his display against Brazil the outstanding performance of the first round? Given the stakes, the pressure, and the extent of the siege, there is certainly an argument for it. Either way, there seems little argument that Ochoa has been the outstanding goalkeeper of the tournament so far. The sheer number of high-profile high-quality saves that the 28-year-old produced are in stark contrast to what has been a humble club career, having spent three years at lowly Ajaccio. Last season, they got relegated to Ligue 2. This summer, he should have earned a move to a better level.

Getty Images

3/10 Alexis Sanchez

All of a sudden, it seems ludicrous that Barcelona would consider selling Alexis, let alone use him as a mere makeweight on a deal to bring someone else in. The Chilean may have been largely under-whelming in his three years at Camp Nou, but this World Cup re-asserted why they initially signed him, as well as what kind of player he can be when used correctly. The two goals against Spain and Brazil were a display of his elite finishing, the pace that brought them the kind of dynamic play top clubs crave.

4/10 Karim Benzema

On top of the world right now, but also someone that finds himself in a similar situation to Alexis: Real Madrid would gladly bring in what they perceive to be a better forward, but he has used this tournament to illustrate the folly of that. Benzema has been one of the best players of the first four games, combining clutch finishing with classy build-up play that has been central to France's joyful resurgence as a world force again. He has also enjoyed his own resurgence. Benzema is finally looking like the devastating talent that Real first signed for so much money. He could command a similar figure again.

Getty Images

5/10 Vincent Enyeama

It was the 31-year-old goalkeeper's error that ultimately cost Nigeria the last-16 game against France, but that was all the more conspicuous because he had been so solid before then. In fact, it was arguably Enyeama's supreme late save against Bosnia and Herzegovina that brought Nigeria so far, given the ultimately slim margin with which they won that game 1-0 and then qualified. It was not the only such stop, and even the 2-0 defeat to France saw plenty of defiance. Lille can expect some interest.

Getty images

6/10 Islam Slimani

Algeria were one of the most progressive teams of the opening four games, and Slimani their brightest player. Just turned 26, his career has shown a steady upward curve, moving from CR Belouizdad to Sporting Lisbon in 2013, and now making his ability all the more widely known. The two goals in four World Cup games also mark a superior scoring ratio to recent seasons, and the type of productivity he should be offering as he approaches his prime. Slimani looks ready for one of Europe's primary leagues.

Getty images

7/10 Daryl Janmaat

Beyond the three established stars of Wesley Sneijder, Robin van Persie and Arjen Robben, it is Daryl Janmaat who almost personifies the youthful nature of this Netherlands team. He is 24, still based at home with Feyenoord, and is one of their many defenders that has impressed in this tournament with his maturity. Janmaat has arguably made himself the pick of them, especially for the solid consistency he has demonstrated throughout, as well as the way he allows a more counter-attacking Dutch side to turn defence into attack. It won't be too long until he personifies this team in another way: moving abroad.

Getty images

8/10 Miralem Pjanic

The Roma midfielder's easy talent was widely known before this tournament, but perhaps the key is that he's applied it in difficult circumstances. Out of a Bosnia and Herzegovina side that almost totally under-performed and went out in such disappointing fashion, Pjanic was one of a handful players – as well as Muhamed Besic – that played above his level. A host of top European clubs were interested in the 24-year-old before this World Cup. They will now have to pay even more than anticipated.

Getty images

9/10 Bryan Ruiz

To think that this was a player Fulham have been all too happy to discard, banishing him on loan to PSV Eindhoven last season. Of course, much of that was the fault of Ruiz himself . He looked conspicuously lazy in a team full of languid attackers. That appears to have revitalised him. Ruiz has been the driving force of Costa Rica's historic tournament. It was not just about the goals he scored that brought such momentous results against Italy and Greece. It is also about the touches and technique, as he's now really doing what a player of his talent should. Fulham can surely earn a much higher price now.

Getty Images

10/10 Ricardo Rodriguez

With the way he surges forward from full-back, the 21-year-old has epitomised the adventurous and brave nature of this impressive Swiss team, and he has proven so productive in their energetic attacks. The exceptional Xherdan Shaqiri has particularly benefited from the space that Rodriguez spots and creates. That follows on from the nine assists he cleverly created for Wolsfburg last season. Having already spent two years in the Bundesliga after a move from Zurich, he has undoubtedly displayed that he is prepared for a higher level.

Getty images
It was the last of the 16-nation finals, with the game's global balance underlined by 10 being from Europe, three from South America, one each from Concacaf (Mexico), Africa (Tunisia) and Asia (Iran) [the ratio in this tournament is 13-6-4-5-4]. Tunisia and Iran were regarded as makeweights but Tunisia beat Mexico, drew with holders West Germany and were unlucky to lose to 1974 semi-finalists Poland. After Zaire's disastrous appearance in West Germany, Africa's potential had finally been revealed.
Most countries then knew little about football elsewhere, not least because the global transfer market was small. Nearly everyone in 1978 picked teams of players from their domestic league. The trio of South American countries, for instance included only one European-based player, Mario Kempes, of Valencia and Argentina, who would turn out to be its star. Scotland was the exception, 15 of the squad playing south of the border. They, though, were the only ones playing in England. It was after the finals Tottenham stunned English football by signing Ossie Ardiles and Ricky Villa.
Scotland had left amid wild optimism with 30,000 turning up at Hampden Park on a midweek afternoon to send them off and manager Ally MacLeod promising "of course we'll win the World Cup".
Scotland's campaign was equally naïve. England's results were poor in Brazil but their preparation was faultless. They will have prepared with hours of video analysis and their training ground was immaculate. The same applies to almost all teams in Brazil.
MacLeod barely bothered scouting the opposition, only partly because of logistical issues, and Scotland's training ground was so rutted the players – bored senseless in an isolated, inadequate hotel, and arguing about bonuses – were reluctant to train on it. Reality bit when, despite taking the lead through Joe Jordan, Scotland were stunned 3-1 by Peru. It got worse. Willie Johnston tested positive for a stimulant and was banned and sent home. Then, in front of a paltry 8,000 in Cordoba, the Scots struggled to eke out a draw with Iran. Afterwards their bus was rocked by an angry travelling support.
Scotland had talent, and in the final game, with Graeme Souness at last selected and Gemmill scoring his famous goal, it showed as they went close to eliminating the Dutch. But it was too little, too late. The Netherlands, later knocking out Italy and West Germany, went on to the final where they met the hosts.
Argentina's progress was controversial. Watching the film of the tournament is to be reminded how brutal much of the tackling was then. Argentina gave and received. So did the Dutch, Italians and Brazilians in particular, but referees tended to favour the hosts.
Other elements that date the finals are the chain-smoking managers of Argentina and Iran, Scottish goalkeeper Alan Rough wearing what he later admitted were basically gardening gloves, and Kempes being allowed to stay on the pitch after punching the ball off the line against Poland. The penalty was missed, Kempes later scored in a 2-0 win.
The second round was a group stage and after Argentina and Brazil had kicked each other into submission in a goalless draw, staggered kick-off times meant the hosts knew they needed to beat Peru by three goals while scoring four. Peru hit the post early on but lost 6-0. Later revelations involving grain transfers, $50m payments and Dr Henry Kissinger point to the match being fixed, though proof is inconclusive.
Argentina, again aided by weak refereeing, but also by the majesty of Ardiles, Kempes and Leopoldo Luque, beat the Dutch 3-1 in extra time in a dramatic, violent final. General Jorge Videla, not known as a football fan, presented the trophy with a smile. The World Cup had served its purpose, which is why there is an ambivalence in Argentina about the 1978 triumph which is not  commemorated anything like that in 1986.
England were absent from the tournament. Manager Ron Greenwood attended and wrote afterwards: "In England we have to concentrate more on working with the ball… looking closely at our technique and skill. Our centre-backs could deal all day with high balls, but they would be flummoxed by some of the quick one-twos I saw  in Argentina." The more things change the more they stay the same.
Reuse content