It is a common plea in many households: "Can I stay up late to watch the football? Please. Please." For Katie Chapman's children there is, however, a unique aspect to the request. Her boys want to watch their mother playing for England in the Women's World Cup.
The tournament starts on Saturday in Canada with England launching their campaign against France on Tuesday. This match starts at 6pm so Chapman's boys Harvey, 12, and Riley, six, will be rushing back from school to watch Mum, a combative midfielder play, while Dad, Mark, keeps one eye on the game and the other on baby Zachary. Because of the time difference, other matches in the competition will kick off much later, as late as midnight depending on England's progress, which will test the boys' negotiating skills with Dad.
No other player in the England team has family in this situation. Though Chapman is no longer the only mum in the team – defender Casey Stoney is the mother of seven-month old twins – it is one of the curiosities of women's football that very few players have children. While we have become used to seeing the offspring of male footballers on the pitch at trophy presentations and end-of-season laps of honour they are noticeably absent from the women's game.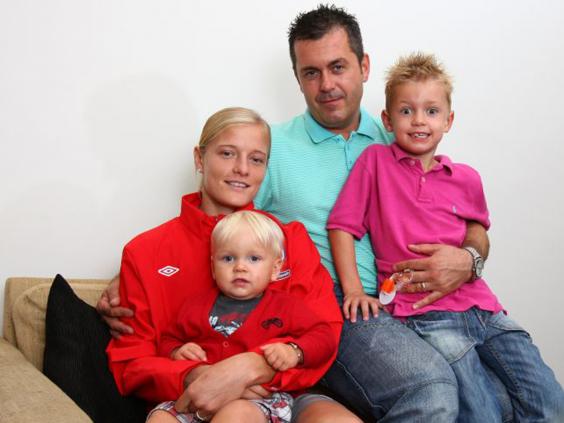 This is partly because the sport is still maturing. Salaries are only now reaching a level that enables players to make it their career, and there is still a youthful bias in some teams. Traditionally, another reason was that a significant minority of players are gay, but that is no longer such a bar to parenting. Stoney had her twins with partner Megan Harris.
And, like many careers, taking a break to have children can be damaging. Stoney's playing career was unaffected as Harris retired after a decent career at club level herself to carry their twins. Chapman, however, played and trained, as late as possible but actually had to quit for the arrival of each of her boys.
"I've been pretty lucky during training and pregnancies," she says. "I've not had any complications or injuries. I stopped playing at 10 weeks but trained up until two weeks before each birth, but with no contact. I kicked a ball up to around five months, after that it started to become uncomfortable."
Chapman has missed the equivalent of two full seasons through pregnancies, but the football industry is used to players  being absent, albeit usually through injury – Chelsea team-mate Claire Rafferty has missed as much time through knee operations. In the longer-term, like marathon runners Paula Radcliffe and Grete Waitz, Chapman says that becoming a mother has helped her fitness.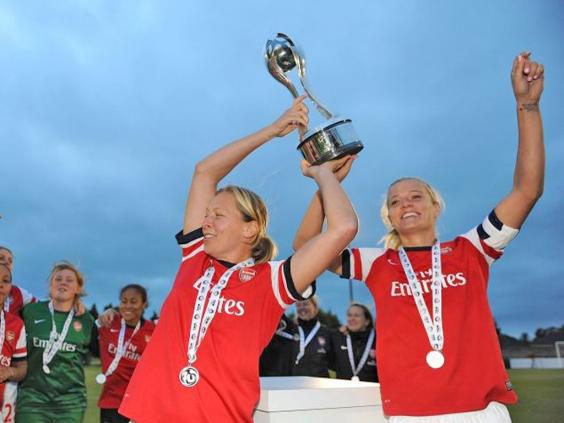 "After my second baby I felt the fittest I'd ever felt," she says. "I came back in pre-season and was flying. I think the pregnancies helped my stamina. Your body changes so much, you carry more oxygen. And nothing in training ever compares with the pain of childbirth!"
While physically it hasn't been an issue, Chapman's problem has simply been the juggling act that many working parents have to cope with. The demands of playing at an elite level and parenting actually led to a four-year exile from the England team.
In 2010 after winning four national league titles, seven women's FA Cups and the European Cup, with clubs including Millwall, Charlton, Fulham and especially Arsenal, Chapman went to play for the Chicago Red Stars, seeking a tougher challenge. The move didn't work out. The manager who signed her, Emma Hayes was fired. As well as that, husband Mark had trouble finding work. The family decided to come home in early 2011 and Chapman asked for a break from playing for England.
"Our situation coming home was not ideal," she said. "We couldn't get back into our house as we had rented it out and so we were living with my mum. We were trying to get the children back into schools and into a settled life. I felt quite low and needed to take time out from the international team to look after my family."
The response of then-England manager Hope Powell was to cancel Chapman's central contract, a move she did by email. Chapman maintained her form winning two more titles and another FA Cup with Arsenal before moving to current Women's Super League leaders Chelsea, but it was not until earlier this year, after a change of manager, that Chapman began playing for England again. She won her 85th cap against Canada last week.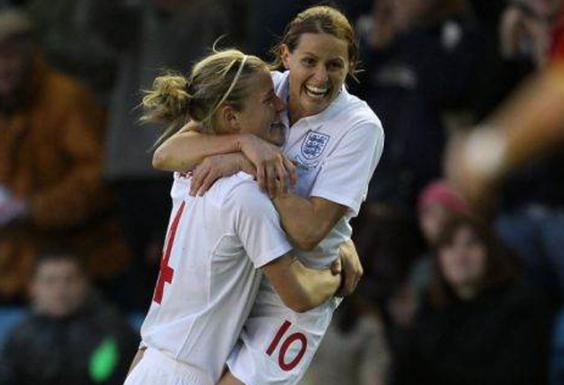 While funds are not available to fly Chapman's family to Canada for the tournament, the FA now incorporate maternity pay into central contracts and are more flexible on childcare issues. "It has become easier," says Chapman. "There is lot more understanding of my situation with [manager] Mark Sampson and [assistant manager] Marianne Spacey. I feel I can talk to them about my children.
"It is still hard work, though I have a great husband who is very understanding and supportive. During the day two kids are at school and one is with a child-minder. But after that they are at home and when I'm away my husband looks after them all. It's pretty tough on him. He works during the day, then in the evening he runs them here, there and everywhere to training sessions and so on, but we work well together.
With an eye on the future Chapman is  training to be a beautician, but first she has a final sally at the World Cup, a tournament in which England have never gone beyond the quarter finals.
"It is great to be back representing my country. Football is a big part of my life and I missed the international side of it. But I also miss the children when I'm away, though I've got better dealing with that the older I get. The youngest is two on 13 June. I'm playing that day so will miss his birthday which is tough. But two of them are old enough to understand where I am and what I am doing and are actually quite proud. They say: 'You have to go, Mum.' And they can watch on TV." That is if Dad lets them stay up.
Reuse content